AKA. When bad service happens to nice places...
*sigh*
I already had my doubts when Pat told me we were going to check out Dunhill's concept store/ bar/ lounge in the Bukit Bintang area.... I thought: "Sheet. I don't smoke and I hate having second hand smoke blown in my face - So, why the Hell am I going to a bar opened by a cigarette company??"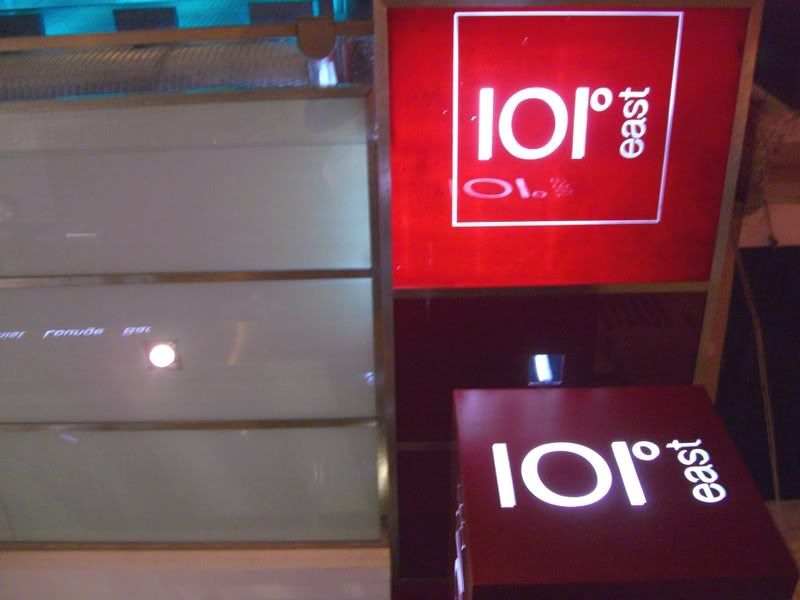 From the Outside, Looking In.....
Still, when I walked into this low key bar just opposite KL Plaza, I was pretty blown away by the lovely ambience - split into 2 levels, it was plush, luxurious and sophisticated with a sort of retro but futuristic look:
A look at the second level.....
There was also a pretty extensive menu of the usual beers, wines and some interesting sounding cocktails for reasonable prices (not cheap, but not expensive either).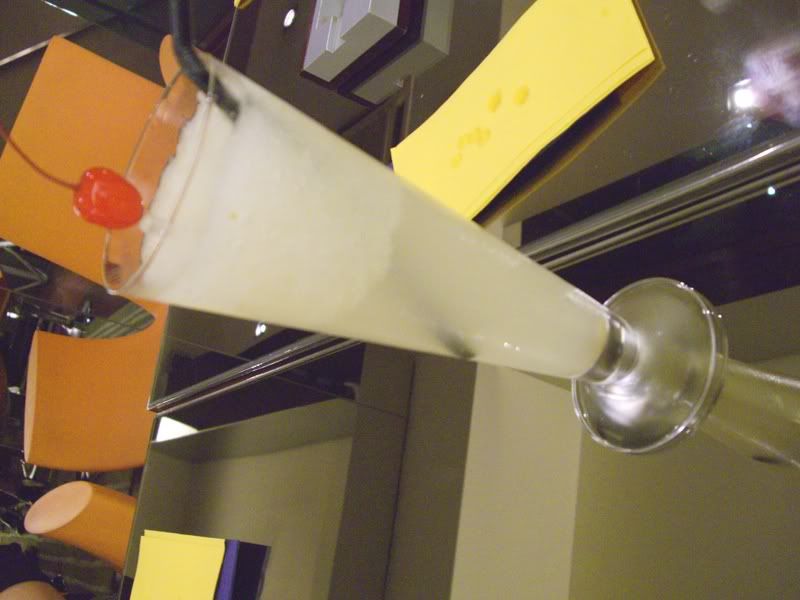 One of the many cocktails.....
Sounds good so far?
Yeah - but I'm never EVER going back there again.
"Why lah J?", you ask?
Well, I am pretty fussy about service and the service here
sucks.
I mean, we were pretty much the only people there that night... but after taking our orders and serving us our first round of drinks, all 6 waiters lined up at the bar area and decided that they should serve us a consistent stream of menacing frowns that shouted:
"Why are you still here?? - I want to go home and you are being a bother by making me serve you".
They pretty much left us to ourselves for the one hour we sat there, not bothering to ask us whether we wanted anything else/ smile/ etc.
(To be fair, there was
one
waiter who was nice and friendly... but the rest of them are a pain)
It's a real pity.
This place could have been really nice.
(They also serve food there - didn't try it as the kitchen was closed already - and interestingly, for you cancer stick suckers out there, they have a ciggie sommelier who can blend custom cigarrettes according to your specifications)

101° East @ KL

134, Jalan Bukit Bintang,
55100 Kuala Lumpur.
Tel : 03 - 2145 9101

Opening Hours
Mon - Thurs: 12noon - 12midnight
Fri - Sat: 12noon - 2am
(Closed on Sundays)

TAGS: Blog, Weblog, Malaysia, Dunhill, Lounge, Kuala Lumpur, KL, 101° East, 101 Degrees East, Bukit Bintang, Bar