An affordable place to eat in SS17....
The Lunch
[ BEGIN EDIT ]
(as at Jan 2007)
I'm so sad...
Just came back from Food Foundry and not only have they revamped the entire menu (taking out many of my favourite dishes) but the prices seem to have gone up a bit!
:(
Didn't bring my camera at the time so I can't show you the new dishes they had but well, I wasn't impressed.
(Dammit - just when I thought I had finally found a affordable, nice and convenient place to eat!)
(Oh, they still have their yummy Mille Crepe though so it's not so bad....)
I'm not going to take down my old review just yet (although it's not really relevant anymore) but I promise I will put up an updated review as soon as I can.....
Have a good weekend!
[ END EDIT ]
Food Foundry
is a new restaurant in the SS17 area that has been getting quite a bit of attention lately (from bloggers anyway). They serve a pretty wide range of very affordably priced Western as well as Asian food (most of the starters, tapas and desserts go for about RM7, the mains are about RM12 to RM20).
(Oh, and I must say: They have a wonderful website! - it's clean, informative, modern and they are so refreshingly transparent about themselves and their menu)
Ambience-wise,
Food Foundry
has a simple, cosy and comfortable environment: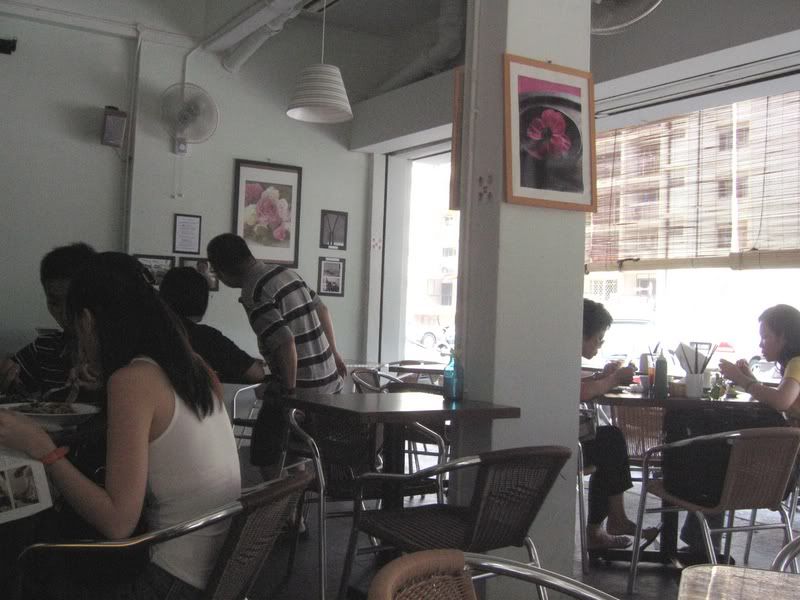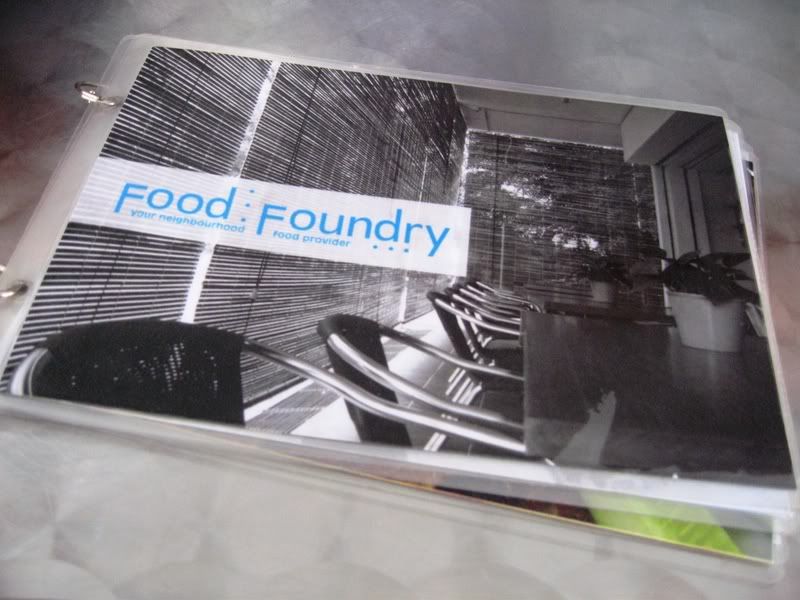 Food Foundry Interior
It is however, located in a rather unsophisticated location, specifically at the base of a low cost apartment block. This is probably why they can keep their prices so low... So, good for them and us consumers too *yay* :
Food Foundry Exterior
That day we started off with the Sauted Mushrooms, Lamb Meatballs and the Caeser Salad: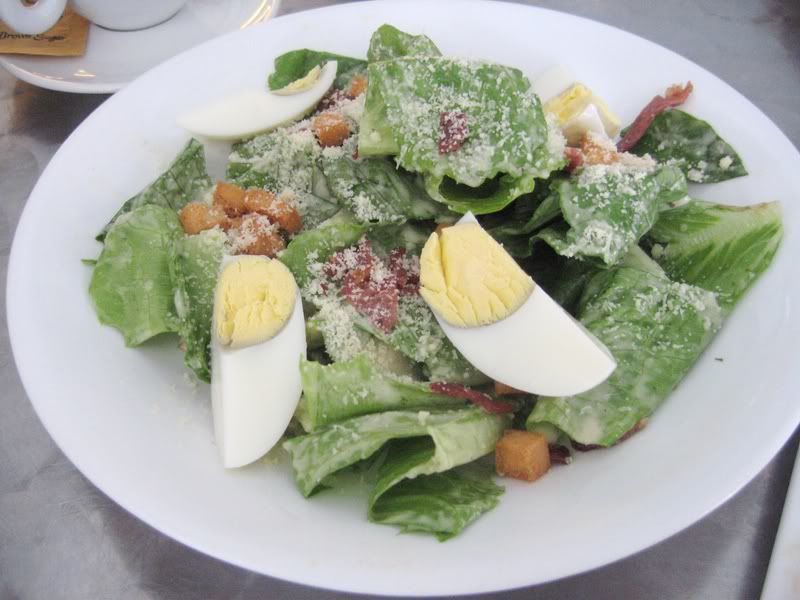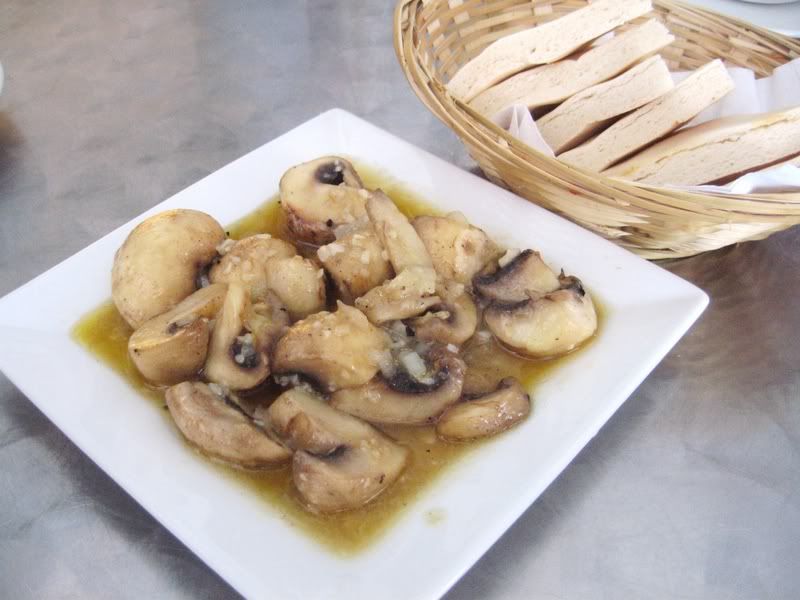 Top to bottom: Caeser Salad, Sauted Mushrooms and Lamb Meatballs
The Caeser Salad was nice, very worth it for RM6.90++. The Mushrooms, sauted with butter and garlic, were also pretty good - possibly a little undercooked but overall ok for RM5.90++.
The Lamb Meatballs (RM6.90++) though were a bit of a letdown. The texture of the meatball was nice - crunchy outer layer with moist meat inside - but it (and the accompanying sauce) was waaaaaay too salty.
For the mains, we tried the Aglio Beef with Mushrooms, the Pan Fried Dory with Pepper Marmalade and the Chicken Cordon Bleu: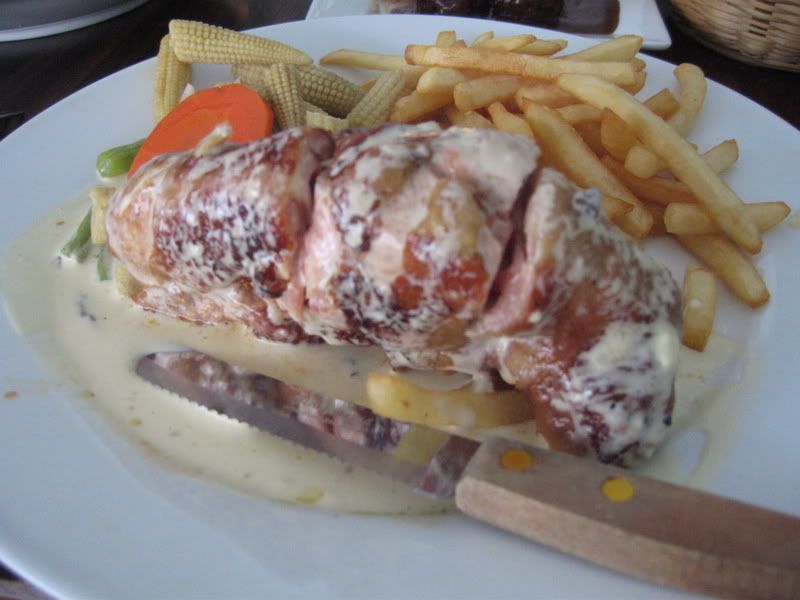 Top to bottom: The Pan Fried Dory, Aglio Beef and Chicken Cordon Bleu
The fish was nice, served with a side of salad and creamy pasta.
(The serving of fish was kinda small though - but ok for the price of RM12.90++... and the accompanying pasta was pretty tasty and filled me up)
The Aglio Beef with mushrooms (RM12.90++) was not bad... It had an Asian taste to it - not quite like the classic Aglio, which is nice but for me it was a bit too "wet". Lastly, the chicken (RM12.90++) was also ok - tender and flavorful.
For dessert, we tried the house specialty, the Original Mille Crepe (RM7.90++) as well as a Brown Brownie (RM6.90++):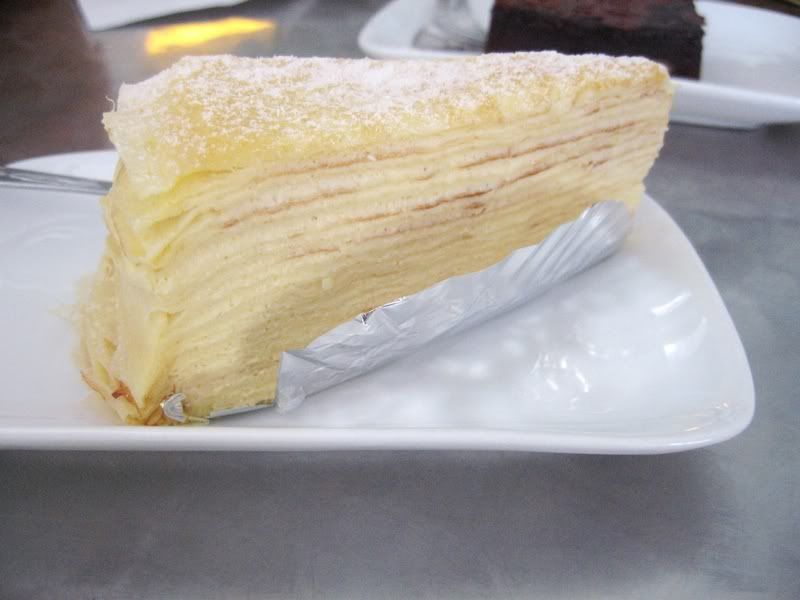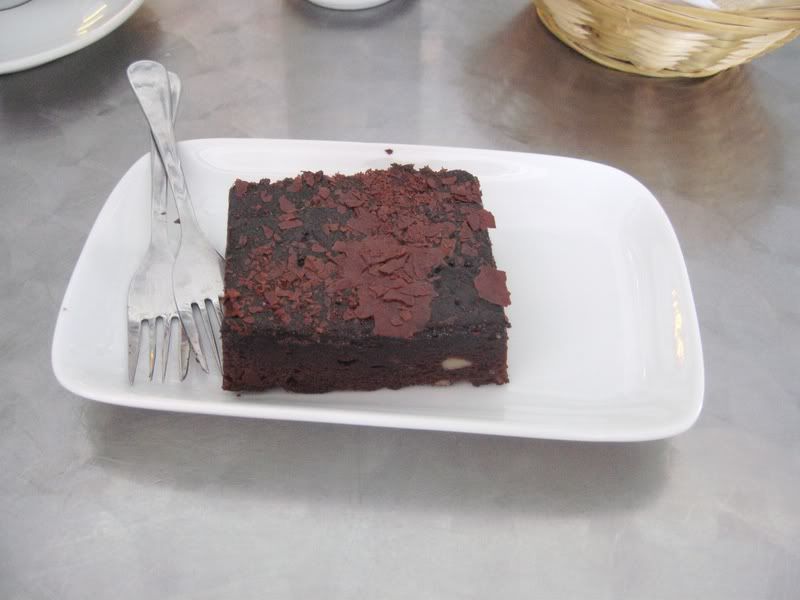 The Mille Crepe and the Brown Brownie
The Mille Crepe with its many layer of crepe and cream was nice - simple, refreshing and not too sweet.
(Definately something I would try again)
What about the Brown Brownie? Well, I didn't like it at all, but it's personal - I don't like cinnamon in my desserts. My friend V (who likes cinnamon) seems to think it tastes fine though.
So, it's: Affordable dining, comfortable environment BUT hits and misses on the menu and nothing much else really - it's not perfect but at those prices, I wouldn't complain
You can find a
map HERE on their website.
:)
Restaurant Review
Summary Sheet:
Food Foundry @ Section 17, PJ

Taste: 6
Ambience : 6
Service : 6
Price** : RM25/++ per person
Parking: OK

** Approximation - 3 course meal, excluding drinks
Telephone No.: 03-7955 3885
Opening Hours: 11:30am-10:00pm
NO PORK SERVED
TAGS: Food, Blog, Weblog, Malaysia, Restaurant Review, Restaurant Reviews, SS17, Petaling Jaya, PJ, Food Foundry, Asian, Fusion