Look out world: Here comes J the Chocoholic!
When I was reading the newspaper on Saturday morning, I nearly dropped my bowl of cereal and jumped off my chair.
I have been mentioned in
The Star newspaper
!
Wow.
Well, it's not that much really - a total one liner....
.... but it's a such an honor that I have been shortlisted and put alongside
Friedchillies
,
Wai Sik Kai
,
Jom Makan
,
Eatin Out
,
Food Safari
and of course last but definately not least, darling Boo_licious at
Masak-Masak
.

* ONE..., *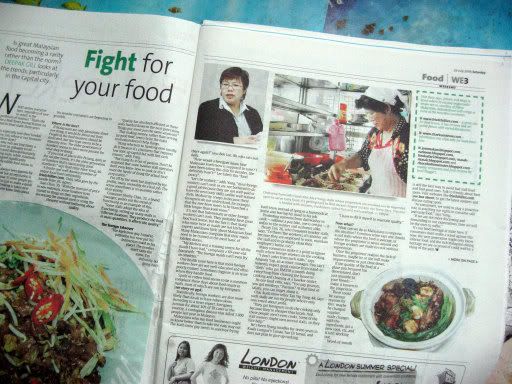 * TWO..., *


* THREE..., *


* TA-DAH! *
*waves frantically*
Look Mum (and Dad and P)! Aren't you proud of me now?
:)
It's not an award or anything like that but it gives me a measure of satisfaction that this little hobby of mine (eating+reviewing) is being recognized in some way.
It started off so simply....
One night while having dinner, I thought to myself: "There are waaaaaay too few people out there doing honest, layman reviews of restaurants in Malaysia". So, I started this blog to help fill this gap in whatever small way I can.
(I know that there is still much room for improvement - which I will continue to work on - but for now, I am happy)
With that, I'd like to take this chance to express my gratitude to:
the people at the Star (Deepak Gill especially, for writing the article),
my family (for their love and guidance),
P (for believing in me),
my friends (who put up with me snapping photos of their food and insisting I get a few bites to sample it for my reviews),
Patrick, in particular, for starting the whole weekly dinner thing that gave me the platform and inspiration to start my reviews, and
all my readers out there (whether or not you leave comments, I can see you on my blog statcounter and appreciate your support)!
I really appreciate all you've done for me and hope that you will continue with me on my journey to chronicle my eating adventures in KL.
:)


Hugs,
J

TAGS: Blog, Weblog, The Star, KL, Malaysia, Kuala Lumpur, Personal