An interesting UN-HALAL place to try out:
In my few weeks in Kuching, I was told of many places that make a
mean
Kolo Mee/ Kolok Mee but this place was my favourite. Min Kuan (aka. Min Joo - so peculiar, the shop has TWO sign boards right next to each other) is placed rather conveniently in the main Kuching town area in the Carpenter Street area.
(Mind you, it is quite a pain to get parking in the area though)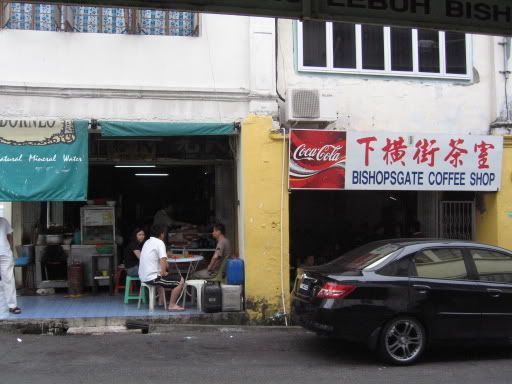 Min Joo/ Min Kuan exterior
What about the ambience, you ask?
:)
Well, it's a typical coffeeshop lah: Plastic chairs and plastic tables with posters of canned drinks/ coffee as a decoration. This place is extremely popular with the locals and tourists (apparently it appeared in some Taiwanese Travel+Eating programme) and has taken over the Bishopsgate Coffeeshop next door. Even with the extra space, you have to be prepared to wait up to an hour for your food during peak periods (especially lunch hour on weekends).
(You have been warned!)
(Oh and btw, the Teh Si Special and the Kopi is quite nice here - worth a try)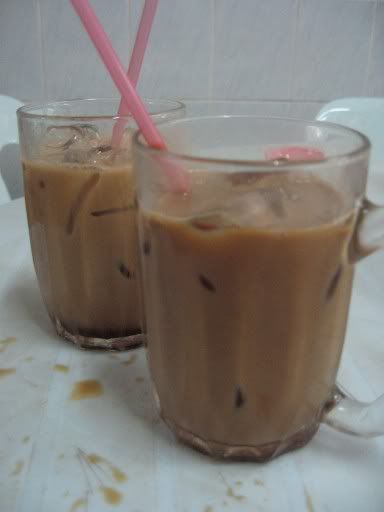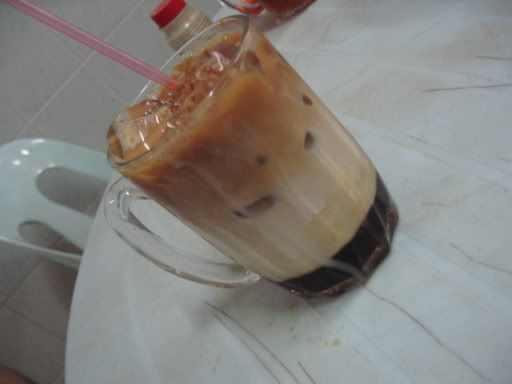 The Kopi Ping and the Teh Si Special
Be careful of the noodle store proprieter - he can get pretty grumpy.... When it gets too busy, he will refuse to take your order when you approach him, instead implementing this "special system":
1) You acquire, sit and wait at your table (usually up to 40 minutes),
2) He will come over, place utensils on table and take your order (Note: He can speak English too),
3) Your food arrives (usually about 10/ 15 minutes later).
Mind you, he CAN forget to take your order/ send your food over. I've seen it happen (He's only human)
The Kolo Mee is worth the wait tho....
Cooked to perfection and coated with a a simple yet effective concoction of oil and vinegar, it is savoury and piquant. The accompanying soup is also good - bursting with flavour (although arguably just a bit too salty), it comes with a generous amount of 3 layer meat, roasted pork, fish cakes, fish balls and prawns boiled lovingly with salted vegetables and seaweed (intestines and other piggy spare parts are optional)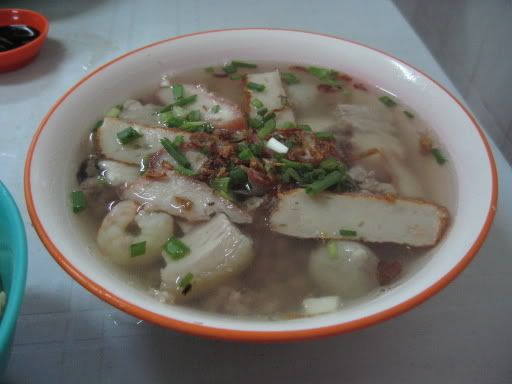 The Kolo Mee and Its Accompanying Soup
It is not really that cheap - about RM5.50 for a bowl of noodles and the accompanying soup. Looking at the generosity of the serving size tho, I think it is worth it. Normal eaters will feel stuffed if they have a bowl of plain noodles each and share a bowl of the soup.
TAGS: Blog, Weblog, Kuching, Sarawak, Food, Kolo Mee, Kolok Mee, Carpenter Street, Malaysia, Kuala Lumpur, Personal