A little Italian place in the Bukit Ceylon area...
The Dinner
This little Italian restaurant is tucked away in a cosy one storey bungalow just before the main Tengkat Tong Shin area (next to another restaurant called Bijan):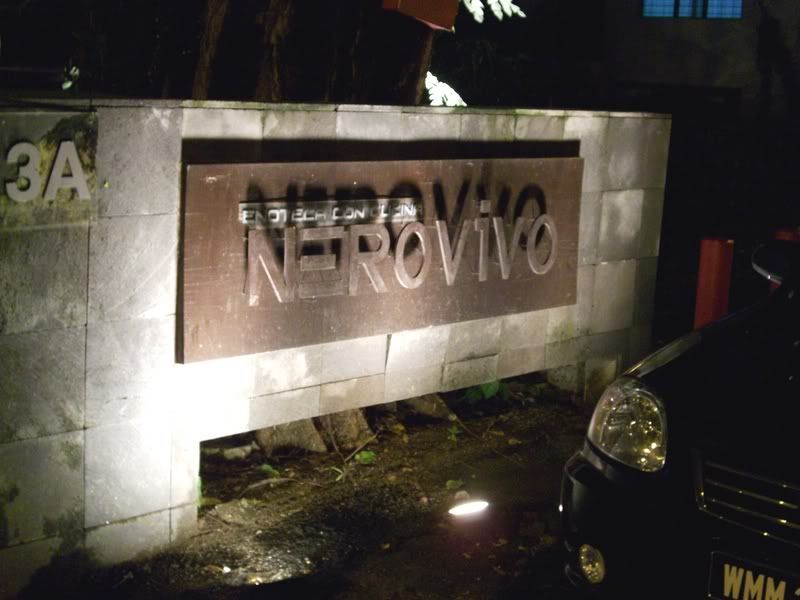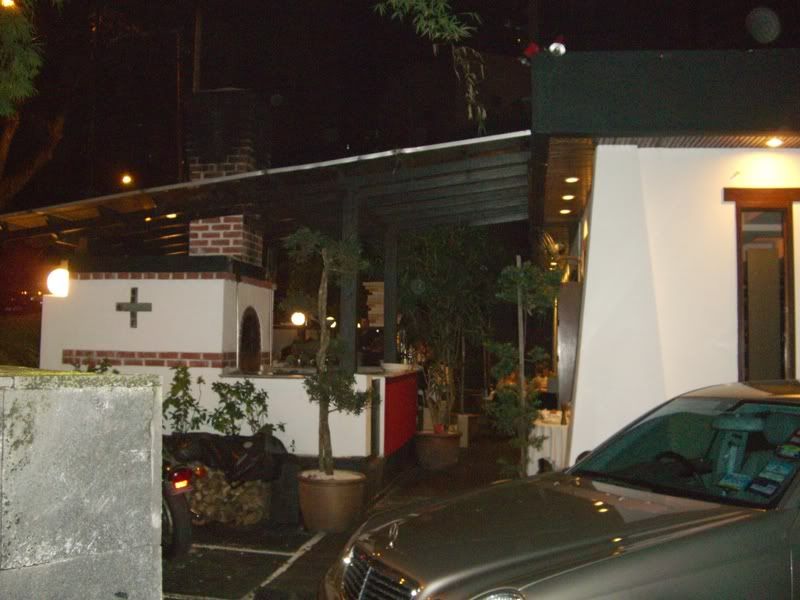 Restaurant exterior....
That night, we dined in the open air area: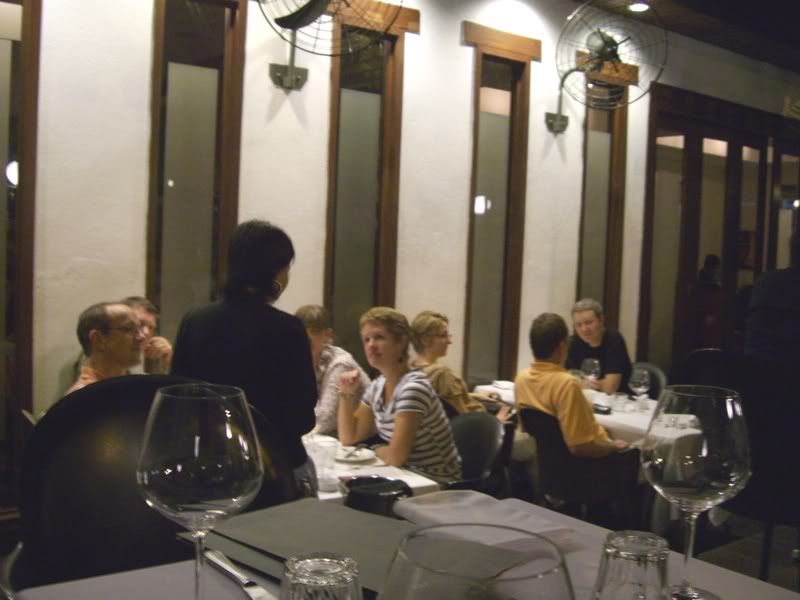 The open air dining area....
The open air area is nice and airy, with a simple but sophisticated ambience.
I prefer this greatly to the indoor dining which is very well decorated but has horrible acoustics - there are so many hard surfaces around that it becomes very noisy with everyone's voices trapped inside the room.
Looking at the menu, I thought the starters were pretty pricey at first (they're all around 30 bucks) but the serving sizes are pretty big so I don't think anyone will feel cheated (although they are not cheap):
The Vitello Tonnato and the Salmon Carpaccio....
That night, we had the Vitello tonnato (RM28++) and the Salmon carpaccio (RM28++).
The Vitello tonnato was pretty rich - thinly sliced veal in a creamy tuna sauce with capers. I know it sounds like a weird combination but it actually tasted pretty good, although it was just a tad too salty for my taste.
The Salmon carpaccio on the other hand was light, tangy and refreshing. It comes in a chive vinaigrette with capers, olive, cherry tomato and zucchini. There's a really generous amount of salmon slices but
Pat
and P both agreed that although it's very fresh, it was probably farm salmon because it didn't taste as flavorful as wild salmon.
For the mains, we tried the Penne carbonara (RM28++), Roast lamb shank (RM44++) and the Pizza Capricciosa (RM24++):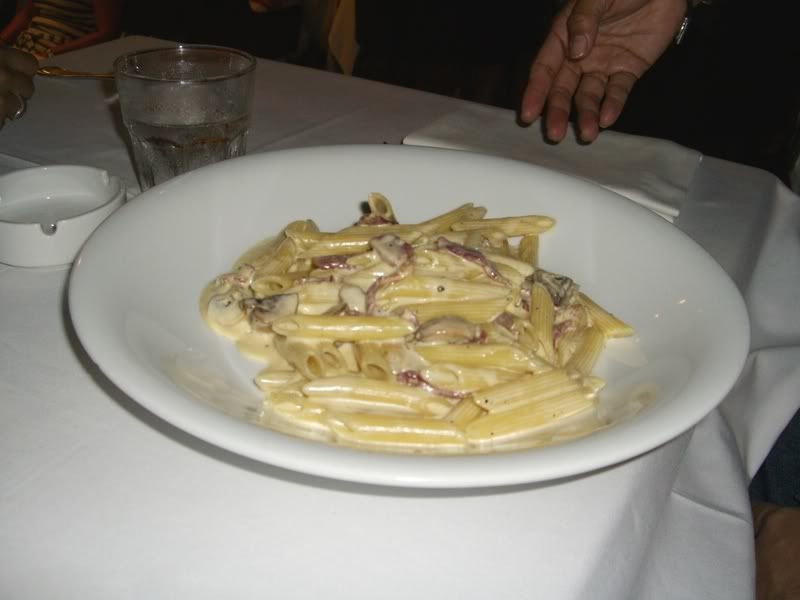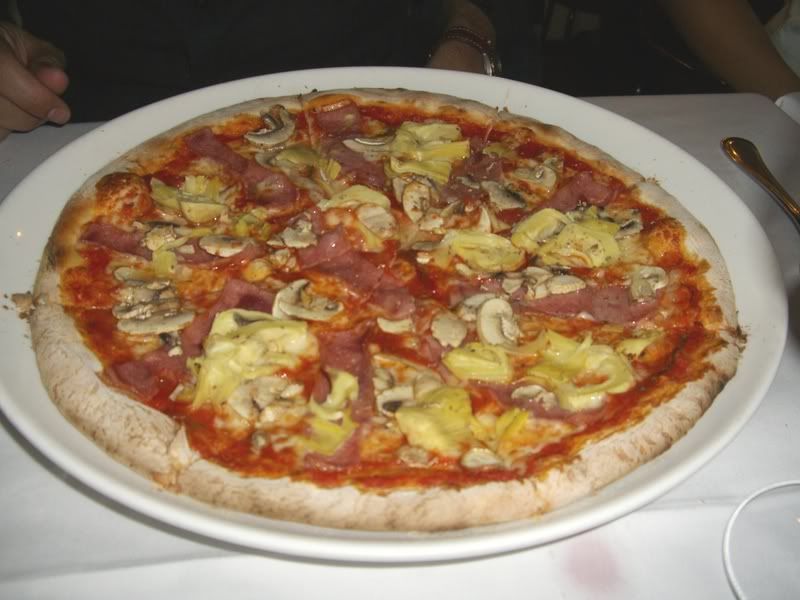 Clockwise from top: The Penne, the Pizza and the Lamb Shank....
The Penne was ok - served with creamy and fragrant carbonara sauce and a few bits of beef bacon and mushrooms.
(
Soo Jin
complained that it wasn't a big enough serving but then again, he's a big guy)
The Pizza was nice - I liked the crispy thin crust and tart artichoke slices.
(Hmmmm,... the garnishings - mushrooms, beef bacon and artichokes - were not as generous as I would have liked though)
The Lamb Shank on the other hand was a bit of a disappointment.
It was pretty tasty but definately not tender enough - specifically, it tasted like meat that was taken out of the freezer, not thawed out quite enough and thrown into the oven to cook.
(Oh, and I just couldn't figure out what sort of vegetables were served with it - it was nice but tasted like Chinese preserved vegetables)
They have many other interesting looking dishes on the menu like the Stewed Rabbit which I hope to try the next time I go there.
As for dessert, we had the Homemade Gelati (RM7++/ RM12++), Chocolate Flan (RM18++) and Creme Brulee (RM14++):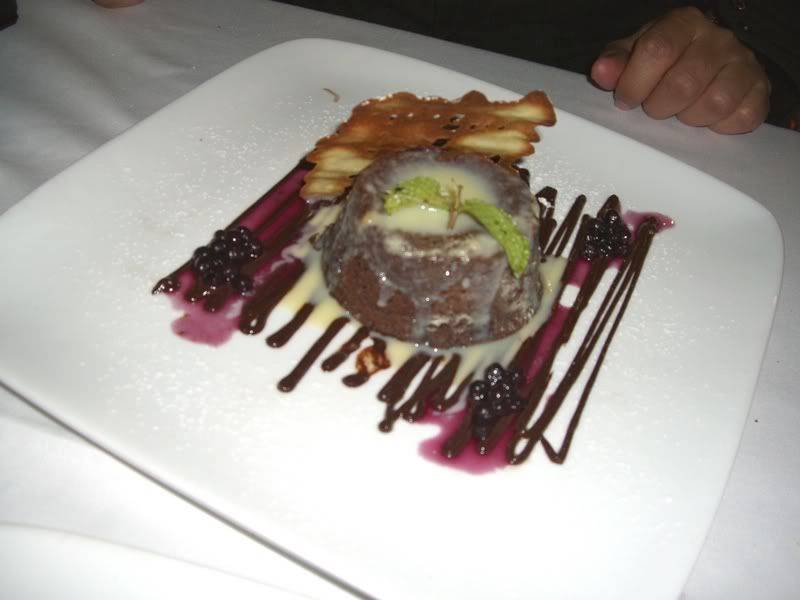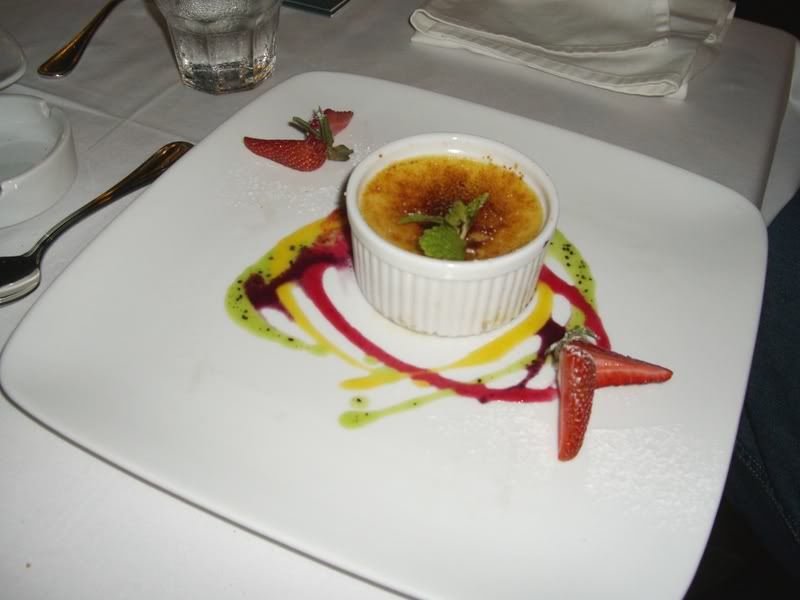 Clockwise from top: The Chocolate Flan, Creme Brulee and Gelati....
The Creme Brulee was nice. There was nothing wrong about it particularly - a crisp thin layer of caremelized sugar with tasty and smooth creme underneath - but it just wasn't earth-shatteringly great.
Also, after tasting the real deal in Italy, gelati in Malaysia just doesn't taste nice in comparison.... It's just never creamy or flavourful enough somehow. Still, the one at NeroVivo is not bad. There are about 6 or 7 flavours you can choose from.
(The one I tried was the Bacio aka Hazelnut flavour)
My favourite of the 3 is definately the Chocolate Flan.
*drool*
Served hot, it's spongey but moist with a mouthwatering chocolate sauce in the middle.
(Bliss!)
(Do share though - it is too sinful and heavy to eat alone, I think)
So, it's: Ok food for the price, wide range of food and wine and nice open air dining area (outside) BUT noisy dining area (inside) and service drops drastically during peak hours (eg. getting a water refill became harder and harder as the night advanced).
Restaurant Review
Summary Sheet:

Nero Vivo @ Bukit Ceylon, KL
(Near the main Tengkat Tong Shin area)

Taste: 6.5
Ambience : 7
Service : 6
Price** : RM70++ per person
Parking: Painful (unless you jockey or park in the neighbouring parking lot)

** Approximation - 3 course meal, excluding drinks
Telephone No.: 03-2070 3120
Opening Hours: 12noon - late
NO PORK SERVED
TAGS: Food, Blog, Weblog, Malaysia, Restaurant Review, Restaurant Reviews, KL, Kuala Lumpur, NeroVivo, Italian, Bukit Ceylon, Tengkat Tong Shin, Jalan Ceylon