A small update on an interesting Singaporean invader in Pavilion....
One day, me, Pat and Al were wandering around Pavilion shopping centre in KL when we decided to drop by the food court (called Food Republic) on the lower ground floor.
I was pretty impressed with the simple yet modern design of the food court area (which is surrounded by a perimeter of "nicer" restaurants) and the variety of food offered (everything from local to japanese to thai to western, etc):
The Food Court area...
I was feeling a bit confused on what to eat but then I saw the Thye Hong stall and made up my mind immediately: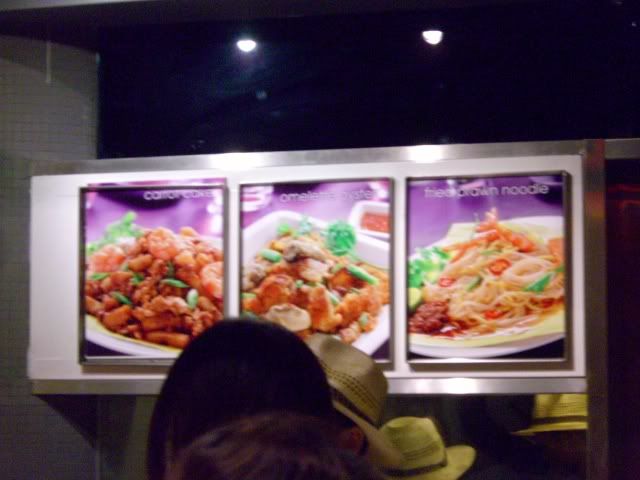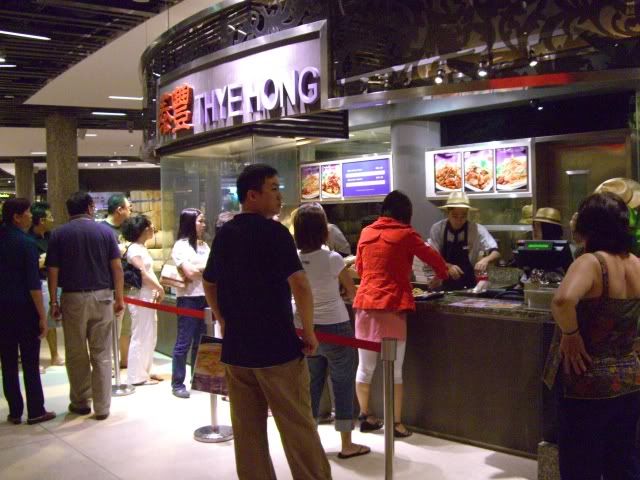 Thye Hong...
Basically, Thye Hong (in Pavilion) is a branch of the famous
Thye Hong Singapore Hokkien Mee from the Food Republic in Singapore
. I had tried it once before when I was on holiday there and remember it being really nice so I figured that the Malaysian outlet should be nice too.
After lining up patiently I got my nicely presented dish of Singapore Hokkien Mee (RM 7++) (BTW, be warned! - my friend who works in KL says the line can get crazily long during weekday lunchtimes):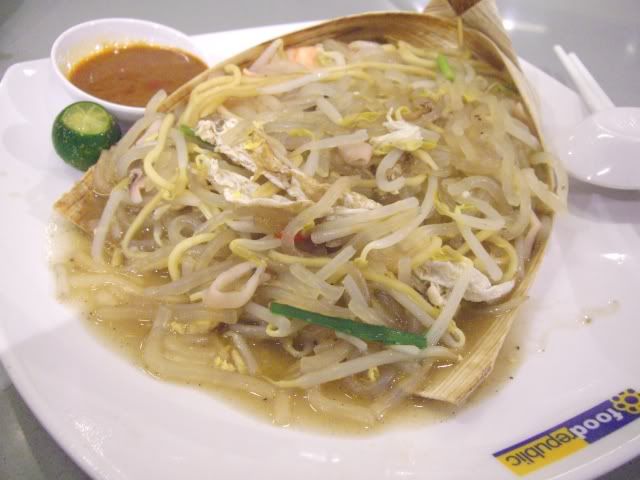 The Singapore Hokkien Mee...
It tasted ok - ok texture of the noodles, clear savoury sauce served with an ok tasting sambal on the side (the seafood could have been a bit fresher though).
:(
I guess I was expecting too much?
(Don't get me wrong - it's still worth a try.... It's just that it falls short of the original outlet in Singapore)
They also serve one or two other dishes at the stall, one being the Oyster Omelette (RM 7++):
The "Orr Chien" (Oyster Ommelette)...
Overall, this was also just ok - it was a tad too oily and not quite crispy enough for my taste, but there was a fairly generous amount of reasonably fresh small oysters encased in a thick layer of fragrant fried egg.
(Cannot compare with the top hawker stalls lah.... but it's really not bad for food court standards!)
So, it's: Ok tasting Singaporean Hokkien Mee (and average tasting "Orr Chien") in a clean and modern food court in Pavilion shopping centre BUT nothing much to complain except that I feel the original one in Singapore tastes better.....
Summary Information:
Hokkien Mee @ Food Republic Food Court, Pavilion, KL

Opening Hours: 11am till late.
Phone: -
Address: Lower Ground, Food Republic food court, Pavilion Shopping Centre, KL, Malaysia.

NO PORK SERVED

OTHER REVIEWS:
-
Two Super Heroes
-
Yowazzup? Food
-
Jule's Eating Guide To Malaysia
-
Kuan Chong's Photography, Travelling and Discovery
-
Very SEDAP!!!
TAGS: Food, Blog, Weblog, Malaysia, Restaurant Review, Pavilion Shopping Center, Pavillion, Thye Hong, Singapore Hokkien Mee,Shopping Centre, Food Republic, KL, Kuala Lumpur