(I'm trying to make up for lost time!) A review on fairly new restaurant/ bar/ club lounge in Sooka Sentral - right next to the main Plaza Sentral....
The Dinner:
If I had to sum up the feel of Centro's interior into 2 words, it would be - 1) Funky, and 2) DARK: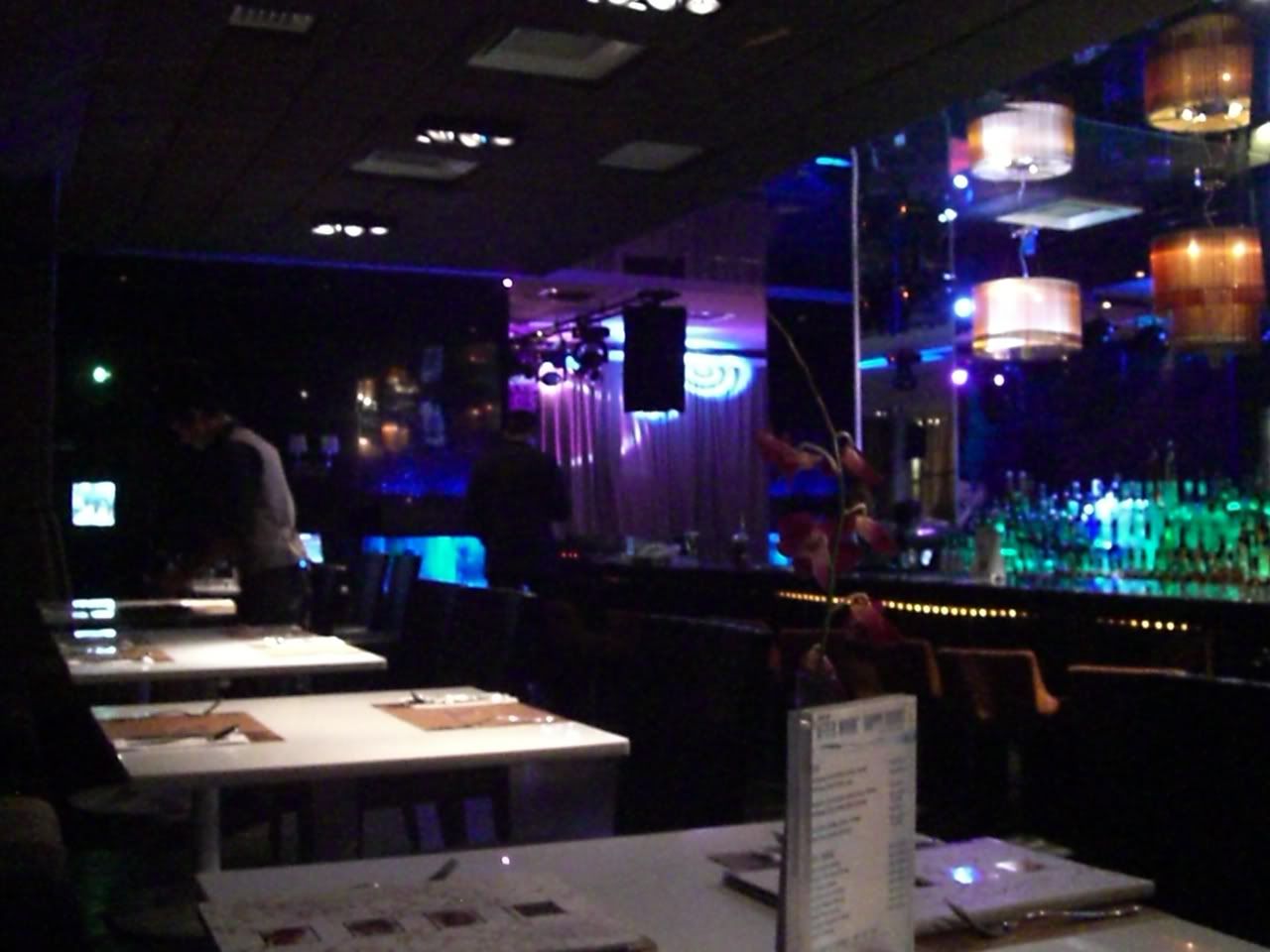 The Interior of Centro....
*lol*
Well, it was nice lah - modern, sleek but just a bit too dimly lit for a restaurant.
(It was really hard at times to get the attention of the waiters, considering they don't have night vision goggles - we were waving our hands around frantically like
"Hello?.. *wave* .. HELLOOOooooooo??"
)
I also found the music was a bit too loud in there but you can request for them to turn down the volume a bit during dinner time...
(Actually, it's like they kinda forgot that they have to be a restaurant from 7 to 9+ pm before they turn on their club/ bar mode)
Moving on to the food, there is a fairly extensive range of Western and Eastern food - ranging from pastas, poultry, seafood and steak to fried rice, noodles and (strangely) some dim sum.
After some deliberation, we started the night with an array of soups and finger foods - the Lobster Bisque (RM 12.50++), Super Nachos (RM 22.50++), Deep Fried Baby Crabs (RM 12.50++), Deep Fried Calamari (RM 12.50++) and Chicken Wings (RM 13.50++):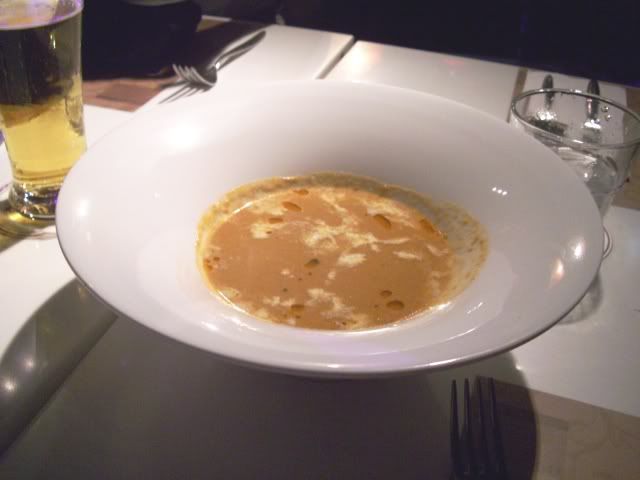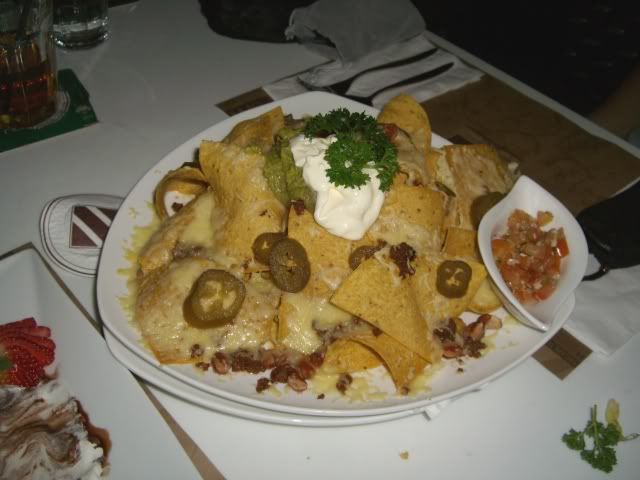 Top to bottom, left to right: The Lobster Bisque, Super Nachos, Deep Fried Baby Crabs, Deep Fried Calamari and Chicken Wings ....
(Hmmmm, ok - I'll try to be brief considering there are so many dishes... or this review may never end! O_o....)
Nice!:
- Lobster Bisque : Thick (but not TOO thick), creamy soup with robust aroma of seafood/ lobster without being "fishy"
- Deep Fried Calamari : Fresh, "springy" calamari rings encased in a light crispy batter
OK lah:
- Deep Fried Baby Crabs : Good value serving but just a bit too salty and could have been crispier
Nothing Special:
- Super Nachos : Overpriced and average. Crispy nacho chips topped with cheese, sour cream and guacamole (Oooh, and the salsa was super garlic-y)
- Chicken Wings : Not very tender or tasty (Needs to be marinated a little better, methinks)
That night, we also tried the Dinner Set Meal (RM 33++) which comes with a soup or starter, main (that night it was either steak, lamb chops or pasta), dessert and coffee or tea: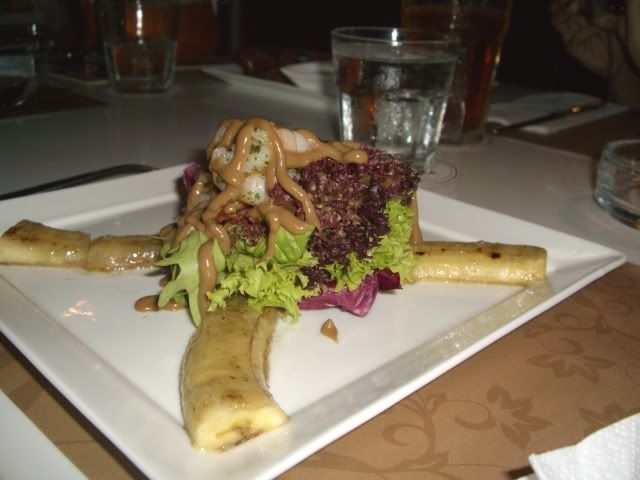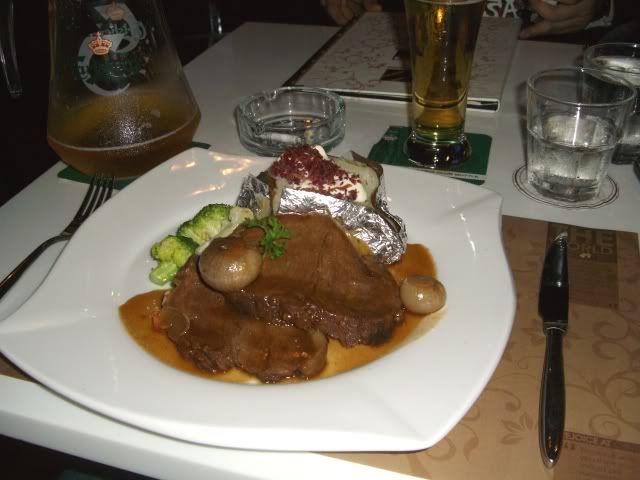 Top to bottom, left to right: The mushroom soup, Prawn and Banana salad, Lamb Cutlets, Steak and the Dessert....
OK.
So, it's very decently priced for a set meal in a fairly nice restaurant setting... but the overall quality of the food was a little disappointing:
- Mushroom Soup : Not bad. Creamy and tasty.
- Prawn and Banana Salad : (For lack of a better word) Weird - I'm not sure that prawn & banana & lettuce & thousand island dressing go so well together.... It definately does not suit my tastebuds anyway.
- Steak : Ok serving size but texture was a bit stringy/ tough and not very tasty.
- Lamb Cutlets : Ditto.
- Cake a la mode : Not bad! Was surprised but the dry crumbly cake and the smooth creamy ice cream actually went quite well together.
We also tried a couple of other mains that night - the Fried Beef Hor Funn (RM 14.50++) and Grilled Seabass (RM 30.50++):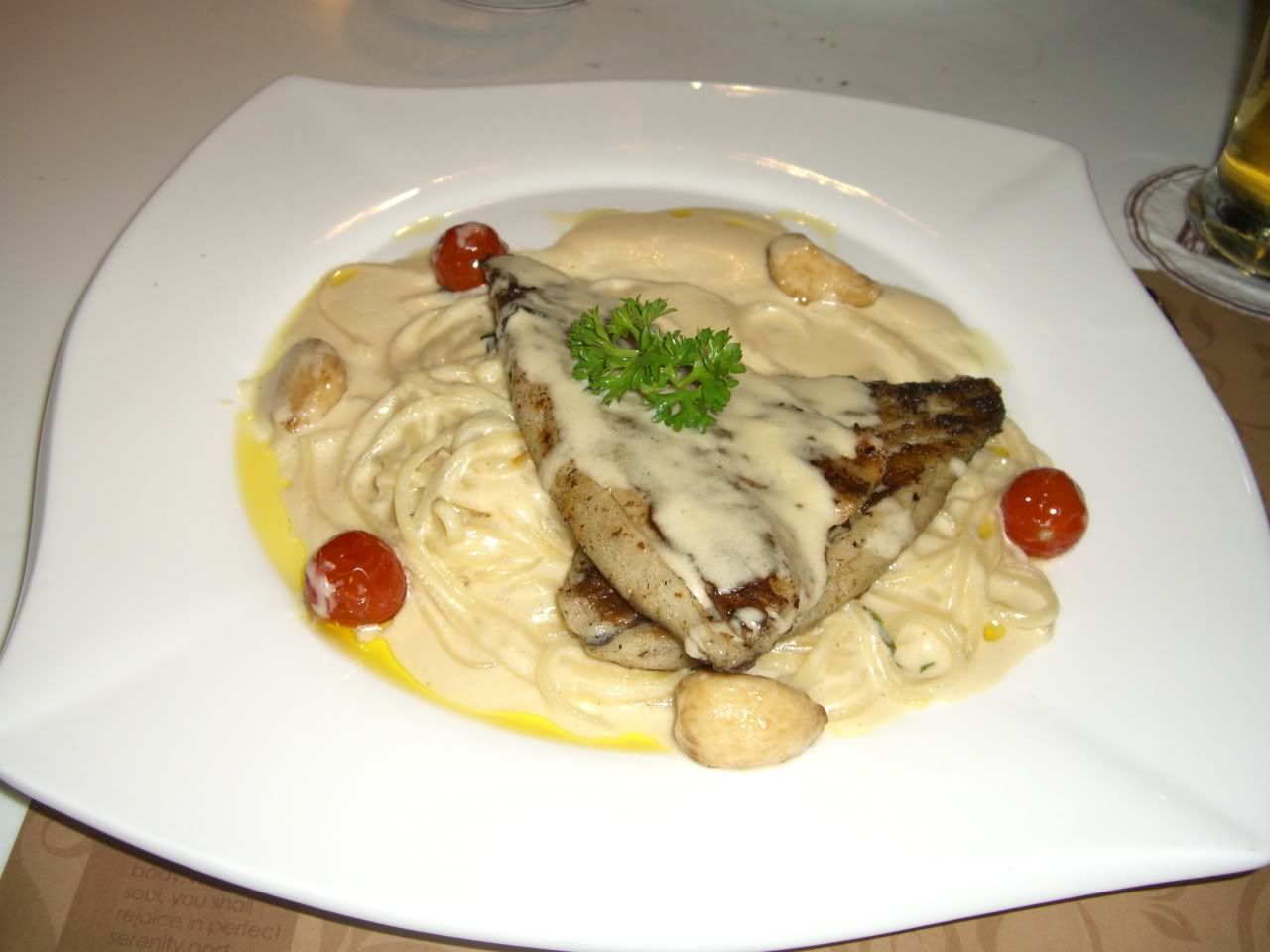 The Horr Fun and the Sea Bass....
Both dishes were ok.
- The fish was a bit limp and only moderately tasty but the accompanying creamy pasta was nice (although a bit too oily).
- The Horr Funn was smooth and tasty (but just cannot compare to the top hawker stalls!).
Lastly, dessert! - we had the Apple Crumble (RM 15.50++), Sticky Date Pudding (RM 15.50++) and Tiramisu (RM 15.50++)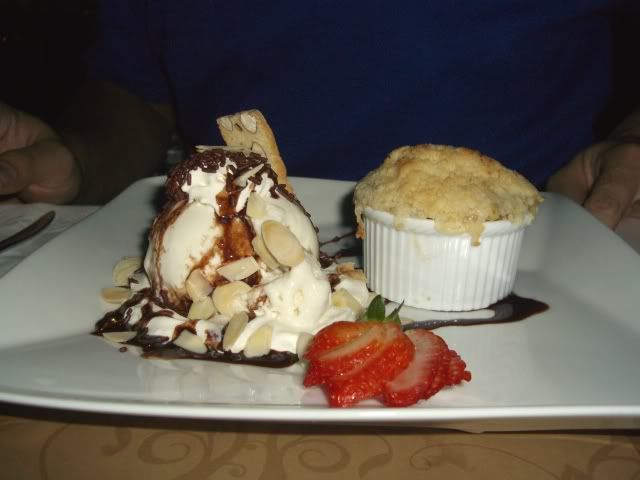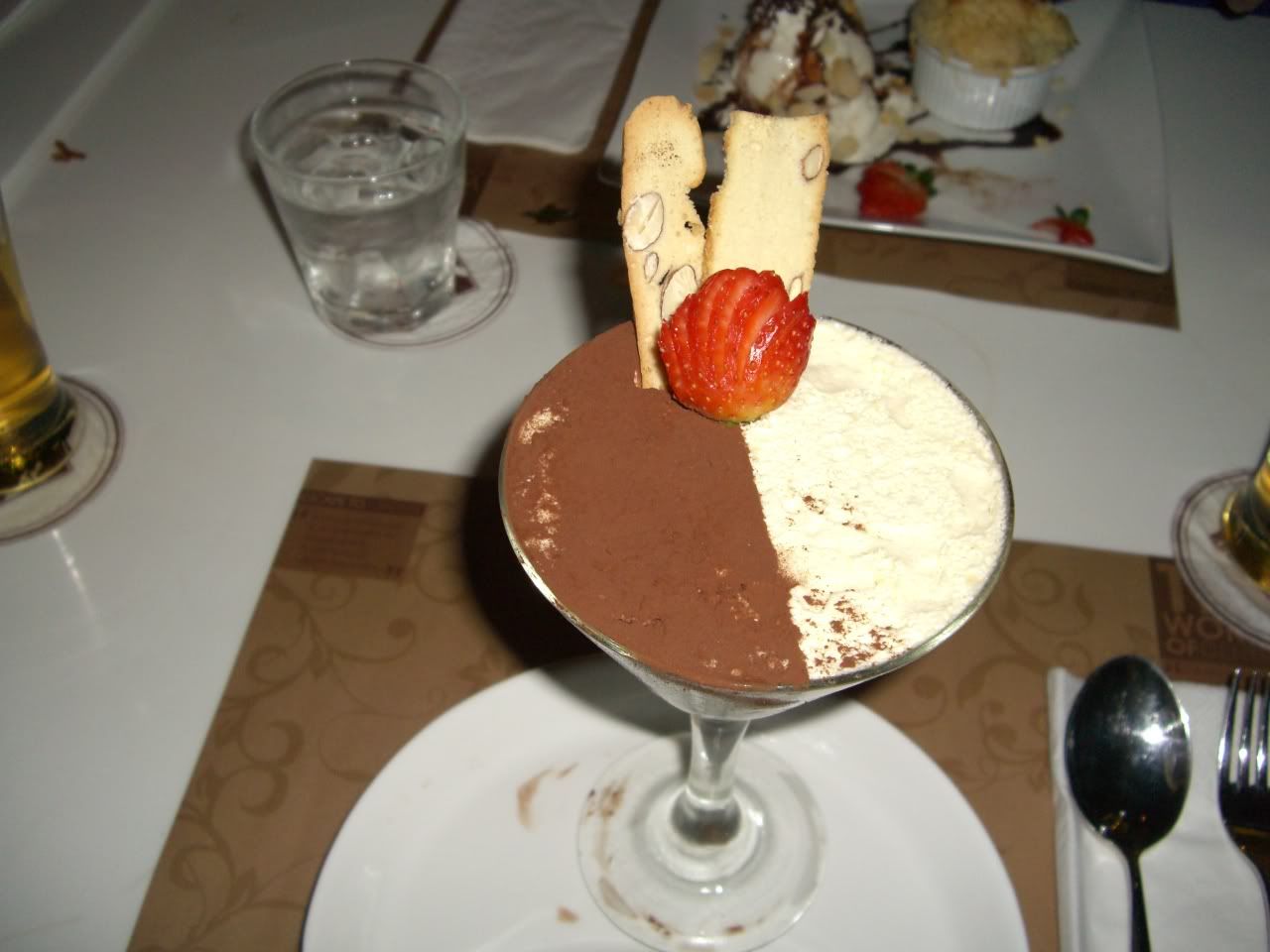 Clockwise from top left: The Apple Crumble, Sticky Date Pudding and Tiramisu....
Nice!:
- Apple Crumble : Yummy - Moist, tender, tasty apple chunks topped with a crispy crumble pastry and vanilla ice cream on the side (Serving is so small though....)
Nothing Special:
- Sticky Date Pudding : Just way too sweet...
- Tiramisu : And this was way too creamy (almost non-existent texture)...
Overall, we had an OK night at Centro... (Most of) The food really wasn't anything to shout about but it was convenient to be able to have dinner there and continue on to drinks/ dancing/ etc without changing venues or having to drive deep into the jammed Saturday night traffic of central KL.
So it's: Sleek, funky modern setting with wide range of Western and Eastern food, friendly service BUT blur wait staff (either that or it's just too dark) and hits and misses on the menu.
Restaurant Review
Summary Sheet:

Centro @ Sooka Sentral, KL

Taste: 5
Ambience : 5^
Service : 5*
Price** : RM 50/++ per person
Parking: OK

^ Nice as a club but a bit too dark/ noisy as a restaurant
* Either it's just too dark in there or the waiters are just too blur
** Approximation - 3 course meal, excluding drinks
Telephone No.: 03-2785 1811
Opening Hours: 12noon till late, closed on Sunday
NO PORK SERVED
OTHER REVIEWS:
-
Pink Painter
-
Journal Of Life
TAGS: Food, Blog, Weblog, Malaysia, Restaurant Review, KL Sentral, Sooka Sentral, Club Lounge, Centro, Bar, KL, Kuala Lumpur