A taste of the classic Singaporean Hokkien Mee in the new VivoCity shopping centre in Telok Blangah....
On my trip to Singapore, I promised myself that I would eat as much Singapore style Hokkien Mee as I possibly could.
I blame it all on my ex (who was Singaporean)!
He got me hooked on this yummy carb-loaded dish.... which is an eye for an eye I suppose, considering I introduced him to a lot of yummy carb-loaded Malaysian delicacies which ruined his otherwise healthy diet.
:)
Anyway, my first Hokkien Mee on my recent getaway to Singapore was in the new Vivo City Shopping Center in Telok Blangah (near Sentosa Island). The Vivo City food court has an interesting concept - they have 2 separate sections : Halal (named Banquet) and Non-Halal (named Kopitiam):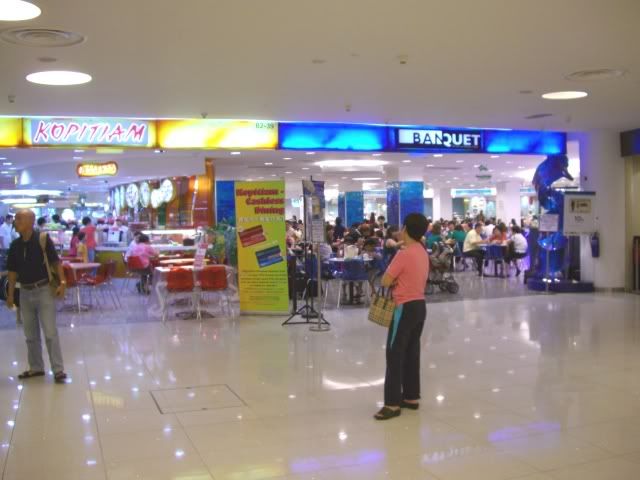 The 2 Sections of the Food Court....
The food court was funky and modern - with cute retro plastic chairs and bright colour scheme that made the place very upbeat. Of course, I gravitated to the Non-Halal section and quickly scoured the place for a Hokkien Mee stall. Eventually, I found one deep inside, almost at the end of the food court area:
The Stall of My Choice....
I asked the old uncle manning the stall for a plate and happily exchanged 4 Singapore Dollars for the long awaited dish: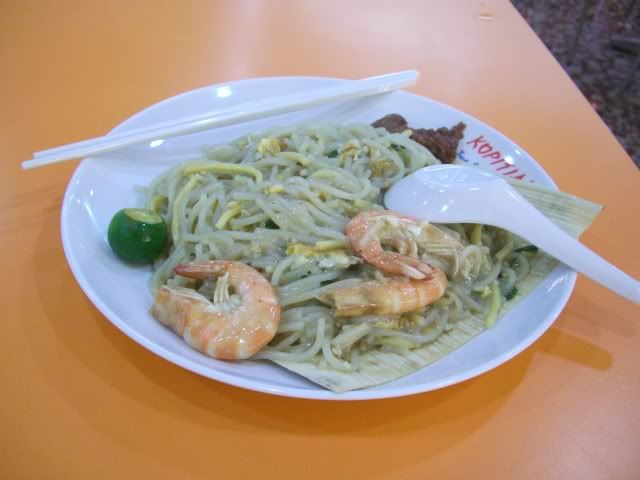 The Singaporean Hokkien Mee....
As it was a food court, I was hoping for the best but expecting the worst.
(As food courts usually serve horrible food which people only buy because it's convenient)
However, I was very pleasantly surprised.
The noodles - supple yet moist without any starchy aftertaste.
The sauce - bursting with deliciously savoury flavour of the eggs mixed with garlic and chicken stock.
The sambal/ chili sauce was also pretty good - fragrant without being too spicy.
(It tastes even better when you squeeze the lime on it as it gives it that fresh sour zing)
My only complaint is that the prawns were horrible - they didn't taste very fresh and all the flavour and texture had been boiled right out of their skinny little bodies... but otherwise, the Hokkien Mee was nice overall.
As you can see, the Singaporean version of Hokkien Mee is very different from ours here in Malaysia. Ours is dark, rich, fragrant and tastes wonderfully sinful whilst theirs is light,
"ching"
(clear) and tastes loads healthier somehow - probably mainly because it doesn't come with pieces of
"chee yauw char"
(deep fried pig fat).
(Any non-Malaysians curious about our local Hokkien Mee? - If yes,
click here
for a review I did 0n a coffeeshop in PJ...)
I know a shopping center food court would not be considered a good place to look for authentic and delicious local food but it's convenient lah. My trip to Singapore was only for 3 days and I didn't have time to go look for the famous hawker centres/ coffee shops that are not in the main city/ shopping areas.
If you have time though, the hawker centre in the main Serangoon Gardens area (which is about 20 minutes away from the Orchard Road area) has a great Hokkien Mee stall.
(Although the one in Vivo City is great by food court standards)
So, it's: Delicious and affordable Singaporean Hokkien Mee in a clean and modern food court BUT Singapore Dollars to Malaysian Ringgit forex tends to hurt the wallets of poor Malaysians like myself!
Summary Information:
Hup Kee Hokkien Mee @ Vivo City Food Court, Singapore

Opening Hours: 11am till late.
Phone: -
Address: Level B2, Kopitiam food Court, Vivo City Shopping Centre, Telok Blangah, Singapore.

NOT HALAL

OTHER REVIEWS:
-
Jos Loves Food
TAGS: Food, Blog, Weblog, Malaysia, Restaurant Review, Restaurant Reviews, Telok Blangah, Hup Kee Hokkien Mee, Vivo City Shopping Centre, Vivo City, Hokkien Mee, Singapore