A cute little cafe in the Paragon shopping center on Orchard Road....
While on my little getaway in Singapore, P and I were feeling a little tired during our mini-marathon around the city area so we decided to look for a place to get a little mid-day bite and caffeine boost.
We were actually looking for the Bakerzin outlet (which is on the 2nd floor) but chanced upon the P.S. Cafe (which stands for Project Shop Cafe) on the 3rd level of the Paragon Shopping Centre on Orchard Road. This cafe is a part of the Project Shop/ Blood Bros concept store and looked pretty interesting so we decided to try it out instead (This brand positions themselves to sell basic but high quality casual clothing).
There is a choice between the small but cosy dining area "inside" the clothes store (pretty much right next to all the clothes) or another small but airy section outside in the shopping center area. At that time, the outside area was super packed so we got a table inside: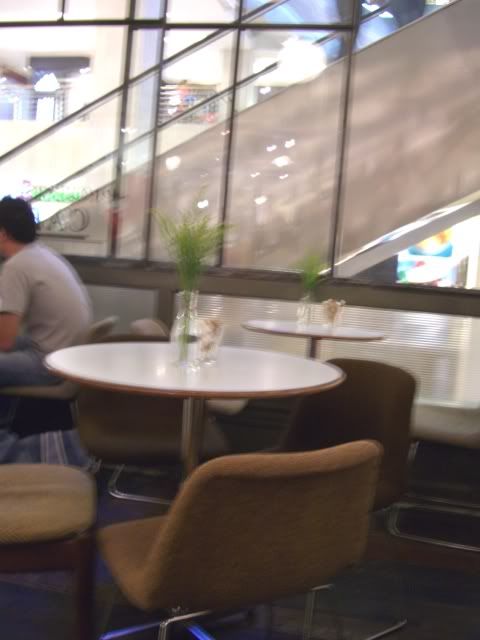 A fuzzy photo of P.S. Cafe....
We were only there for coffee and dessert but looking at the menu (and other people's food), it seemed that there is a delicious array of food (from light sandwiches and salads to slightly heavier mains), desserts (cakes, muffins, etc) and drinks (coffee, fresh juices and even wine) there.
What caught my eye though was this racy magazine cover hung up at my eye level, near our table:
O_o....
Haha.
I cannot imagine that making it into Malaysia without some heavy editing with a black marker pen by some Customs officers.... Anyway, after some contemplation, we decided to go for the Banana Cream Pie (which cost SGD$12++....
ouch
):
The Banana Cream Pie....
I have to admit : Initially, I was very disappointed when I saw the Banana Cream Pie.
"What the... ? It's not even a real pie!"
, I thought to myself.
"I can't believe I'm paying almost RM30 for a cookie with some sliced bananas, caramel and cream on top!"
, I continued to grumble.
When I ate each component on its own, it wasn't any good at all: The cookie base was too dry and crumbley, the sliced bananas were so normal and the topping of caramel+whipped cream+chocolate sauce was way too sweet...
... but when you eat it all together, it tastes SO good!
(Taste and textural perfection. Yum..... )
I'm not sure if I will go back anytime soon just to eat it though....
(EXPENSIVE!)
Don't get me wrong - it's very nice... but I can't accept that it costs so much.
(I mean, if I convert the price of the pie and my coffee to Malaysian Ringgit, I can have a filling meal at a decent restaurant or about 6 meals at a hawker centre)
(I'm a stingy girl at heart lah)
(Or more accurately, I'm just not rich enough to be so generous with money)
:(
(Ooh, and btw, I don't think that this place is Halal - it looks like very few places in the Singapore city center are)
So, it's: Small and cosy cafe which has friendly staff, a good variety of light meals and desserts on the 3rd Floor of the popular upmarket Paragon shopping center BUT Singapore Dollars to Malaysian Ringgit forex tends to hurt the wallets of poor Malaysians like myself!
Summary Information:
P.S. Cafe @ Paragon Shopping Centre

Opening Hours: 11am till late.
Phone: +65 6735 6765
Address: #03-41/44, Paragon Shopping Centre, 290 Orchard Road, Singapore 238859.

NOT HALAL

OTHER REVIEWS:
-
Thursday Club
-
Sparklette Food & Travel
-
Yum.sg
TAGS: Food, Blog, Weblog, Malaysia, Restaurant Review, Restaurant Reviews, Orchard Road, Paragon Shopping Centre, Project Blood Bros, Project Shop Cafe, Cafe, Singapore