I don't usually go for free food tastings… but it's such an interesting concept! - a KL Food Crawl – sounds cool, right?....
Seriously - I hate accepting free food from restaurants...
(You'll have to take my word on this)
1) They know you're coming (and I feel that they can possibly pay an unfair amount of attention on you/ the food)
2) I have this strange notion that you cannot truly appreciate the price vs taste unless you actually pay for it with your own money (which is probably why I'm so broke after 3 years of food reviewing *sigh*)
(Anyway, enough about me and my strange way of thinking)
However, when I heard from the people behind
Nibbleish.com
that they were bringing a new "food crawl" / "food safari" concept to KL, I couldn't resist participating in their food tasting to find out more....

Take a bite....
Basically, the idea is that you can have a (sort of) food adventure - testing out 3 different restaurants in the same area (guaranteed to be =< 5 minutes walking distance) - one place for your starter, another for your main and a third place for your dessert.... And it's at a discounted price too. :)
All you have to do is :
1) go to
their website
,
2) choose the date and restaurant combination you want for your starter, main, dessert (eg. Flam, Le Bouchon & Bermuda Combo Tour)
3) pay online (prices are discounted! Approx 30% cheaper than normal, prices start from RM 50+),
4) print out your "ticket",
5) turn up at the right restaurant with your ticket on the right date,
5a)
Starters 7.00 pm - 8.30 pm
5b)
Main course 8.00 pm - 9.30 pm
5c)
Desserts 9.30 pm till late
... and lastly...
6) MAKAN! :)
Menus are supposed to be changed fairly frequently (weekly?) but there are some restaurant menu highlights online for you to browse through.
So far, they only have a fairly short list of restaurants in the the Jalan Bangkung, Bangsar and Changkat Bukit Bintang, KL areas but I'm sure they will expand the list soon.
Restaurant listing:
-
Changkat Bukit Bintang: (22 March - 30 April 2009)
Palate Pallete (No pork), Flams (No pork), Le Bouchon (No pork), Delucca (No pork), Bermuda & Onion (Non Halal),
-
Jalan Bangkung (01 - 30 April 2009)
Cava (No pork), Tea For Two (No pork), Tasting Room (No pork), Tasting Room (No pork), U Restaurant (No pork), Leonardo's (Non Halal)
So, what's in it for you? :
1) Discounted prices for full sized meals (approx 30% discount!)
2) The fun of trying out 3 different restaurants (all within walking distance) in one night
But what's the catch lah? :
Nothing.
Except that if you are looking to sit down and relax at one restaurant the whole night (ie. not feeling adventurous) then this is not for you. Oh, and they don't have this deal on every single night - only on Sundays to Thursdays.
Overall: Interesting concept of a food safari, discounted prices for full sized meals at established/ new restaurants in Bangsar and KL (the 3 course package price starts from about RM50+!), fuss free online booking+payment system BUT only available on off peak nights (Sunday to Thursday)... I can't think of anything else negative - I'm just a little worried about the ability of the restaurants to cope well to this new concept, but I'll update on that after I try it out…
Links to some of the Jalan Bangkung restaurant options:
1)
Tasting Room review @ Cumi & Ciki
2)
Tea For Two review @ Cumi & Ciki
3)
Leonardo's review @ Fat Boy Bakes
4)
Tasting Room review @ Julian Si
5)
My Leonardo's review
(
coming soon - sorry!
FINALLY done...)
Another great thing about the food tasting that night (other than the exciting new concept) was that I got to meet up with some really delightful people - especially fellow food bloggers,
Mr. "Super Baker" FBB
and
Miss "Hot Stuff" Ciki
. :)
(Sorry,
Jules
, since I already know you, it wasn't so special to meet you there :P)
Was so nice to meet you babes! :) Let's go makan again soon, k?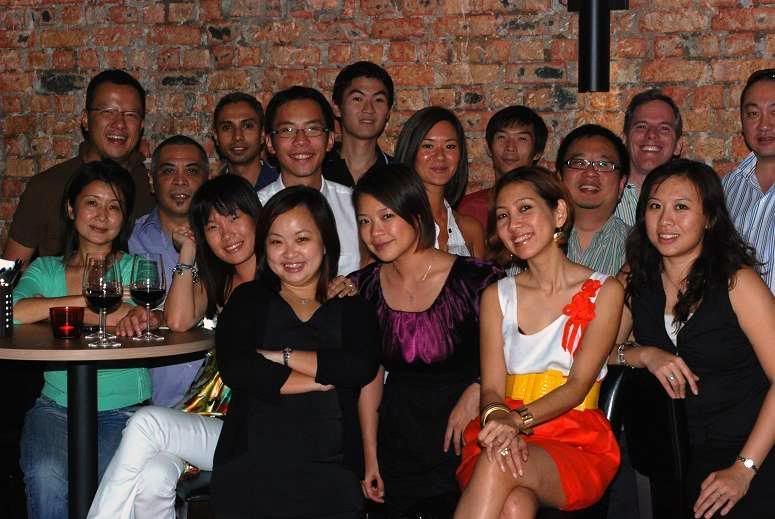 All of us at Leonardo's
(Photo brazenly stolen from Julian Si's site btw - "Teruk lah u, Jules - u know I don't like my photo posted online and you never even asked first... Anyway, the damage is done.... So I have stolen and pasted your photo here too")....
TAGS: Food, Blog, Weblog, Malaysia, Restaurant, Fusion, Leonardo, Nibbleish, KL Food Safari, Bangsar, Changkat Bukit Bintang, Jalan Bangkung, Pork