Please sir, can I have some more?.........
[ BEGIN EDIT ]
(June 2009)
Despite being so expensive (and the
supposed**
worldwide recession), this brunch buffet is extremely popular. So please make your bookings at least 2 weeks ahead to avoid disappointment (especially if you plan to go in a big group).
** It's not that I'm trying to make a joke of it, but I am perplexed by how many people are still shopping so much (from my last visits to One Utama / Midvalley)...
PS:
(as at Jan 2010) I've heard that the price has gone up,
again
, to RM228++.
Happy New Year. =_=
[ END EDIT ]
What would I do if I had
RM 198++
RM 228++ to spare?
If you asked me before, I may have named a couple of things I'd like to do like go for a massage... or maybe buy a new pair of shoes.... but now, I know for sure that I'd happily blow all that cash on the Sunday Bubbly Buffet Brunch at the Westin Hotel...
(*hic*)
I know, I know - It's definately a lot of money but not only is there free flow of champagne (Laurent Perrier!), wine (red & white), appletinis (yummy), etc, there's also a seemingly endless flow of freshly made pastas, pizzas and other Italian specialties....
(And mind you, the food is actually good! - unlike many other buffets)
They even have GIANT bottles of champagne ready for alcoholics like me... *grin*: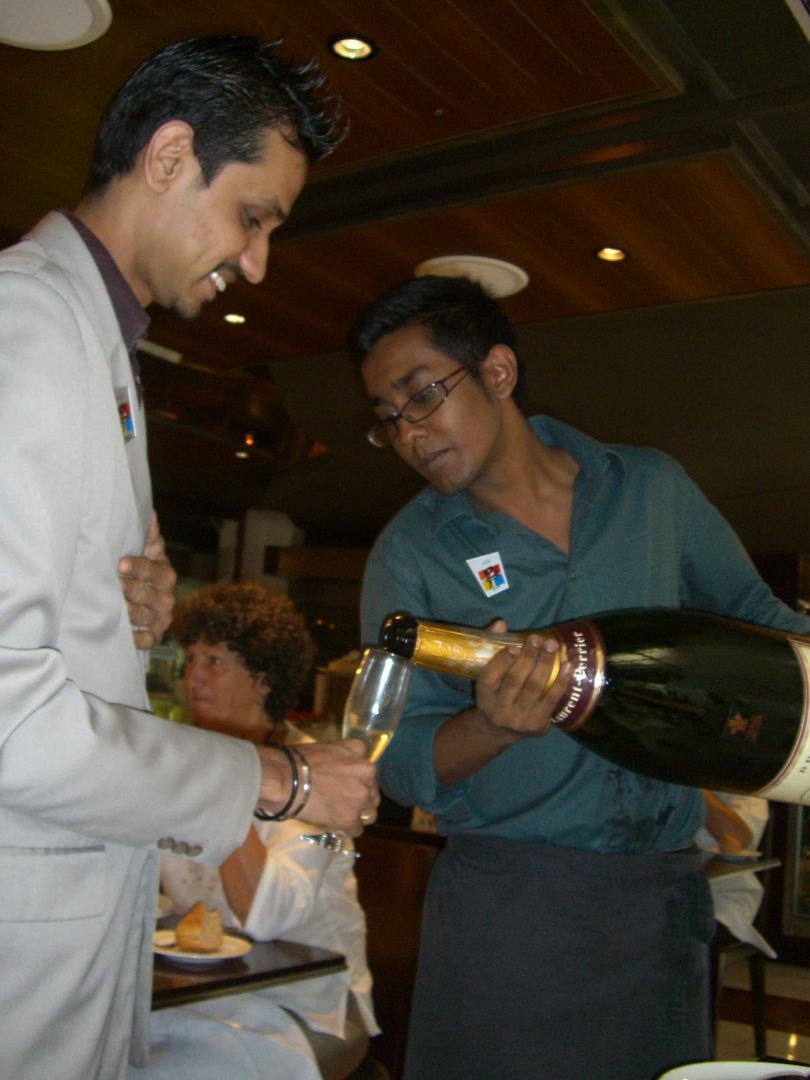 Wah - so BIG!.....
The 3 hours (11.30am to 2.30pm) that I spent there was heaven. The staff there were very attentive and it was almost like my champagne glass was bewitched! - Everytime I turned around, it was magically refilled! :) :) :)
Needless to say, the price is extremely painful to the average wallet (like mine, although I didn't pay that day - thanks R! You're such a darling)... but I will be counting the days till I can afford to go there again.
So, it's: Wonderful combination of delicious Italian food and free flow of yummy champagne and other alcoholic beverages BUT it's SOooooooo expensive :(.....
Summary Information:
Sunday Bubbly Brunch @ Prego, Westin Hotel, KL

Opening Hours: 11.30am till 2.30pm
Price: RM 198 228++ per person
Phone: 03-2773 8338
Address: 1st Floor, Prego, Westin Hotel, Jalan Bukit Bintang, KL, Malaysia.

NO PORK SERVED

OTHER REVIEWS:
-
Sweets For My Sweet Tooth
-
Cooking Up A Storm
TAGS: Food, Blog, Weblog, Malaysia, Restaurant Review, Pavilion Shopping Center, Pavillion, Westin Hotel, Italian,Buffet, Prego, Champagne, KL, Kuala Lumpur