A fairly new Thai restaurant (<1 year) in the main KL area....
Realising that we hadn't had any Asian food in our weekly dinner schedule for quite a while, we decided to try out a fairly new Thai restaurant called Soi 23.
The Dinner
Soi 23 is located on the 23rd floor of the Pacific Regency Apartment Hotel (previously known as Wisma PanGlobal), just off the main Jalan P. Ramlee/ Jalan Sultan Ismail area. It's near the end of a small road called Jalan Punchak, pretty much right behind the Shangri-la hotel: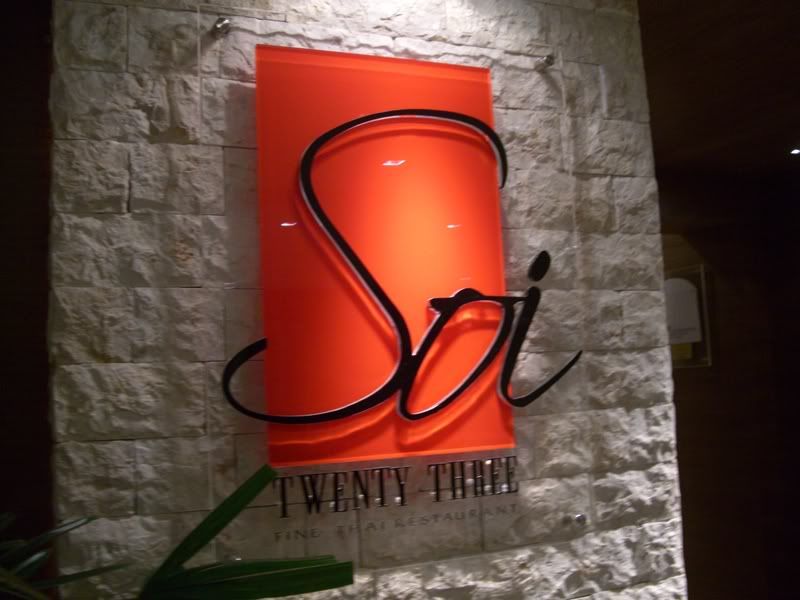 Soi 23....
The ambience there was nice - classy without being pretentious and mostly modern, with a few traditional Thai touches in the decorations. The restaurant was also very very quiet (we were one of the only 3 tables dining there that night) so we managed to get a really nice table: a mini private section, separated from the main area by some curtains, with a large floor to ceiling glass window overlooking the KL skyline: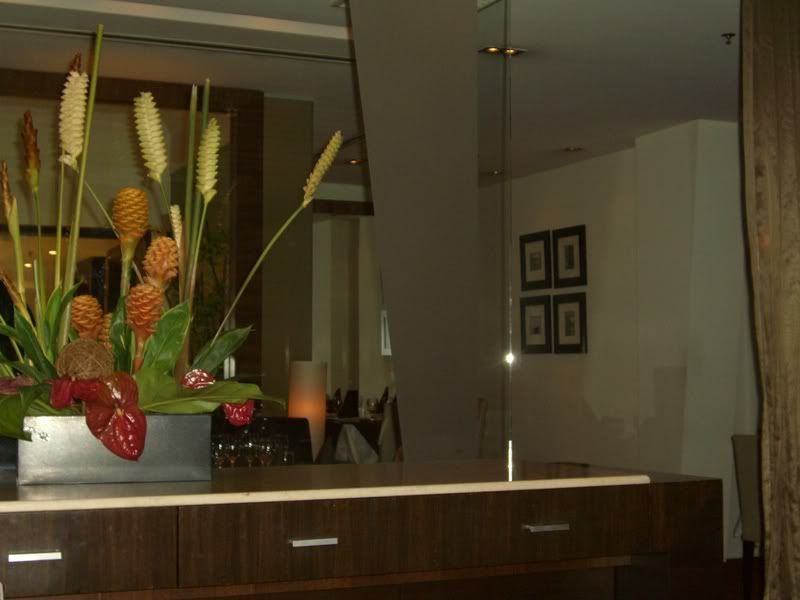 Restaurant interior....
Scanning the menu, there was a good range of Thai dishes as well as a forgettable section of Western dishes (Hot dogs? At a Thai restaurant?? - Strange). The wine list was also OK - but seemed a little overpriced (there was nothing there for less than RM100++).
(The Chardonnay we had that night was delicious though... )
First of all, let me apologise for the bad food photos...
On top of the dim lighting, the wait staff there were just too helpful! They immediately served the food onto our plates so I couldn't get any nice photos at all.
Anyway, we started off the night with the prawn Tom Yum soup: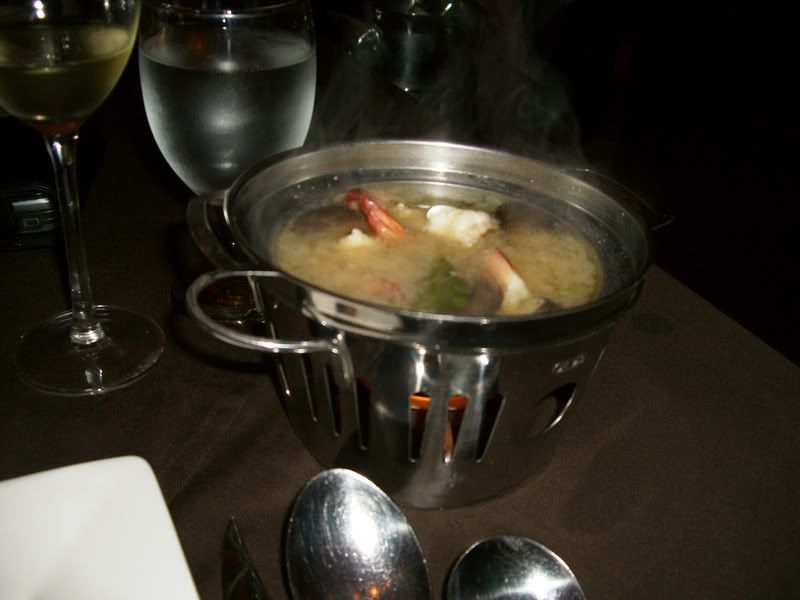 Tom Yum Goong
It didn't some cheap - about 14 bucks per person - but the soup was pretty good. It was smooth, sour and spicy and came with a generous serving of prawns.
Moving on to the mains, we chose the exotic sounding Morning Glory stir-fried with Belacan (which turned out to be Kangkung... Haha), the Deepfried Soft Shell Crabs, Basil Beef and Green Curry Chicken: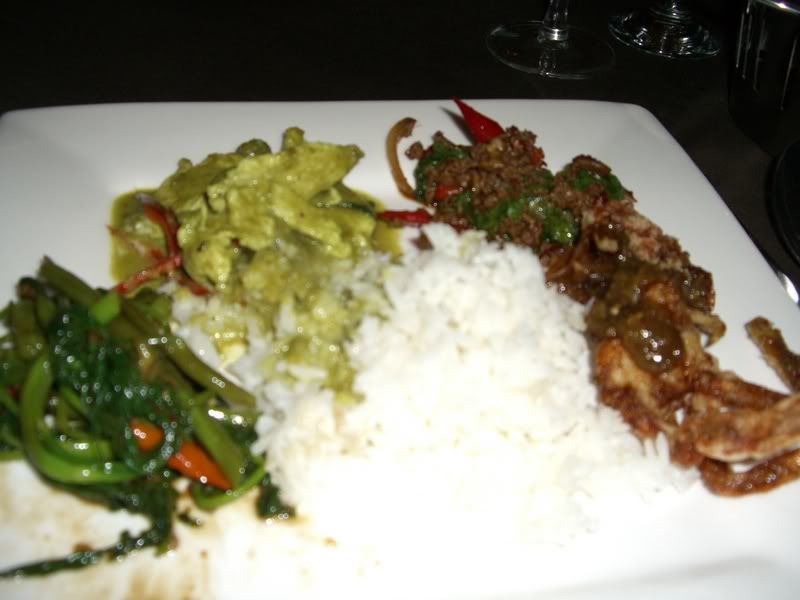 All the food, served on my plate: (Left to right) The Stir-fried Morning Glory, Green Curry Chicken, Basil Beef and Soft Shell Crab...
Overall, the dishes were ok (good but not great).
Nothing was wrong with them particularly but they just weren't fantastic....
(The prices were also slightly pricey considering the serving size)
Out of the 4, the soft shell crabs were outstanding though!
The crabs were fresh without any "fishy" smell at all, and beautifully crispy and light without being oily.
(I would go back to Soi, if only to eat this)
Having fire in our bellies from all the spicy food, we chose to skip dessert and instead just sipped on our Chardonnay to cool down our tongues. I'm not sure if I'll rush back here for another round of dining (the food's not THAT great) but it's definately a nice quiet and sophisticated place to bring out a loved one or some close friends for an intimate Thai dinner that won't break the bank.
So, it's: OK food (great soft shell crabs though), nice ambience, attentive and friendly waiters BUT a bit pricey for the serving size and expensive parking.
Restaurant Review
Summary Sheet:

Soi 23 @ Pacific Regency Apartment Hotel, KL

Taste: 6
Ambience : 7
Service : 7
Price** : RM60++ per person
Parking: Expensive (There's a bloody man who charges 10 bucks for parking outside!)

** Approximation - Asian style sharing meal, excluding drinks
Telephone No.: 03-2332 7777
Opening Hours: 12noon till late
NO PORK SERVED
OTHER REVIEWS:
-
KahWai.com
TAGS: Food, Blog, Weblog, Malaysia, Restaurant Review, Restaurant Reviews, KL, Kuala Lumpur, Soi 23, Thai, Wisma PanGlobal, Pacific Regency Apartment Hotel