A new restaurant in the Kelana Jaya area opened by Donald Trump's ex-chef...
Here's the story:
Gary May, Celestial Steakhouse International's owner and master chef, was Donald Trump's personal chef from 1984 to 1986....
Although starting off his life with 3 years in prison under his belt when he was young, he turned his life around and became a successful chef in America. Eventually, he married a Malaysian woman, moved to KL and opened a restaurant in Kelana Jaya. Interestingly, the restaurant apparently hires ex-criminals and drug addicts to give them a second chance in life.
After reading such an
impressive story in the Star Newspaper
, of course my expectations were extremely high when I visited the restaurant (that Nick had pointed out). Unfortunately, my experience that night did not match up to what I expected...
:(
The Dinner
The interior of the restaurant is very simple and no fuss... Wooden tables and chairs with plastic-y blue and white tablecloths:
Restaurant interior....
It's definately not a fine dining sort of setting but it's still reasonably comfortable.... although I swear that there must have been a few greedy mosquitoes in there having dinner with us.
(I noticed that I had 3 bites on my legs when I got home)
Anyway, we started off our dinner with the Stuffed Mushrooms:
The Stuffed Mushrooms....
It turned out to be a simple and nice appetizer - the fresh button mushrooms were succulent and the stuffing of crab meat and breadcumbs was fresh, with a nice sour taste to it.
There was a free serving of either the soup of the day or a small garden salad when you order a main meal there: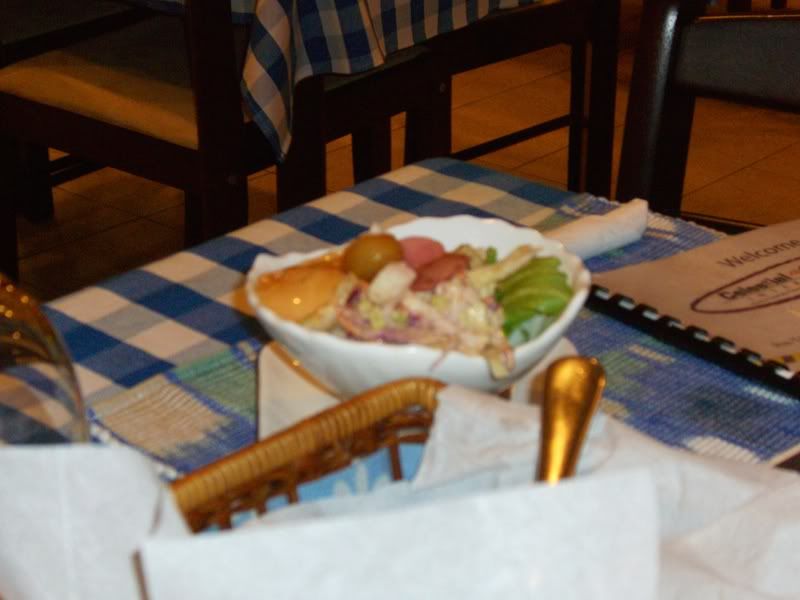 The soup and the salad....
The soup was ok I suppose - clear, not too oily and tasty.... but the salad was really nothing special.
That night, Nick also ordered the Mushroom Soup on the side: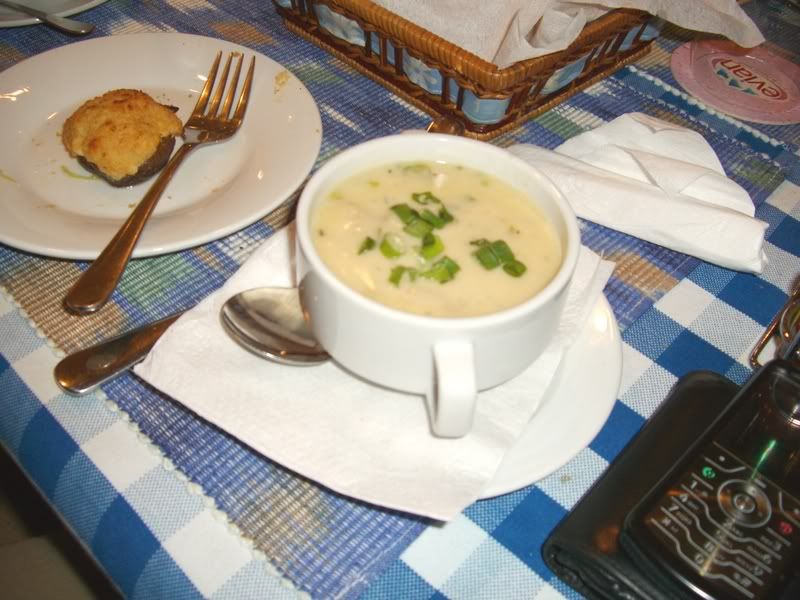 The Mushroom Soup....
Overall, it was ok - creamy and tasty.
(Also nothing special though)
It was actually with the mains that we were totally disappointed. That night we tried the Lamb Shank, Lasagna and the Steak: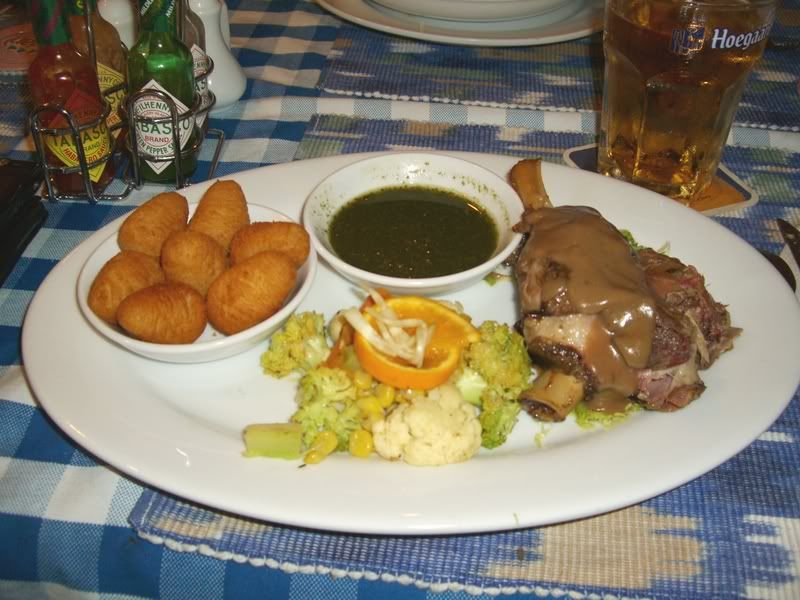 Clockwise from top: The Lamb Shank, Lasagna and Steak....
The Lasagna was the biggest disappointment.
It was described as an award winning recipe that is a hit with everyone who has ever eaten it.... but it turned out to be pretty tasteless, not very cheesy and just a tad starchy.
I don't have much to say about the steak actually....
It's not that anything was particularly wrong with it. In fact, it was pretty tender.... but overall, it just wasn't that great.
(I honestly can't imagine Donald Trump eating it)
The Lamb Shank was also a disappointment: dry, stringy and mostly tasteless (for about RM26++!). I had to douse it with Tabasco sauce to make it more enjoyable. The highlight of this meal was actually the deep fried potatoes that I chose to accompany the lamb.
(You can choose between a serving of mash potatoes, baked potatoes, wedges or these deep fried potato things for most of the mains)
Oh man!
They were so so good!!: crispy and fragrant, perfect in every way....
(Except that they probably contain a tonne of calories per serving)
I don't know if I was just expecting too much from Celestial.... but I don't think I'll be going back anytime soon....
(Sorry, Mr Gary "I Used To Cook For Donald Trump" May!)
So, it's: Simple ambience, wide range of food and drinks, attentive and friendly waiters BUT strangely, the food just isn't that great for a place supposedly run by Donald Trump's ex-chef.
Restaurant Review
Summary Sheet:

Celestial Steakhouse International @ Kelana Jaya
(Near the old Giant in Kelana Jaya supermarket/ in the area behind the new Giant Hypermarket)

Taste: 4
Ambience : 5
Service : 7
Price** : RM40++ per person
Parking: OK

** Approximation - 3 course meal, excluding drinks
Telephone No.: 03-7880 6498
Opening Hours: 11am - late (Closed on Tuesdays)
NO PORK SERVED
TAGS: Food, Blog, Weblog, Malaysia, Restaurant Review, Restaurant Reviews, KL, Kuala Lumpur, Celestial Steakhouse International, Steak, Dataran Glomac, Donald Trump, CSI, KJ, Kelana Jaya