When I visited Melbourne (some time back), I made it a point to drop by Cafe Greco to indulge in the Strawberry Cheesecake. I had been introduced to this cake by friends when I was there studying there, many years ago, and had quickly fallen head over heels in love with it.
(It was probably a major contributing factor to the 10 pounds I gained in the 2 years I studied there)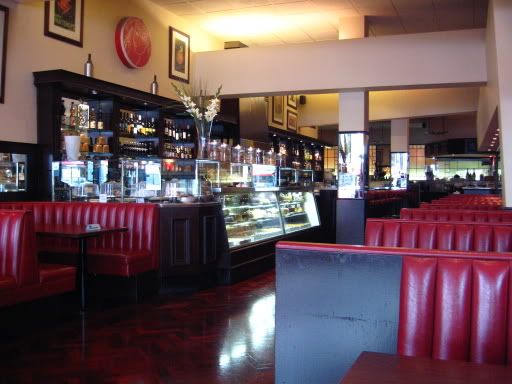 Cafe Greco (South Yarra) Interior
As I sat down at Greco's, I started to feel afraid that after all this time, the glorious cake that I remembered from my past would somehow disappoint me (as memories are always glazed over somewhat)
As I bit into the cake though, I realised that *droooool* no, it's still THAT good.
(Thank you God!)
:)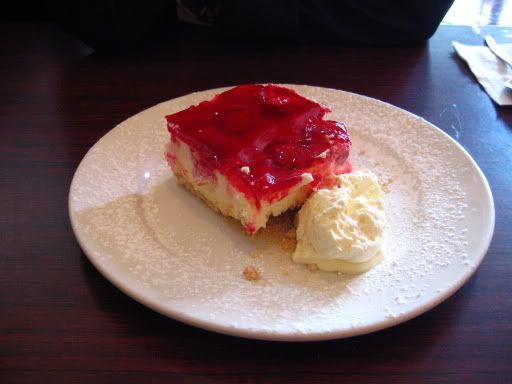 THE Strawberry Cheesecake
In so far, it is still the best Strawberry Cheesecake I have ever tasted in my life - it's really hard to fault it in any way...
The texture of the cake is smooth and creamy without being too cheese-y.
The generous amount of strawberries are ripe and voluptous, encased in a delicate strawberry gelatin that is silky but not too sweet.
All this, complimented by the perfect crumbly base.
(All in all, a tantalising textural ecstasy)
Well,... I suppose there's one flaw, for us poor Malaysians anyway: The bloody cake costs AUD$7.
(That's more or less RM21)
*eep*
O_o
Cafe Greco is famous for its cakes in general, especially its cheesecakes (the coffees there are nice too). You have to be careful which ones you order though - I tried the Mars Bar Cheesecake once and found it to be PAINFULLY sweet.
The Greek/ Italian food they serve there is also pretty good (but not very cheap). There are 2 outlets that I know of: One in the
Crown Casino Complex
and another on
Chapel Street in South Yarra
.
If you are ever in the area and have AUD$7 to spare, do give it a try.
(Oh, I dunno whether it is Halal or not ah - It's Australia so I can't give any guarantees...)
TAGS: Blog, Weblog, Malaysia, Melbourne, Cake, Cheesecake, Australia, Strawberry Cheesecake, Cafe Greco, Kuala Lumpur, Personal