The Dinner
Placed in the middle of a row of old shop houses on Wayang Street near the Kuching city center, The Junk is a restaurant very popular with locals and visitors alike. Once you step in, you will be embraced by the eclectic and cosy setting - with dim lighting, warm hues and old "junk" decorating the restaurant area upstairs....
(Downstairs is a more of a bar/ cafe style setting)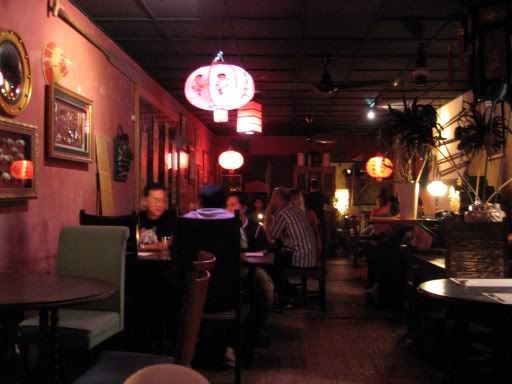 The Junk Interior (upstairs)
We had heard that the serving sizes here were generous so that night, we jumped straight into the mains. First up: The Fisherman's Basket: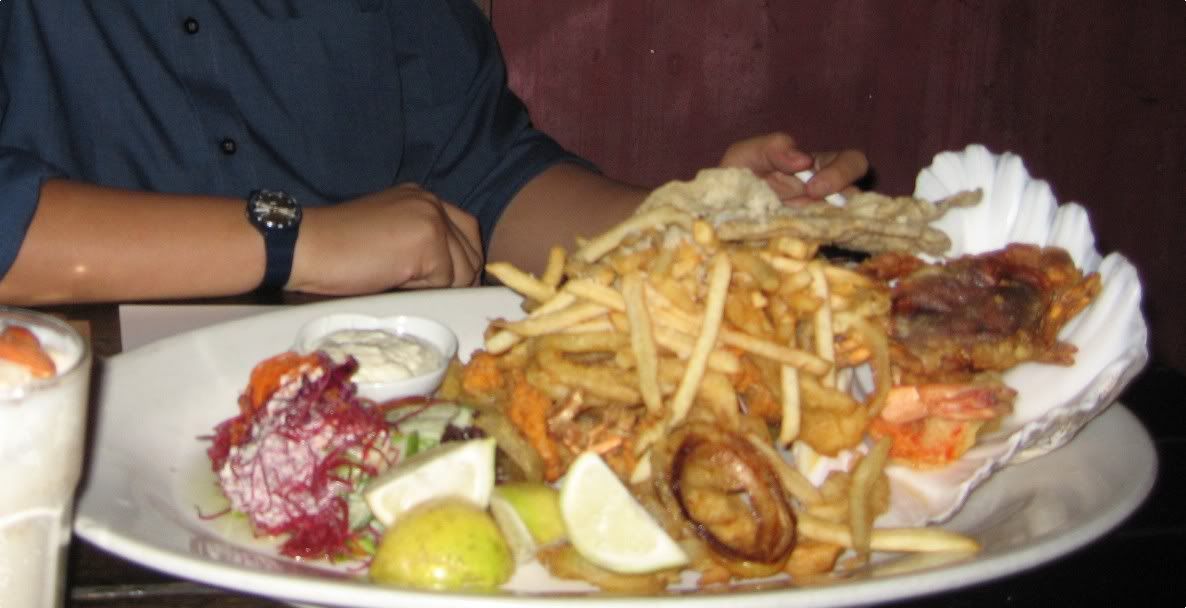 The Fisherman's Basket
Good Lord - That was an absolute monster of a dish!
Basically it is a mixed deep fried seafood platter (with fish, prawns, squid, crab, mussels and a heap of fries.).. and what it lacked in taste, it made up for in variety and sheer mind-numbing quantity.
Warning:
Attempting to consume this all by yourself would be folly indeed.
(I honestly think it can comfortably feed 2 to 3 people)
Next up, the Grilled Salmon and the Lamb Shank: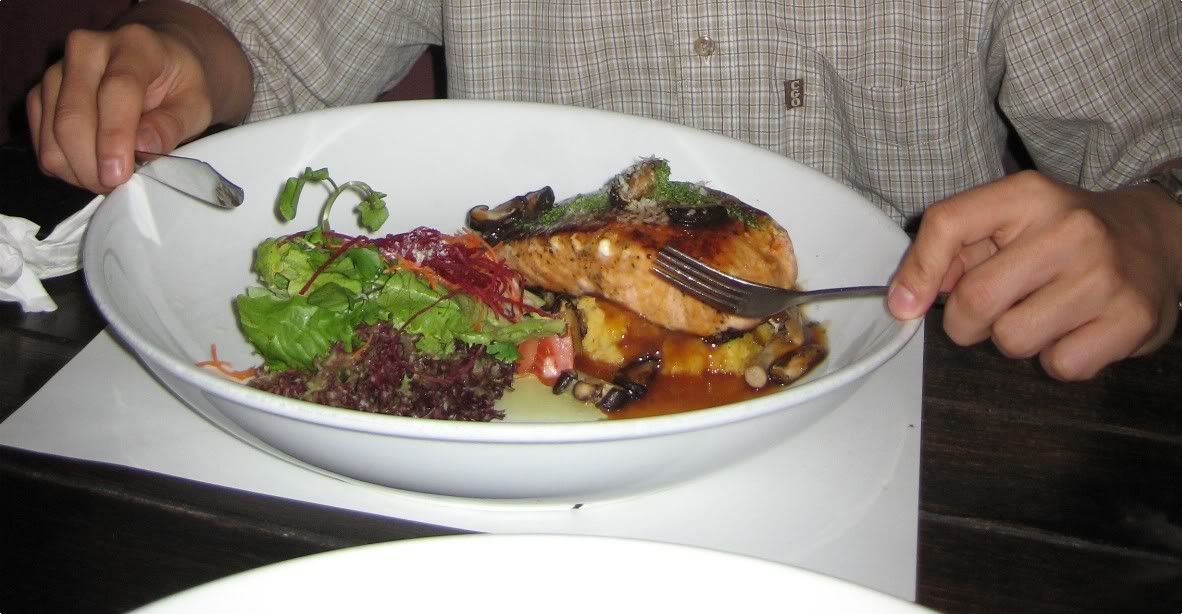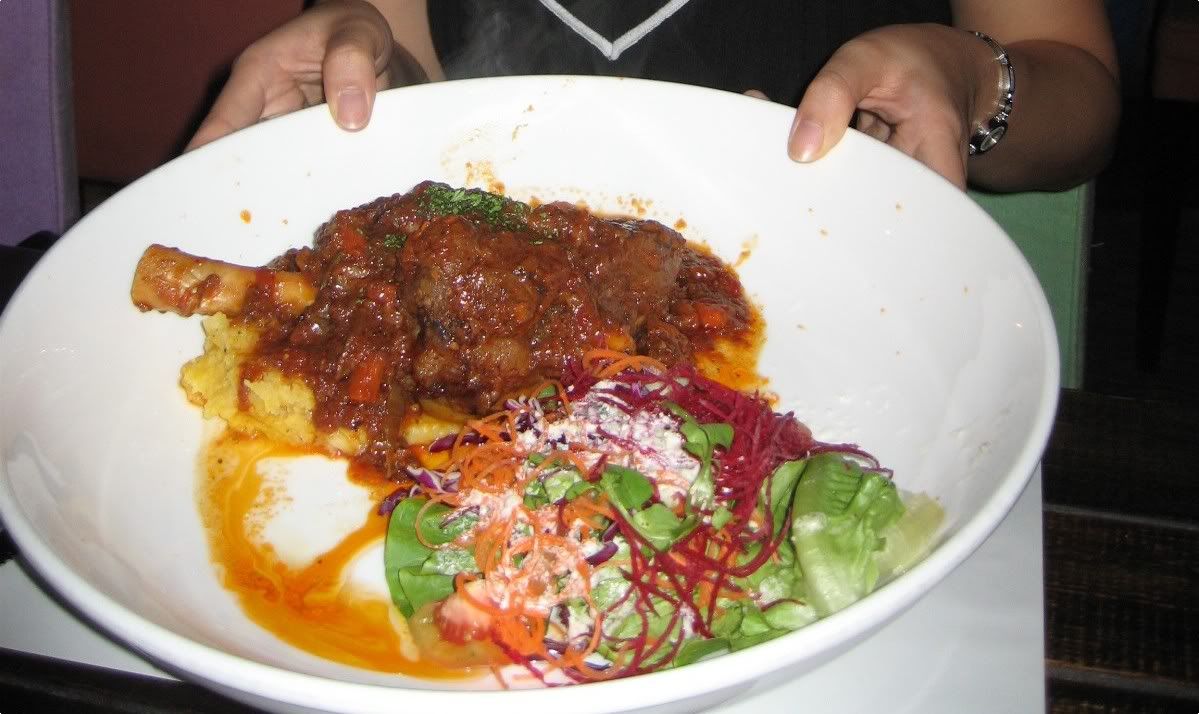 The Grilled Salmon and the Lamb Shank
The salmon was ok - fresh and flavourful but ever so slightly overcooked.
The lamb shank was also average - tasty sauce but the meat wasn't very tender.
(Well,... I had expected a lot because it was reputed to be the best lamb shank in Kuching)
(Oh, the mash potatoes were yummy tho - damn you carbs!)
I began to see a consistent theme when all the mains had arrived.
The portions at The Junk were HUGE... a bit too huge for one person actually, if you ask me.
It is terrible when you are halfway through your serving and start thinking: "Blergh.. I, I just can't eat any more! I never want to see another piece of prawn/ lamb/ fish/ etc ever again!"
So, it would be a great idea to share your meal with a friend while you're eating at The Junk.
(Don't worry about looking like a cheapskate.... it's better than gorging yourself and feeling sick later or conversely, wasting food because you can't finish it)
Ok... onwards...
You have now reached the "Don't waste your time/ money on these" section of the review:
First up, the Olio Olio Spaghetti: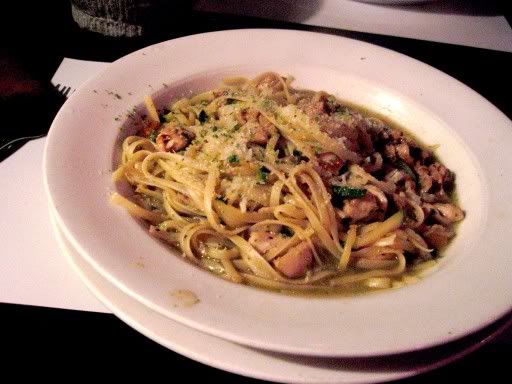 Yuck
They were generous with the amount of chicken but unfortunately, that didn't help much. The spaghetti was overcooked and limp, the sauce was a joke (tasteless) and it was all in all just not what an olio is supposed to taste like (I have never in my life encountered such a soup-y olio).
Next, the Creme Brulee: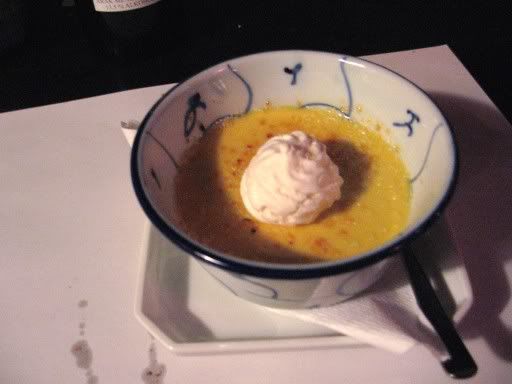 The Creme Brulee
Honestly, this didn't taste that bad IF what you wanted was a custard with some sugar on top. If you wanted an actual Creme Brulee, sorry ol' chap - better luck next time (at some place else).....
In the end, (although I was very disappointed with some of the food) I enjoyed the whole dining experience at The Junk.... It's still a good place to eat and chill out - you just have to be really careful what you order.
(Oh,... and sorry I didn't try any of the starters this time... The mushroom soup looked good tho)
So, it's: HUGE portions + Great value for money, wonderful ambience BUT blur waiters and hits & misses on the menu
Restaurant Review
Summary Sheet:
The Junk @ Kuching

Taste: 6 (If you factor in the spaghetti, this drops to a 5)
Ambience : 7
Service : 7
Price** : RM 40/++ per person
Parking: OK - have to park at the roadside

** Approximation - 3 course meal, excluding drinks
Telephone/ Fax No.: 082-259 450/ 019-857 1870/ 016-889 2044
Opening Hours: Wed to Mon - 6.30pm till late
NO PORK SERVED
TAGS: Food, Blog, Weblog, Malaysia, Restaurant Review, Restaurant Reviews, Kuching, Sarawak, Wayang Street, The Junk, Western, Junk