The Dinner Lunch
That day, we ventured to
The Lobsterman
in the quieter area of SS2, Petaling Jaya.
The interior is non-pretentious with a comfortable but casual feel with stone and wood textures balancing the vivid green ceiling........
There's really not much of a view though - when you look out the window, all you see are houses... So, if you come at the right time during the day, maybe you will be lucky enough to see SS2 inhabitants hanging out their clothes or walking their dogs.
(The restaurant was clever enough to put many, many fairy lights outside the window to camouflage the view of the houses at night though, which definately helps...)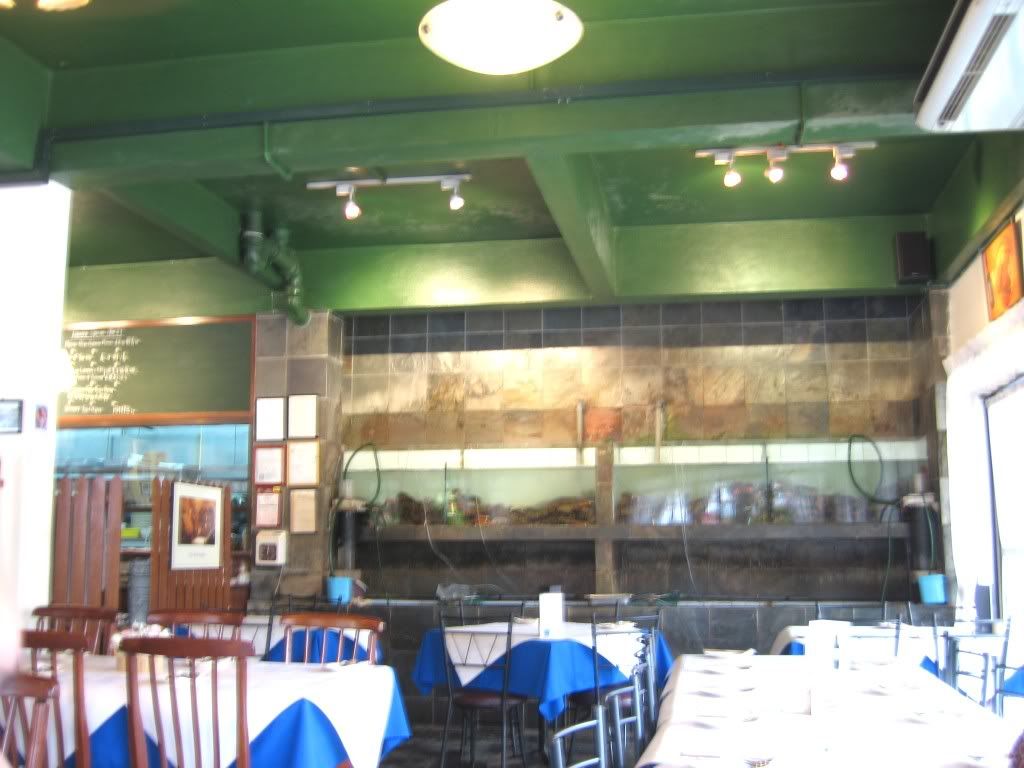 Lobsterman Interior
There is also a large tank filled with live lobsters of various sizes at the far end of the dining area.....
Lobsters in the tank awaiting their fate
Upon request, the manager/ waiter will even bring a live specimen for you to examine...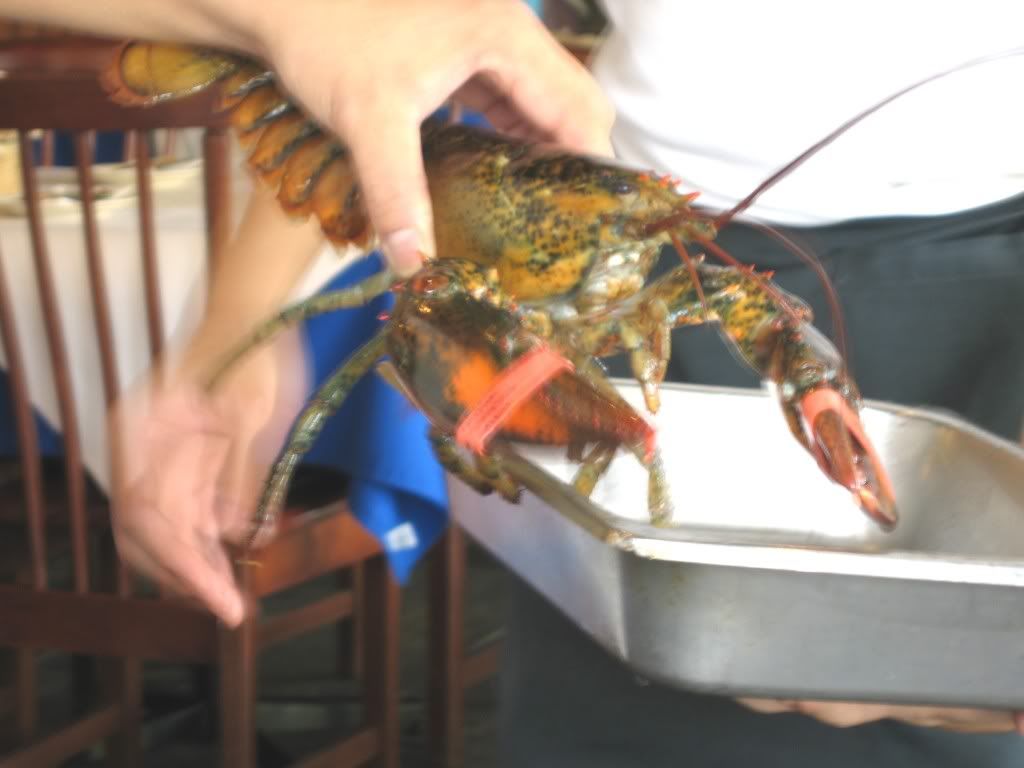 (In little lobster voice) "Curse you, foul human!"
When they brought our victim to the table, I almost felt a bit too guilty to eat it...
(Could imagine it squealing "Don't eat meeeeeeee........" in Lobster-language when it was waving its claws around)
Anyways, about the food... this is how it works. You can choose from:
1) An extensive ala carte menu
Starters, salads, pasta, steak, fish, etc...
2) 3 sizes of lobster:
RM88++ for 550g, RM103++ for 700g and RM113++ for 800g.
Once you choose a size, you can select from the 15 different ways to prepare it - from Thermidor to Claypot to Lotus Leaf style. You can have the whole lobster prepared one way, or have it split in half to try two different styles.
(If you order a really big lobster, you can also choose to have it quartered and cooked in 4 different styles)
Got it?
:)
Anyways, we started off with the complimentary Garlic Bread: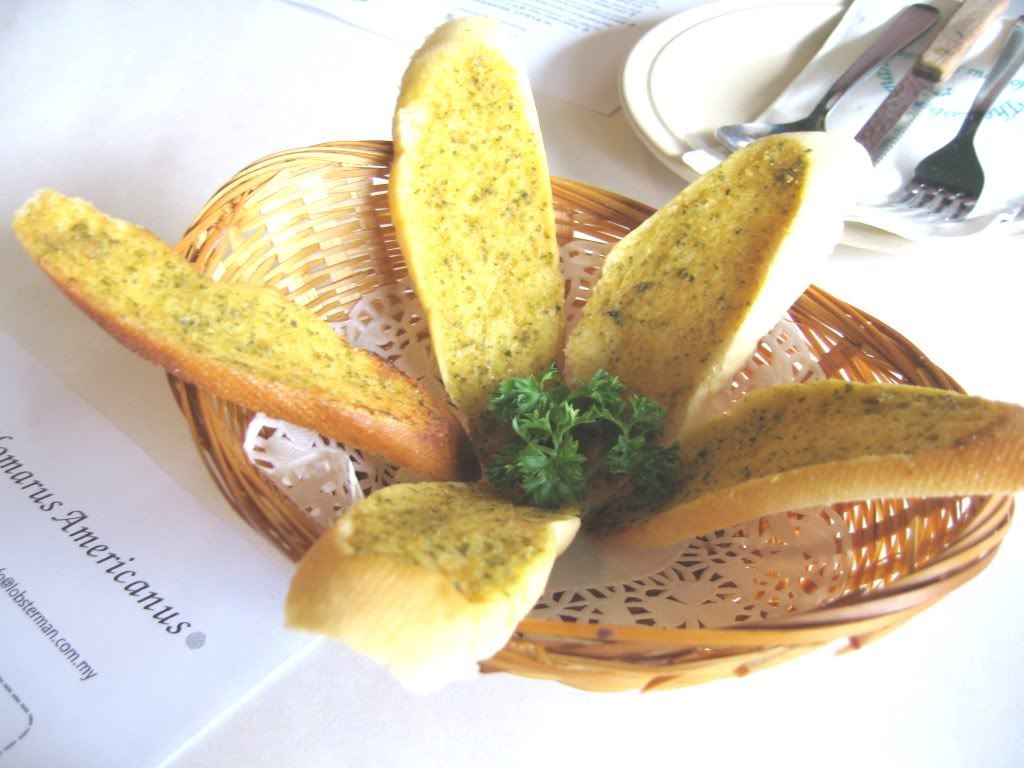 The free garlic bread
Not much to say: It was generally ok - Crispy but not very flavourful. Anyway, it's free lah - can't complain so much, right? Next we moved on to the Caesar Salad: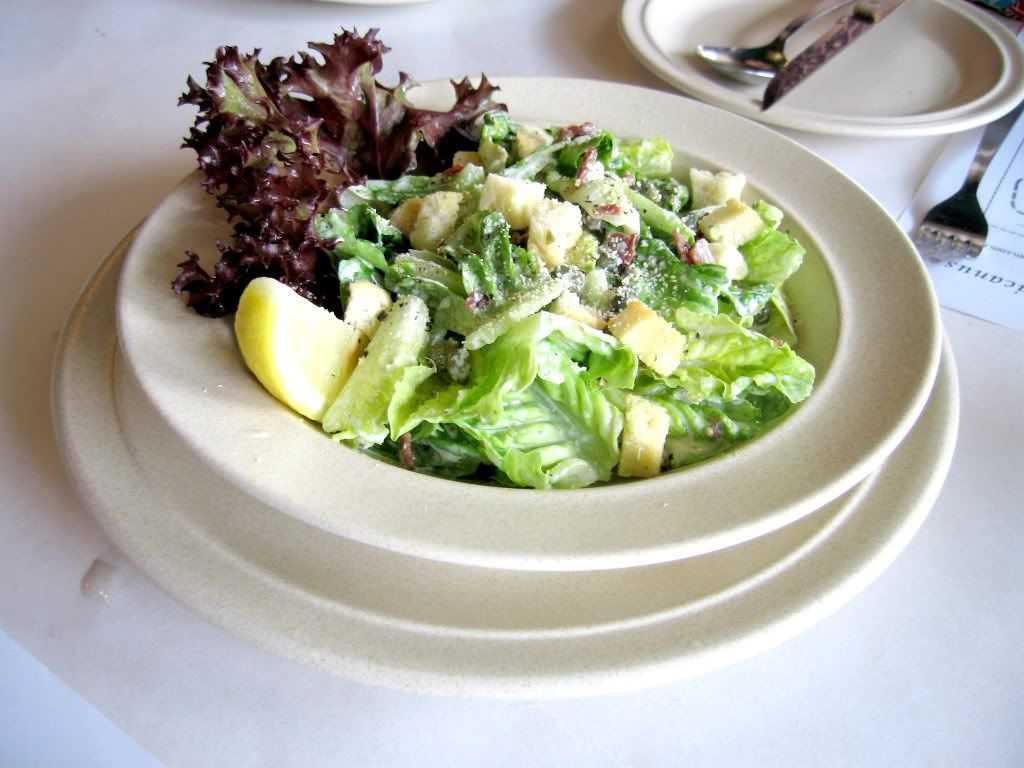 The Ceasar Salad
The Caesar Salad was only ok. The lettuce leaves were fresh - tossed with a light dressing, croutons and pimentos. It was a rather small serving for RM15++ though and the taste wasn't spectacular in any way.
We then moved on to the recommended starters, the Baked Escargots and the Fresh Oysters: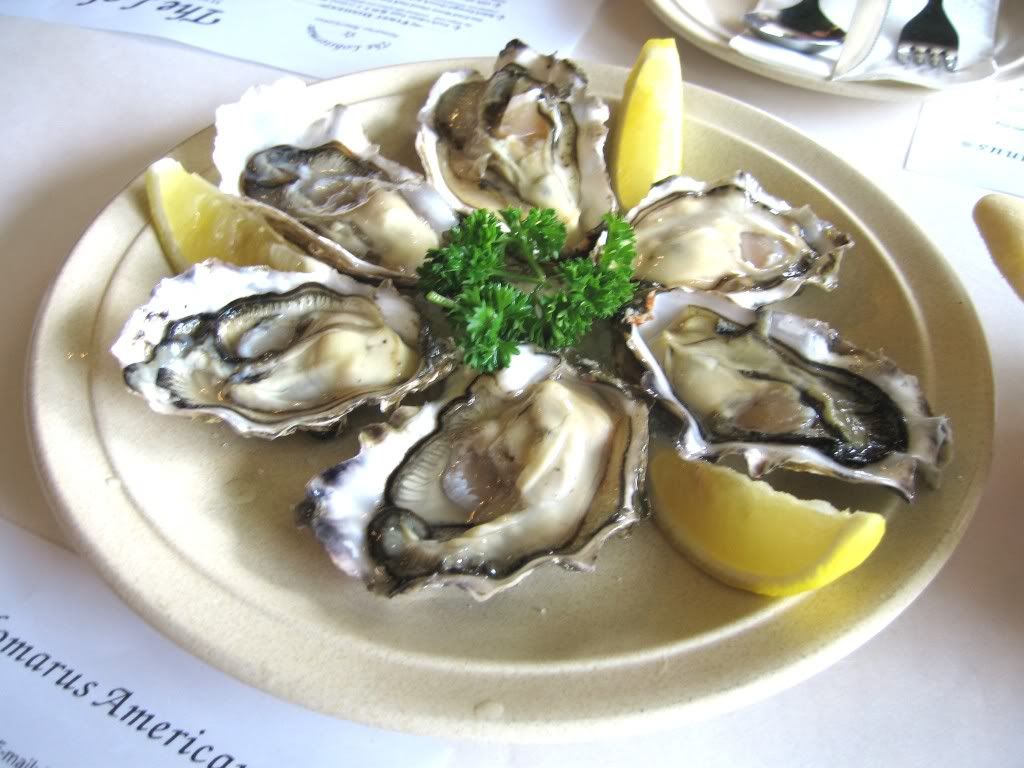 Left to right: The Baked Mushrooms and The Fresh Oysters
Baked with cheese and sitting on a delicious mushroom in a bed of mash potatoes, the escargots were juicy and definately worth a try.
What about the oysters?
Well, they were fantastic! Seriously. I was very surprised by how amazingly fresh they were. If you don't like it fresh, you can also have it prepared in a variety of ways (from Kilpatrick to Mornay to Claypot, etc).
Next, the highlight of the restaurant - lobsters!
That day, we balanced our selection with the Western style Lobster Thermidor and the Chinese style Lobster with Yee Mee: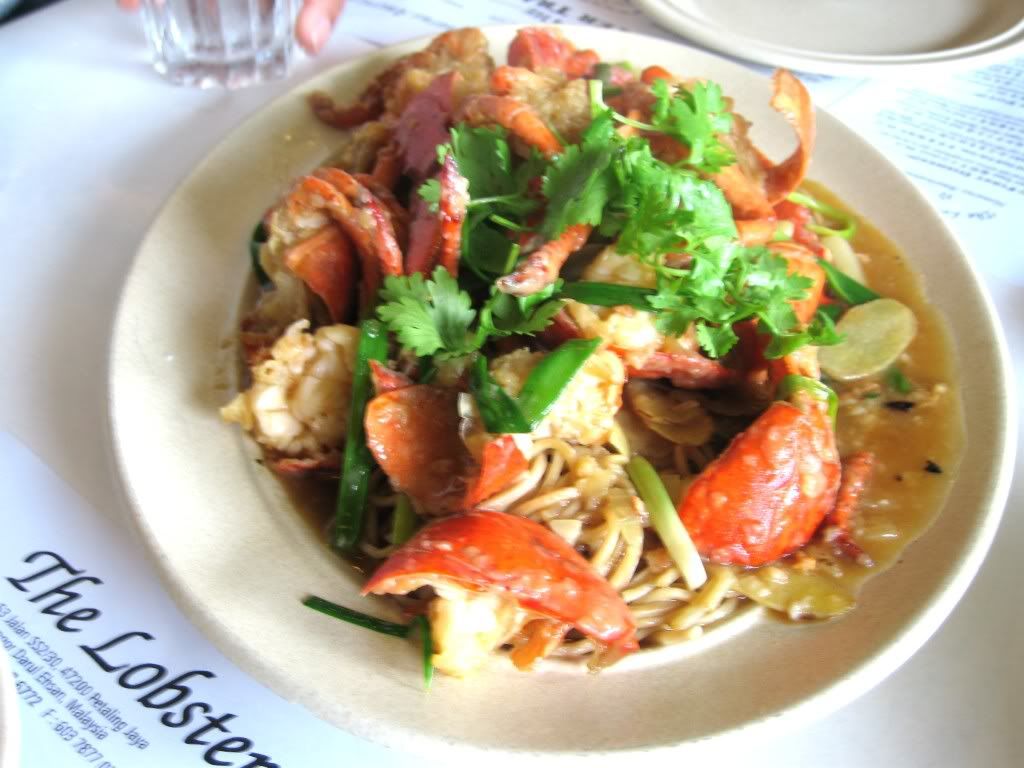 Left to right: The Lobster Thermidor and the Lobster with Yee Mee
The Lobster Thermidor, sauteed with a white wine sauce then baked with cheese, was rich and flavourful and tender. The Chinese style lobster, sectioned and cooked with garlic and spring onions was done well - with the natural sweetness of the lobster not overpowered by the savoury sauce. The accompanying yee mee was also good - done just nice, not starchy in any way.
Lastly, dessert - the Chocolate Brownie Ala Mode:
The Chocolate Brownie Ala Mode
Pure chocoholic GREED fueled the ordering of dessert after such a heavy meal. Unfortunately, it wasn't anything special - not that it was bad or anything, just nothing exemplary about it (ok texture, ok taste (but slightly too sugar-y), ok everything).
Overall, it was a good lunch - it definately wasn't cheap (lobsters never are) but I thought it was quite worth it for the taste and the serving size.
So it's: Good value, good taste, fresh seafood, ok service BUT simple ambience, hits and misses on the menu.
Restaurant Review
Summary Sheet:
The Lobsterman @ SS2, PJ

Taste: 7
Ambience : 6
Service : 7
Price** : RM 80/++ per person
Parking: OK

** Approximation - 3 course meal, excluding drinks
Telephone No.: 03-7877 6772
(or 03-2141 6772 for their KL outlet)

Opening Hours:
Lunch - 11.30am to 2.30pm,
Dinner - 5.30pm to 10.30pm
NO PORK SERVED
TAGS: Food, Blog, Weblog, Malaysia, Restaurant Review, Restaurant Reviews, PJ, Petaling Jaya, SS2, Fusion, Lobster, Seafood