Ok...
So, this is not a full review but just wanna share an interesting restaurant that I've tried lately....
Restaurant Name: Restoren King Crab
Address: No. 103 - 107, Jalan SS25/2, Taman Mewah Jaya, 47301 Petaling Jaya
Tel No.: 03-7808 2388
Not Halal
(It's on the inner road parallel to the LDP, on the opposite side of the Kelana Jaya LRT station)
The restaurant exterior

It's pretty much a cleaner, done-up and air conditioned version of your typical Chinese "tai-choww" (big fry) specialising in Seafood. Even with the nice fittings and finishings, the place was very noisy with the tables placed so very close together...
(Haha... There were projectile crab shells flying around too - one even hit P on the head!).
This place gets mega packed at dinner time so please book ahead of time or be prepared to wait up to an hour for a table.

That night we tried:
- The BBQ Crab with Thai Chili Sauce (Nice! - It's supposed to be their specialty),
- The Fried Tung Fun (Not bad - a little on the greasy side tho),
- The Prawns Fried With Salted Eggs (Ok only - fragrant but not crispy enough), and
- The Seafood Tom Yum Soup (Disappointment - It was SWEET and spicy, not sour at all).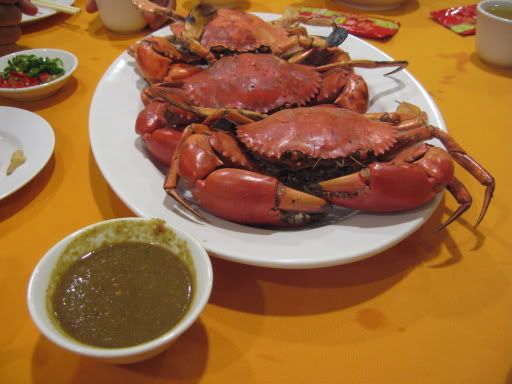 The BBQ Crabs with Thai Chili Sauce
Our bill that night for the 4 of us came up to RM120...
(Which I thought was quite worth it considering we had 2 kinds of seafood)
Of course, it sucked that they forgot our order of veggies but *sigh* I guess they were just too busy.
TAGS: Food, Blog, Weblog, Malaysia, Restaurant Review, Restaurant Reviews, King Crab, PJ, Seafood, SS25, Restoren King Crab