Pssst. Have taken the time to upgrade this to a proper restaurant review.

The Dinner
Topspot is reputed to be the best, most convenient place to eat decent (Halal) seafood in the Kuching town area. There, you will find a large variety of fish, jellyfish, prawns, crabs, lobster, shellfish and many other sea creatures, (apparently) fresh off the fisherman's boat and onto your dish.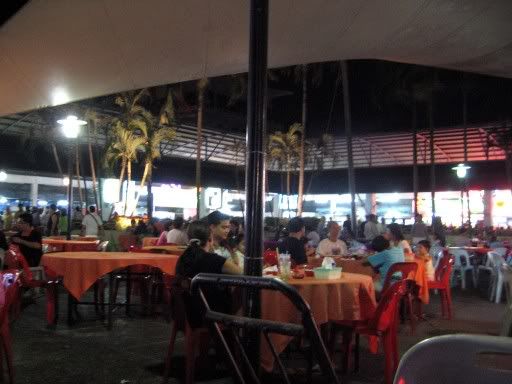 A view of TopSpot
There are about 5 or 6 big restaurant/ stalls to choose from, all displaying their array of seafood for you to pick. Each restaurant/ stall will have their own crew of wait staff around to recommend what to choose + the different styles you can have it cooked.
(Note: There are also some other smaller stalls selling Western Food/ "Ikan Bakar"/ Beverages/ etc)
That night, we tried out the Bukit Mata Seafood 25 restaurant/ stall: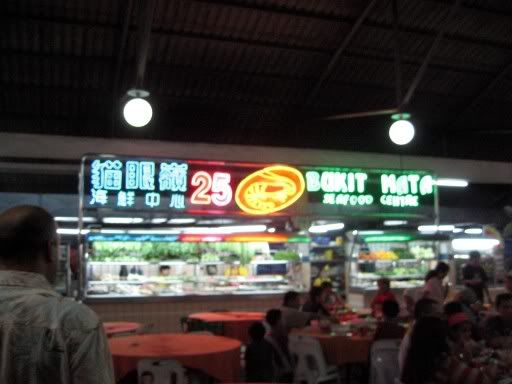 The Bukit Mata 25 Restarant/ Stall @ TopSpot
In actuality (we've been told), most of the restaurants'/ stalls' cooking style and quality are about the same - the thing that makes this one different is the nice view from a part of it's "territory":
View from the water's edge @ TopSpot
The way it works is that each restaurant/ stall has a designated territory in both the covered and open air areas which they mark by the colour of their tableclothes (red/ blue/ orange/ green/ etc). So, if you sit at a "red" table, then you can only order from THAT particular restaurant.
Moving on to the food, we tried the Mongolian Prawns and Meedin fried with Belacan: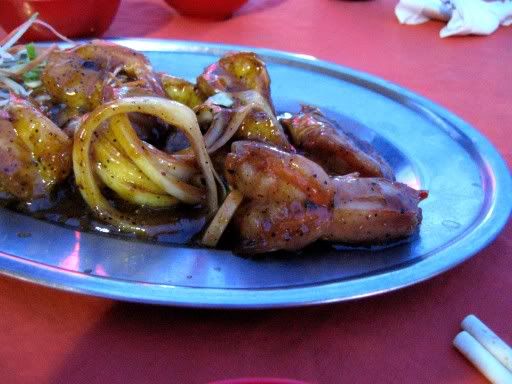 The Mongolian Prawns and The Meedin Fried With Belacan
The Mongolian Prawns, touted as the specialty of this restaurant/stall, was quite good - juicy prawns fried with onions and a sweet black pepper sauce... I didn't like it at first (I rarely like sweet sauces) but it kinda grew on me and I was enjoying it by the 2nd or 3rd prawn.
The Meedin (Erm,.. not sure how to spell it actually) is a must try, if only for the fact that you can rarely find it in West Malaysia. It's a kind of fern with a crunchy texture (at the leafy end) and a slightly "gummy" texture (in the stalk) at the same time. It pairs off well with the belacan, which is thankfully neither too spicy/ salty/ oily here (just nice).
:)
We also tried the Teo Chew Style Steamed Fish...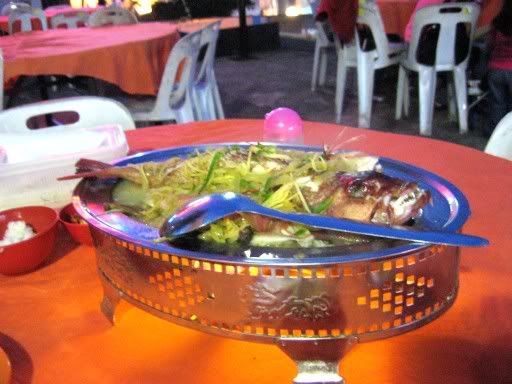 The Teo Chew Style Steamed Fish
The fish was fresh and delicious!
It's not the all out best Teo Chew style sauce I have ever tasted but their combination of the salted vegetables, tomatoes and "assam" was salty and sour enough yet not overpowering, which complemented the fish well.
Later on (we actually came back for Round 2 on another night), we also tried the Hot & Sour Soup, Butter Fried Prawns and Deep Fried Garoupa with Black Pepper Sauce: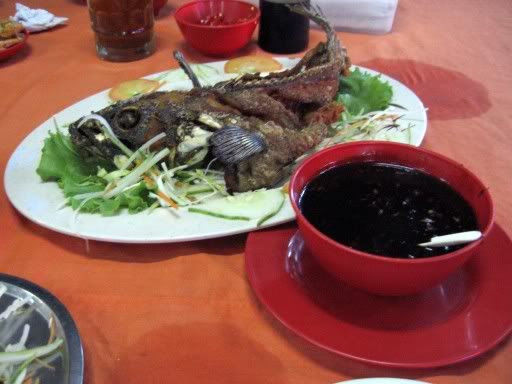 Clockwise from top left: The Hot & Sour Soup, The Deep Fried Garoupa With Black Pepper Sauce and the Butter Fried Prawns
Mmmm... the Hot & Sour Soup was disappointing - spicy but otherwise starchy and bland. The Butter Fried Prawns were also not so great - fragrant but not crispy enough. The Deep Fried Garoupa with Black Pepper Sauce was only OK - also not crispy enough and the black pepper sauce wasn't that tasty.
So, overall, the food only tasted OK.... but for the price of RM140 for all that (i.e. RM70 on average for both nights we went there) it's really worth a try.
Do book/ go there early to get a nice table as this place is extremely popular with locals and tourists alike. You'll find that service levels will drop and waiting time will increase drastically after 7.30pm.
So it's: Simple open-air concept (beware of the mozzies tho), convenient location, great variety of fresh seafood at affordable prices BUT mediocre/ average quality of cooking and erratic service level
Restaurant Review
Summary Sheet:
Bukit Mata Seafood 25 @ TopSpot Seafood Center, Kuching

Taste: 5
Ambience : 5
Service : 6
Price** : RM30/++ per person
Parking: OK

** Approximation - typical Chinese meal, excluding drinks
Telephone No.: 019-8899 838/ 019-8891 266/ 016-8711 062
Opening Hours: 4pm - late (closed on alternate Mondays)
NO PORK SERVED
TAGS: Food, Blog, Weblog, Malaysia, Restaurant Review, Restaurant Reviews, Kuching, TopSpot, Top Spot, Jalan Bukit Mata, Seafood, Fresh Seafood