A popular Nyonya restaurant in the SS2, PJ area.....
[ BEGIN EDIT ]
(19 August 2007)
Hey everyone, was passing by Nyonya restaurant today and noticed that it's closed. Don't worry though - it's not closed for good....
(According to the sign they hung up)
They are closed for renovations till next month with the promise that they'll be back with a new look but the same great taste.
I'll probably pop by sometime next month to see whether to the food is still good or whether this whole renovation thing is a precluder in a sly change in management.
Ciao,
J the Chocoholic
[ END EDIT ]
The Dinner
This restaurant, serving traditional Nyonya cuisine is very simply called
Nyonya Restaurant
and has been around for as long as I can remember.
(I think I've been eating here off and on since I was 6 years old)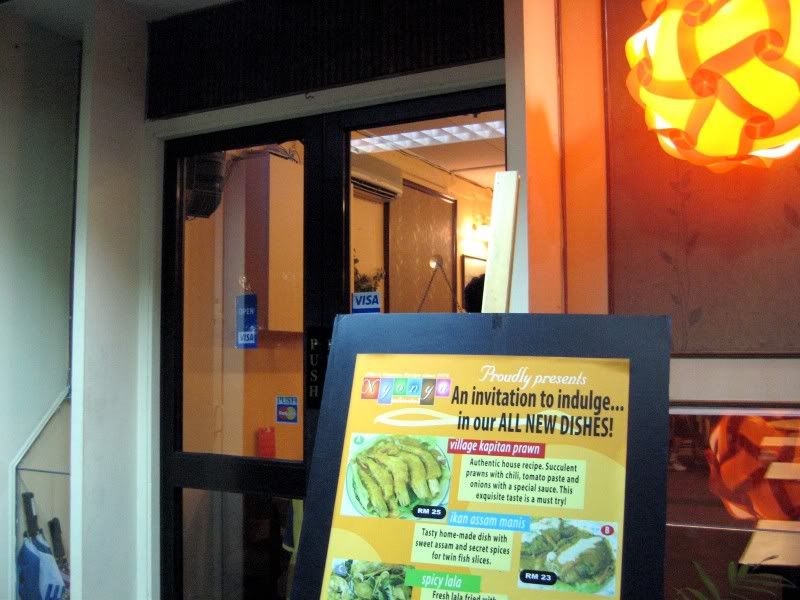 Nyonya Restaurant Exterior and Interior
It's been through about 3 changes in management and 2 renovations but the wonderful thing about
Nyonya
is that it has somehow managed to maintain a consistent quality in its food.
That night, we went for some of my favourites.... the Belacan Kacang Botol, Gulai Tumis Fish, Beef Rendang, Kerabu Ladies Fingers as well as a new-ish dish, the Deep Fried Soft Shell Crab: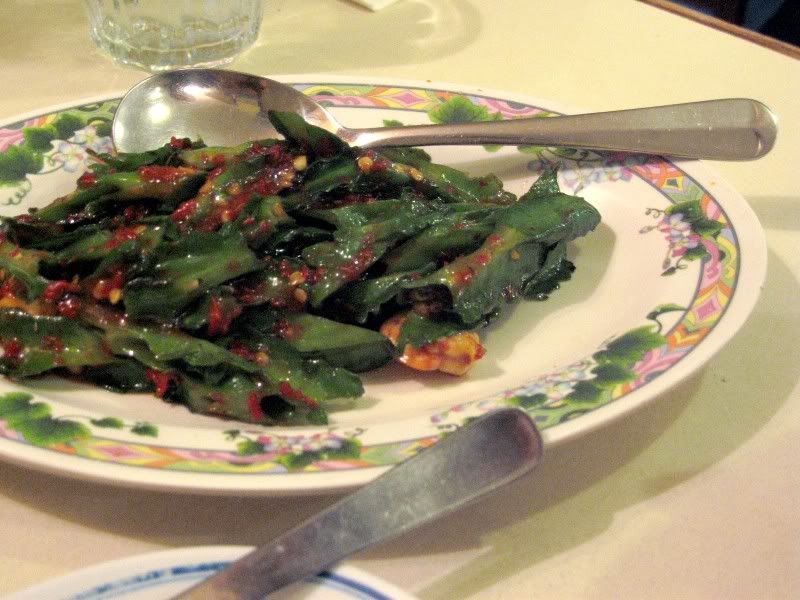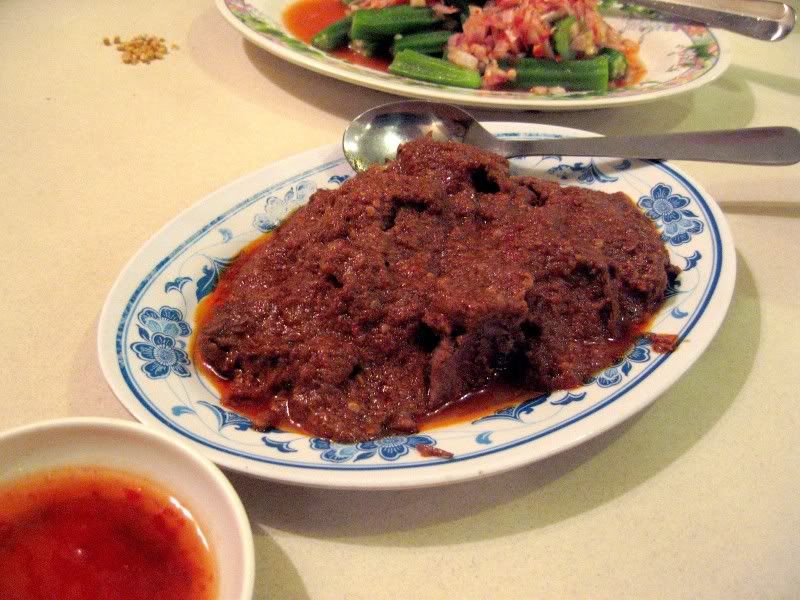 Clockwise from top left: The Belacan Kacang Botol, Gulai Tumis Fish,
Kerabu Ladies Fingers, Beef Rendang and Deep Fried Soft Shelled Crab
The Kacang Botol (Four Angle Beans) fried with Belacan and (a few) prawns was yummy as usual - fresh and crunchy with that fragrant Belacan taste, without being too oily. The Kerabu Ladies Fingers was also good - the deliciously tart sour taste of the "Kerabu" sauce went very well with the texture of the Ladies Fingers, onions and egg.
Two dishes that I must always have are the Beef Rendang and the Gulai Tumis Fish. Sadly, the Beef Rendang can be a bit "if-fy": one day it can be gloriously, melt-in-your-mouth tender but on others, it can be a bit tough.... The fish though, with its spicy and sour sauce and bits of mint and pineapple is consistently good.
(Yum!)
The Deep Fried Soft Shelled Crab has also quickly grown into a favourite for my family as its crispy texture is really addictive.
(Definately worth a try for crab lovers)
(P said that he finds the taste a little too "crab-by" on some days, but I think that for the most part, they're ok)
Other food that I would recommend would be the "Inchi Kaebin" (Nyonya styled fried chicken) and the "Otak-Otak" (Spicy Fish Cake).
(The "Otak-Otak" here is very popular and tends to run out on weekends. The "Perut Ikan", literally translated as Fish Stomach, is also very popular... but I've never tried it)
For dessert, I chose the simple but refreshing Sago Gula Melaka:
Yummy Sago
Perfect!
They do their sago really well - the texture is silky and "tender" without any starchy taste and it's also not too sweet, with just the right amount of gula melaka.
(I just HAVE to have it every time, no matter how full I am)
:)
The Ice Kacang and various Nyonya kuih here are also good and worth a try.
(Most people don't seem to like the cendol though, for one reason or another... )
So, it's: Consistent food quality, unpretentious environment, reasonable (still, not exactly cheap) prices BUT some hits & misses on the menu and servings are a bit small.
(Need pointers on how to get there? Well, it's on Jalan SS2/24 - somewhere opposite the SS2 Esso Station in the same shoplot area as Eng Seng Heng, Sri Siam and Lobsterman. Specifically, it is about 5 doors away from Sri Siam...Still blur? Ok lah,
here's the map
)
Restaurant Review
Summary Sheet:
Nyonya Restaurant @ SS2, Petaling Jaya

Taste: 7
Ambience : 6
Service : 6
Price** : RM 25/++ per person
Parking: OK

** Approximation - Chinese style meal (with dessert), excluding drinks
Telephone No.: 03-7875 9709
Opening Hours: 11am - 3.00pm, 5.30pm - 9.30pm
NO PORK SERVED
TAGS: Food, Blog, Weblog, Malaysia, Restaurant Review, Restaurant Reviews, PJ, SS2, Nyonya Restaurant, Petaling Jaya, Nyonya