The Dinner
The Coast is a new-ish Tex-Mex restaurant in the Hartamas Shopping Center (situated right next to
Paddington's Pancakes
). It has a casual, light-hearted ambience with miscellaneous things like surfboards, kites shaped like ships and pop art prints which, I suppose, ties in with their "coast/ beach" theme):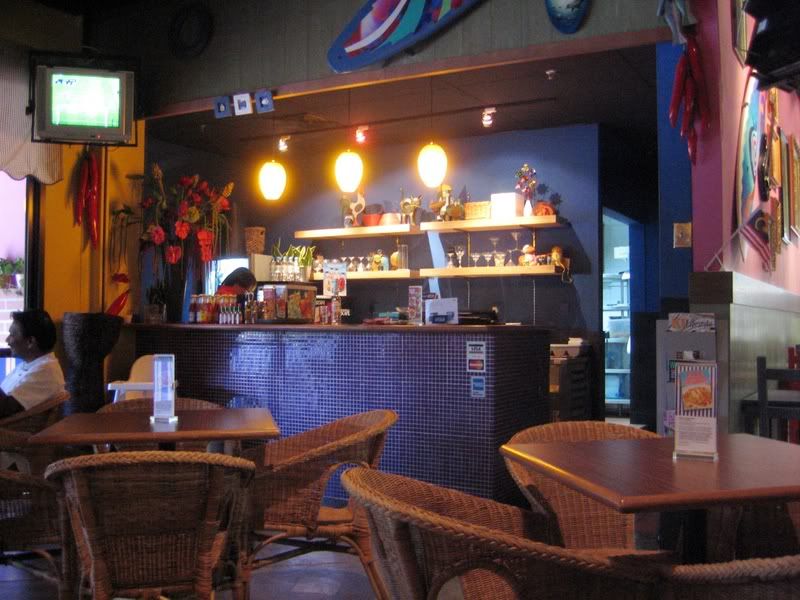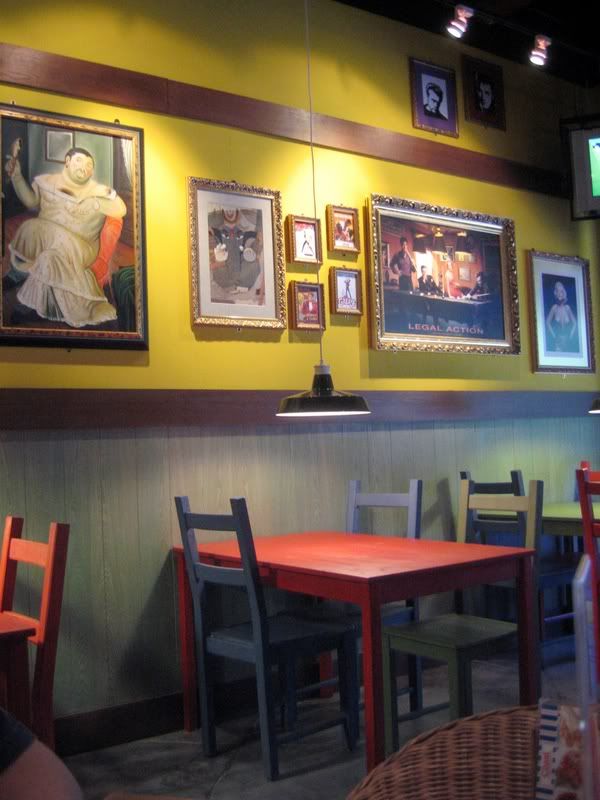 The Coast - Interior
One of the paintings on the wall really left an impression on me:
The Ugly Crossdressing Fat Man....
Gah!
O_o
That's either a really ugly woman or an overweight man who has an unhealthy obsession with his momma's clothes....
Anyway, we started off with some Cheese Nachos:
Nachos....!
The nachos were alright, overall.
They are priced cheaper than its cousins at Chili's and TGIF and tasted ok - cheesey and not starchy. It also comes with absolutely no meat (which is probably why it's cheaper).
Next, we had the Mushroom Cheeseburger, Beef & Cheese Sandwich and the Fried Chicken Salad: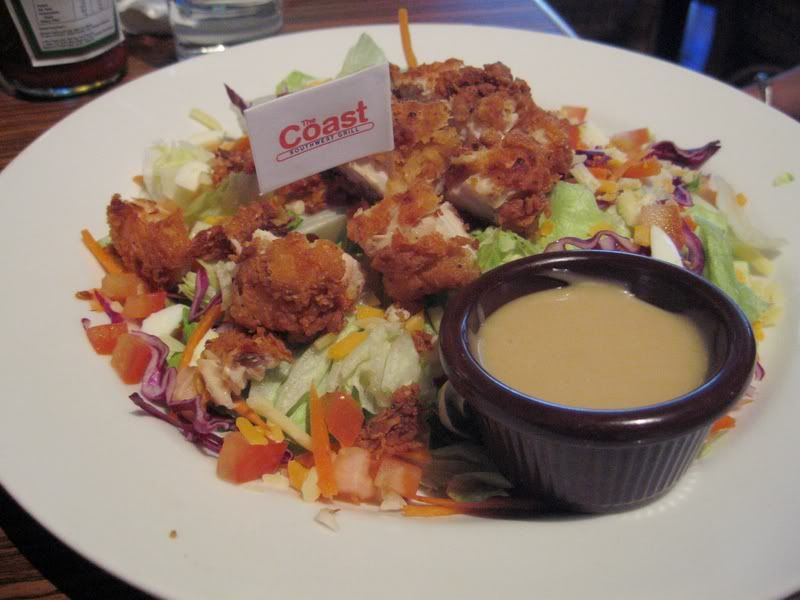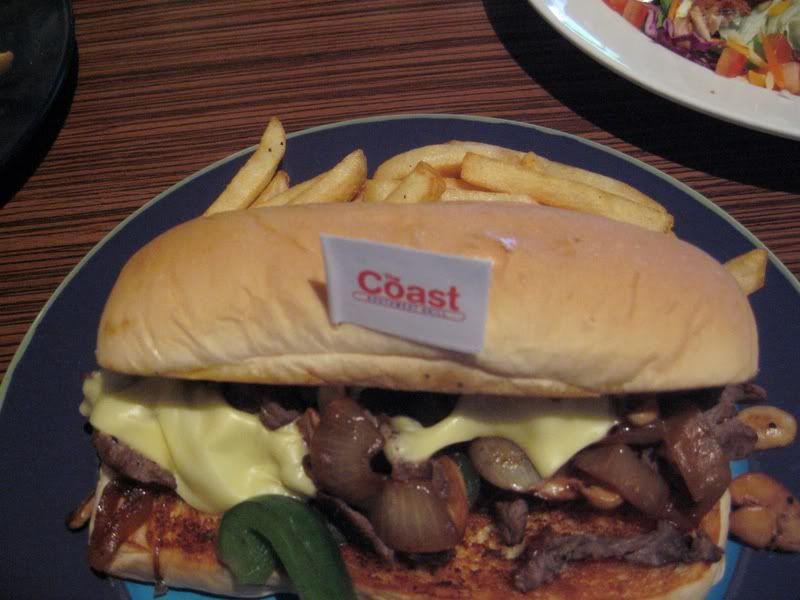 Clockwise from top left: The Chicken Salad, The Beef & Cheese
Sandwich
and the Mushroom Cheeseburger
The Cheeseburger with its grilled beef patty and generous dose of cheese, mushrooms and onions (served with french fries) was monstrously tall.
Pat
almost had to unhinge his jaw to take a bite.
*lol*
Taste-wise it was ok.
The Fried Chicken Salad which came with a honey mustard dressing was very reasonably priced (about RM13++ only) but didn't impress me - I found the dressing too sweet and this became increasingly overwhelming as I progressed into the dish. The salad greens were fresh though and there was a healthy amount of chicken, so it balances out I guess.
The Beef & Cheese Sandwich was a bit of a disappointment.
It looks like a Philly Cheese Steak Sandwich but falls short due to its incredibly starchy bun. It's crazy! - it seems to melt in your mouth within the first 3 chews and becomes this uncomfortable mess of sticky flour-y goop.
If you remove the bun though, as I did, then it tastes a lot better as the filling of beef, cheese, onions and green peppers was actually not bad.
Most of the mains range between RM12++ and RM25++ so I thought it was very reasonable. There were also more expensive options on the menu like steak but I don't remember seeing anything cost more than RM40++.
Lastly, for dessert we tried the Tortilla Ice Cream:
The Tortilla Ice Cream
(We got it as part of a deal where you get a free dessert for any bill above RM30++)
Erm.
Simply put: I didn't like it.
It looked interesting enough and the ice cream was ok but the tortilla thingy was starchy and the berry sauce was so so sweet - like eating concentrated sugar syrup.
So, it's: Reasonable prices, comfortable, casual dining BUT average taste (in other words: "Nothing special").
Restaurant Review
Summary Sheet:
The Coast @ Hartamas Shopping Center

Taste: 5
Ambience : 6
Service : 6
Price** : RM28/++ per person
Parking: OK

** Approximation - 3 course meal, excluding drinks
Telephone No.: 03-6201 2680
Opening Hours: 11am - late
NO PORK SERVED
TAGS: Food, Blog, Weblog, Malaysia, Restaurant Review, Restaurant Reviews, Hartamas, Hartamas Shopping Center, The Coast, Tex Mex, Mont Kiara