Love and gore at the KLPAC.....
On Sunday, I went to watch the new Gavin Yap play,
Frankenstein In Love
at the KLPAC.
It is an adaptation of Clive Barker's updated interpretation of Mary Shelley's classic Frankenstein - set in the midst of a revolution with love, gore, hate and politics all rolled into a 2 hour play.
Gavin Yap rocks!
The man has abs of steel....
(Unfortunately he was only directing this time and did not spend any time walking around without his shirt on *sigh*)
... and he was a wickedly dark sense of humour - which is so refreshing to watch!
(Or maybe I'm just a wee bit disturbed!)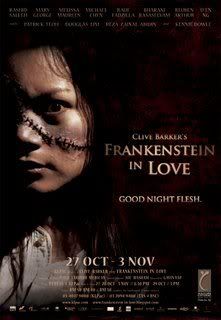 The Frankenstein In Love Poster
Anyway, if you haven't figured it out already, I really enjoyed the whole experience. Why?: Well, because politics + love + death = elements of a good play! It was dark, without being too deep or boring... and funny, without being too over the top or corny.
Good acting is of course absolutely
essential
to bring all the elements together to produce a successful play, and I think that the cast did a good job here!
A (Fuzzy) Peek At The Play
Of course, no one is perfect - there were one or two actors who seemed to swallow their words here and there... especially when they began speaking a bit faster in their foreign accents (leaving me to guess what the hell it was that they were saying) but for the most part, it was good.
I won't spoil it by revealing too much.... but I'll sum it up as:
A fun, dark and witty play set in a revolution with the classic undertones of a boy meets girl love story (AND flesh eating zombies!!)
(It's only running for a few more days so you gotta be quick if you wanna watch it)
Summary Info:
Name of Play - Frankenstein In Love
Venue - The Kuala Lumpur Performing Arts Center (KLPAC)
Dates - Oct 27 till Nov 3, 2006
Price - RM50 (adults) / RM30 (students, seniors, disabled)
Bookings -
Online
or Phone 2094 9400/ 4047 9000
Note -
They have a blog too!
O_o??
TAGS: Weblog, Blog, Malaysia, Personal, Frankenstein In Love, Kuala Lumpur Performing Arts Center, Gavin Yap, KLPAC, Review, Play, Arts, Art