Wining and dining at a highly recommended winery restaurant in the Matakana region, New Zealand........
The
Ascension Winery
is situated in the Matakana region was started by the 5th generation of winegrowers in the Soljan family. The Matakana region, about 1 and a half hours north of Auckland, is a popular wine region in the North Island.
Ascension
has only been opened for a few years but already has several awards under its belt and comes pretty highly recommended both for its wine and its food.
(So, I just HAD to try it out while I was in New Zealand)
:)
This winery/ reataurant is situated on the main Matakana road, in a rustic styled building surrounded by grape vines: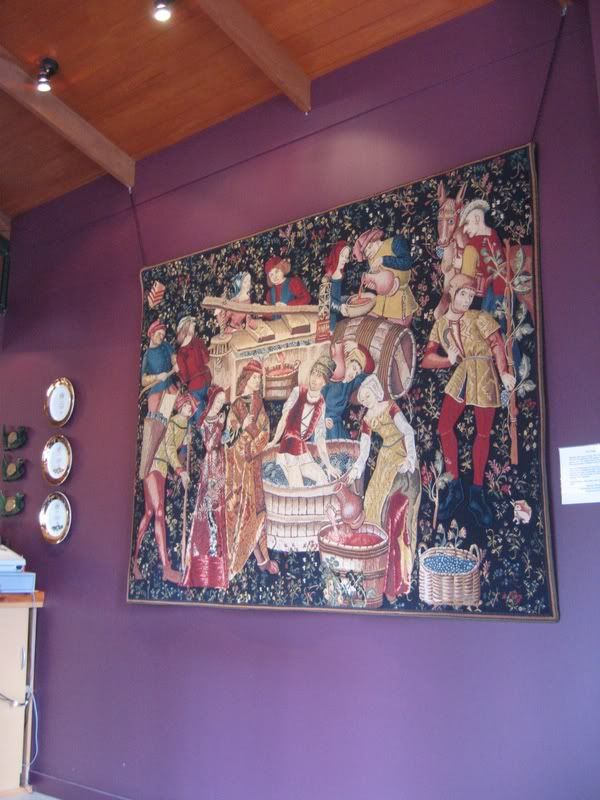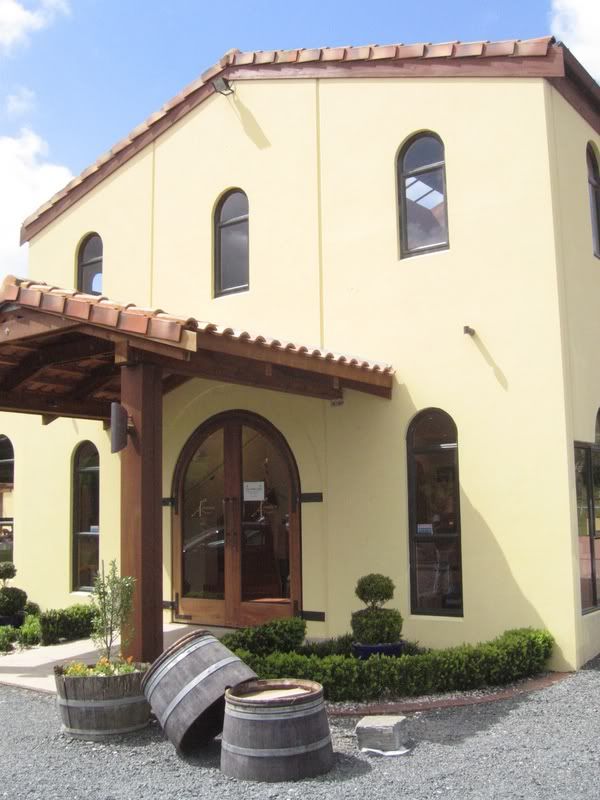 The Ascension Winery and Restaurant
The restaurant inside (in the section next to the cellar door aka. wine tasting/ shop area) was simple and cosy, with a choice of either indoor or "outdoor" seating (in cold weather they block off the cold air with some large plastic sheets):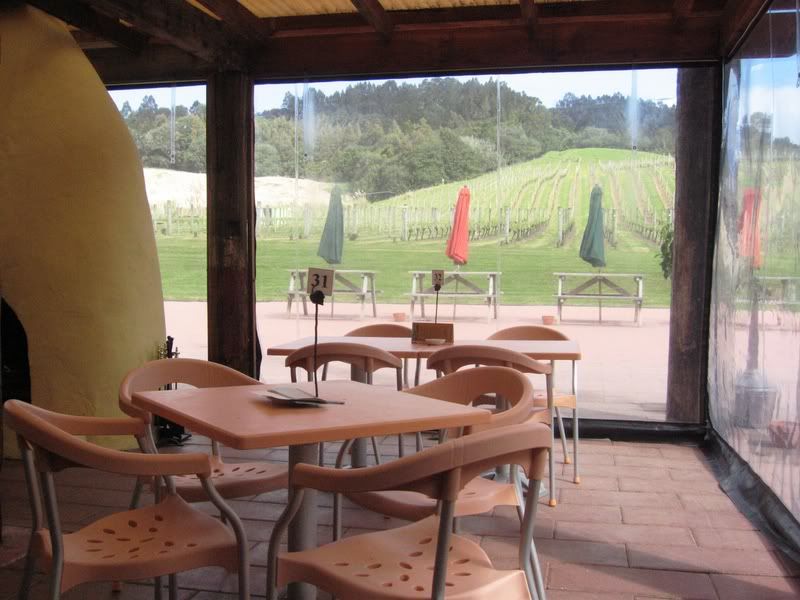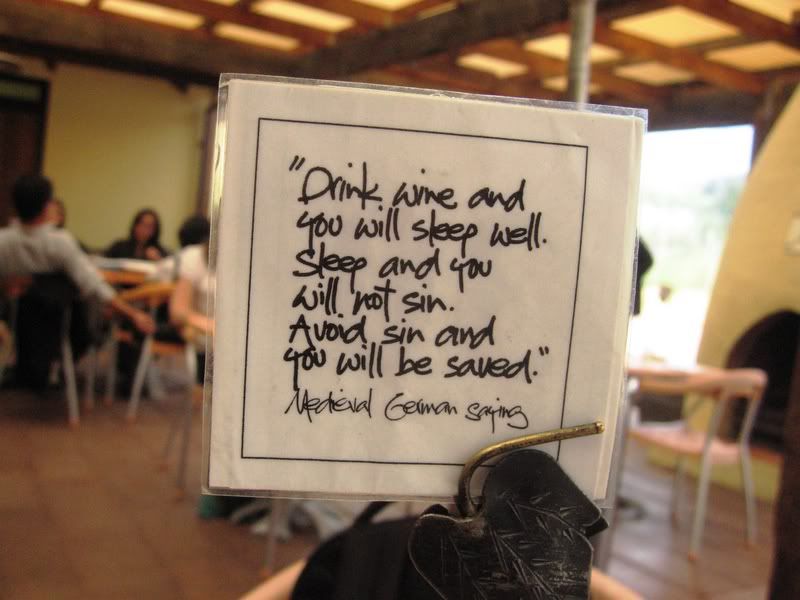 Ascension Interior
One thing I liked is that they take the care to recommend a particular wine to "pair" with every dish (starters, mains and desserts). It is just a suggestion though, so whether or not you actually order the recommended wine is optional......
Oh, and I also love the cute little messages they have on each table! (as pictured above). The one on my table cleverly said:
" Drink wine and you will sleep well.
Sleep and you will not sin.
Avoid sin and you shall be saved.... "
That's absolute genius!
*lol*
Anyway, we started the meal with the Ascension Taste Plate – A selection of 2 sets of 4 flavoursome, freshly prepared morsels that change daily (NZ$14.50).
(I love restaurants with good websites - then I can easily get the exact price and description of the food)
:)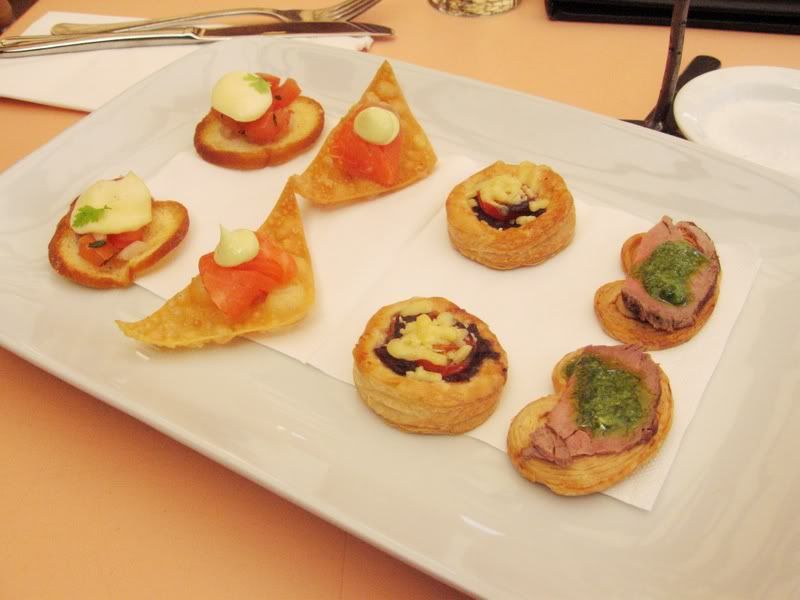 The Ascension Taste Plate
That day we were served 2 x 4 cute little pieces of roast beef, smoked salmon with wasabi mayonnaise, olive paste and tomato bruschetta, all arranged in their own pastry/ biscuit base. Mmmmm,... they were all great!
(... except the beef - it was only ok)
Simple yet tasty, with a good mix of different tastes and textures - it was the perfect way to start a meal.
(Oh, and they served it super fast too!)
For the mains, we had the Slow cooked Moroccan-style lamb tagine of neck fillet - set on a chickpea falafel and Ascension preserved lemons (NZ$24.50) and the Braised beef osso bucco bourguignon - set on soft truffle scented potato mash and a rich malbec jus, finished with slow roasted, glazed baby onions (NZ$25.50):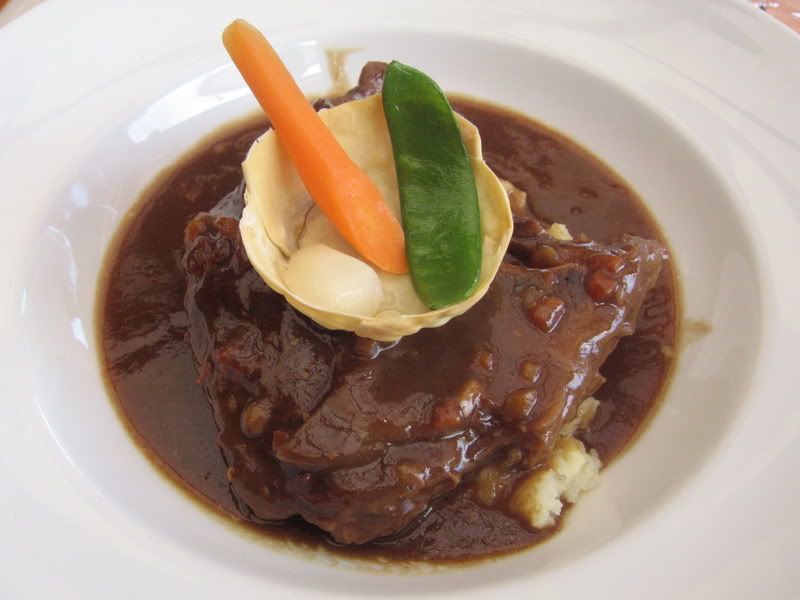 Left to right: The Beef and the Lamb
Mmmm-mmm.
Both of them were yummy.
I liked the Lamb more though, as it had a more exotic flavour.
The beef was ok - also tender but the brown sauce was a bit too "ching" (erm... it means clear/ uncomplicated taste) for my tastebuds.
We ended the meal with a simple but sinful Chocolate Cake (NZ$9.00)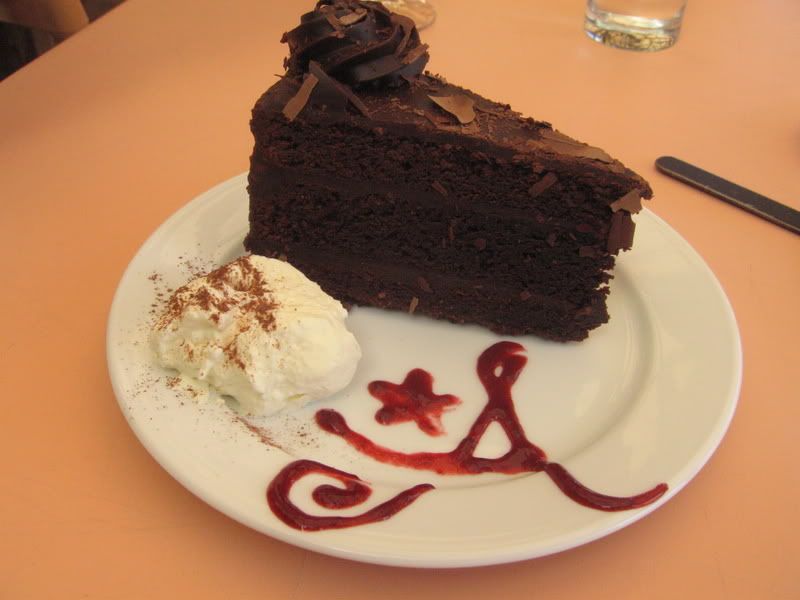 The Chocolate Cake!
The cake was a nice way to end the meal.
It was a heavy and moist, served with a generous dollop of cream.
Good... but not great (by my standards, it was a little "flour-y")
All in all, it was a good meal - decent prices (by NZ standards), good taste and good wine. It was also nice that everyone who dines at the restaurant gets to have a free wine tasting session at the cellar door (although this only saves you about NZ$8 per person, it's a nice gesture).
Summary Information:
Ascension Winery and Restaurant
Cellar Door & Wine Tasting: 10am to 5pm
Restaurant: Weekdays - 11am to 4 pm, Weekends - 11am to 5 pm
Phone: +64 9 4229601
Fax: +64 9 4229602
Address: 480 Matakana Road, Matakana Coast, P.O. Box 64, Matakana

TAGS: Food, Blog, Weblog, Holiday, Restaurant Review, Restaurant Reviews, Winery, Matakana, Ascension, North Island, New Zealand, Auckland