The Dinner
This is a little restaurant in the Taman Tun area (near the busy Maybank area) which serves a pretty wide range of Western and Asian food: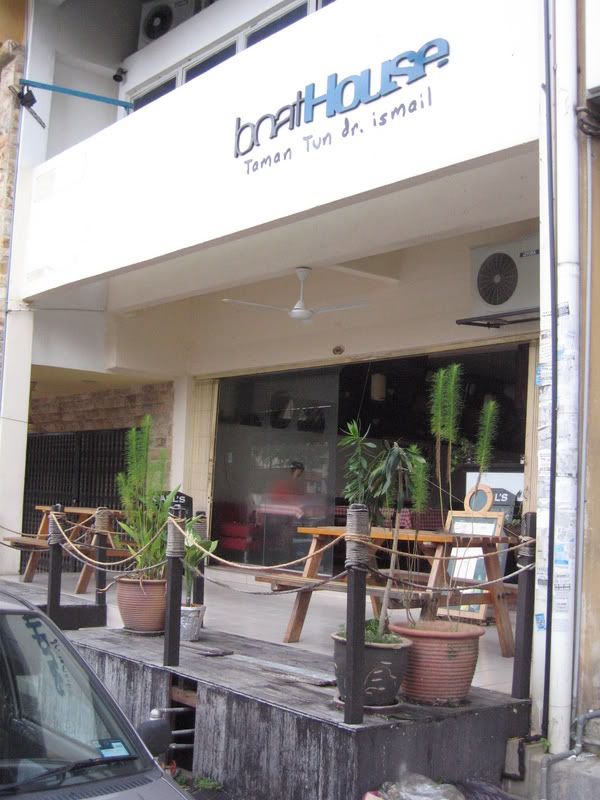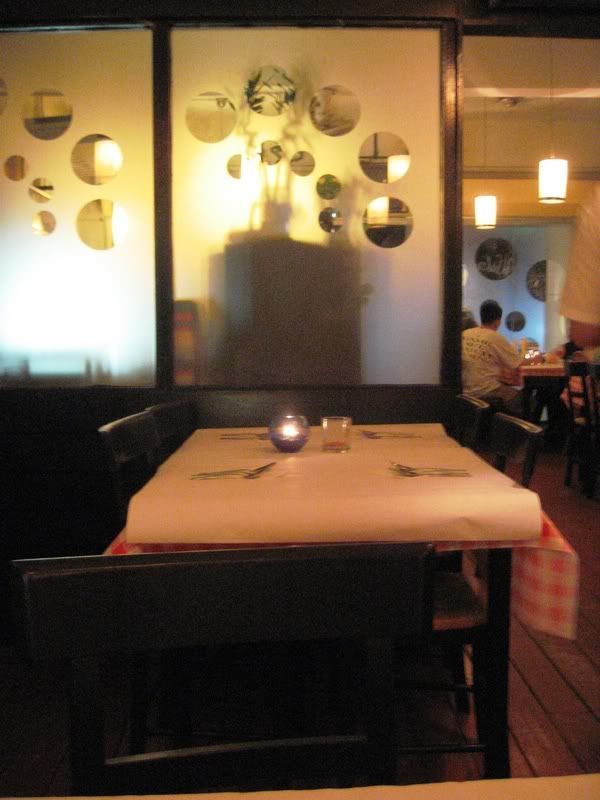 The Boathouse Interior
One thing I find really cute about this place is that you can draw on the tables to keep yourself amused while waiting for your food. They provide some non-toxic crayons and let you go wild on the white "mahjong paper" table covers. Here's my art piece: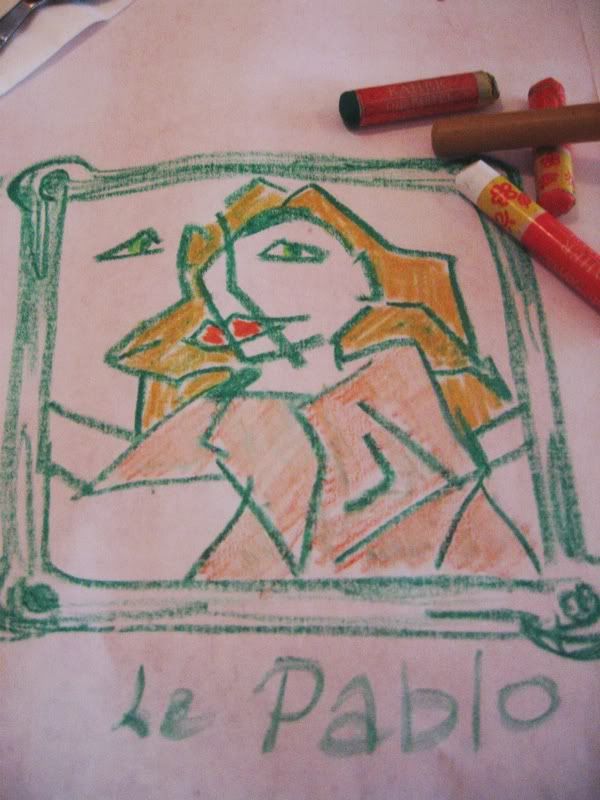 My Work Of Art
Nice ah?
:)
Anyway, onwards to the food. For the starters, we tried the Sauted Mushrooms, Beef with Enoki Mushrooms and the Stuffed Mushrooms: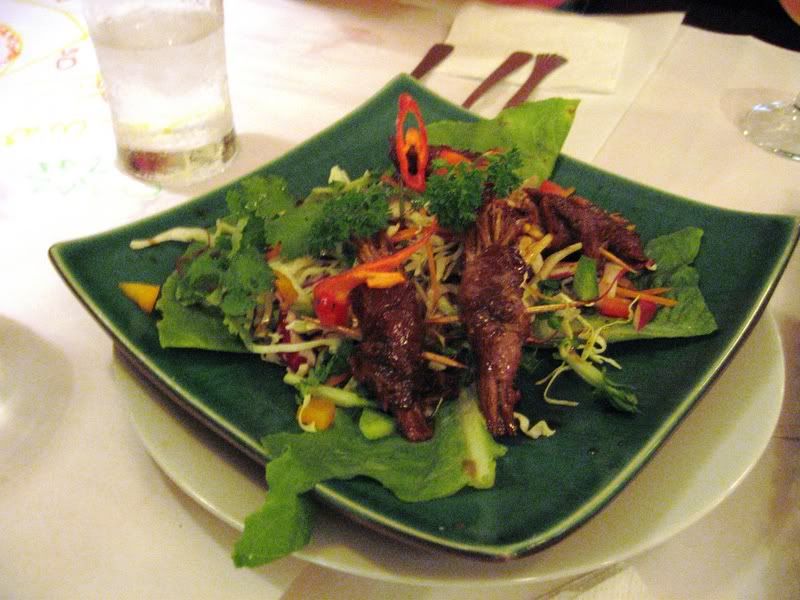 Top to Bottom: The Beef with Enoki Mushrooms, Stuffed Mushrooms and Sauted Mushrooms
The Sauted Mushrooms were not that great.
It was a mix of button, shiitake and enoki mushrooms, totally drowned in a pungeant butter sauce that I found simply overpowering.
The Stuffed Mushrooms were better - a few Porcini mushrooms filled with breadcrumbs as well as a bit of cheese and herbs. It was fragrant and the serving was not too big, so you don't have to worry about spoiling your dinner.
I think the best of the three was definately the Beef with Enoki Mushrooms roll. It was a nice textural package - tender beef on the outside and the "crunchy" mushrooms inside with what tasted like a teriyaki sauce.
The mains we had the Fish and Chips, Lamb Steak with Basil Sauce and Lamb Chops: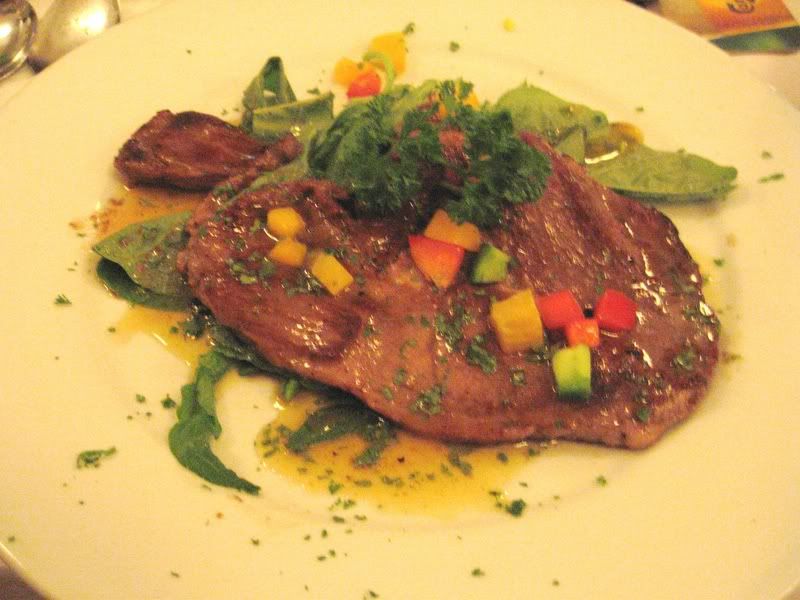 Clockwise from top: The Lamb Steak with Basil Sauce, Lamb Chops and Fish & Chips
The Fish and Chips is the specialty here, prepared in the classic English beer batter (Hmmm, technically this may not be "Halal" in the strictest sense) and is served with a healthy serving of chips and coleslaw on the side... I really like it - the fish was tender and the batter was light and crispy. When I added some vinegar (which you can ask for), it became simply divine.
Both lamb dishes were rather forgettable. The meat was quite tender and there wasn't any weird "lamb-y" taste but the sauce for both dishes were a tad too sweet, which didn't compliment the lamb very well.
To end the night, we added the Tiramisu, Chocolate Fondue with Strawberries and the Apple Fritters with Vanilla Ice Cream into our bulging bellies: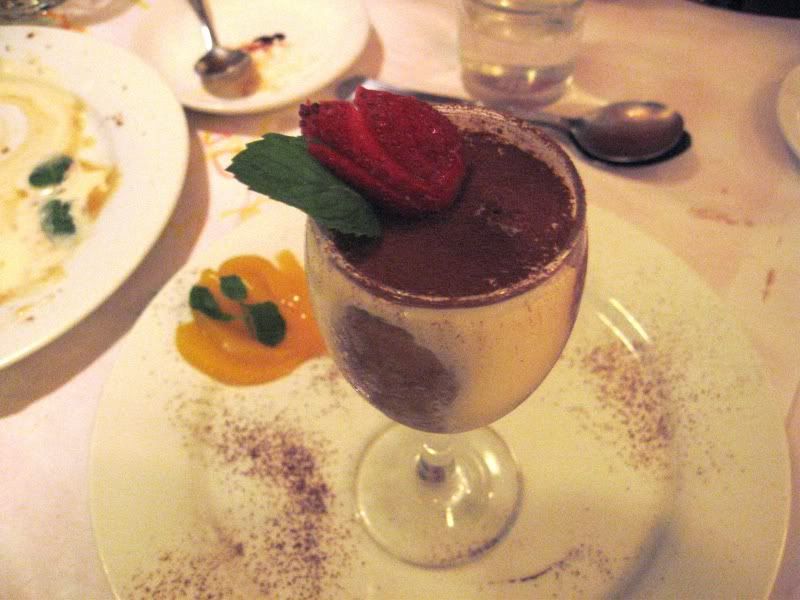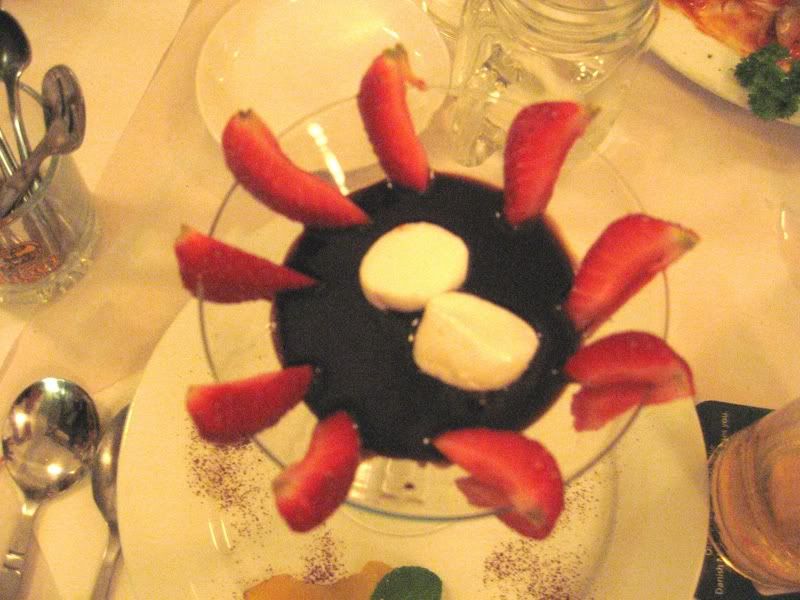 Clockwise from top: The Tiramisu, Apple Fritters and Chocolate Fondue
The Chocolate Fondue, served with fresh strawberries and some marshmellows, was normal. It's not really a proper fondue by definition, really... just some melted chocolate in a nice glass. It also wasn't as chocolatey as I would have liked but it was an enjoyable simple dessert.
The Tiramisu and the Apple Fritters with Vanilla Ice Cream were also ok.
They were in no way the best I've tasted but definately not a bad way to end the night.
:)
(
Note:
I've heard that the Asian dishes here, although reasonably priced, are not that great. I will verify this the next time I go there but I'll just put this down as a word of warning....)
So, it's: Good variety of Western and Asian dishes, nice fish and chips, reasonable prices, fun environment BUT hits and misses on the menu
Restaurant Review
Summary Sheet:
The Boathouse @ TTDI

Taste: 6
Ambience : 6
Service : 7
Price** : RM45/++ per person
Parking: OK (Weekday afternoons are crazy though)

** Approximation - 3 course meal, excluding drinks
Telephone No.: 03-7727 4426
Opening Hours:
Mon to Fri - 11am to 3pm, 6pm to 12am
Sat - 12pm to 4pm, 6pm to 1am
(closed on Sundays)
NO PORK SERVED
TAGS: Food, Blog, Weblog, Malaysia, Restaurant Review, Restaurant Reviews, TTDI, Taman Tun Dr Ismail, The Boathouse, Western, Asian