Fusion Japanese restaurant in the new Jaya 1 complex....
Hey everyone, I'm back! :)
(More or less)
This time, let's have a look at a new Japanese restaurant/ cafe in the up and coming food glutton haven, Jaya 1 in the PJ area.
(FYI: (For those who were wondering) Kissaten means
"old style Japanese coffee shop"
)
The Dinner
Overall, I liked the design of Kissaten, which was very "light" and modern.
If I had one gripe though it would be that the outside seating area doesn't seem to be sectioned off so you get many people walking to and fro.
(Not a BIG issue - but still, better to avoid the outside seating if you are trying to have a romantic date):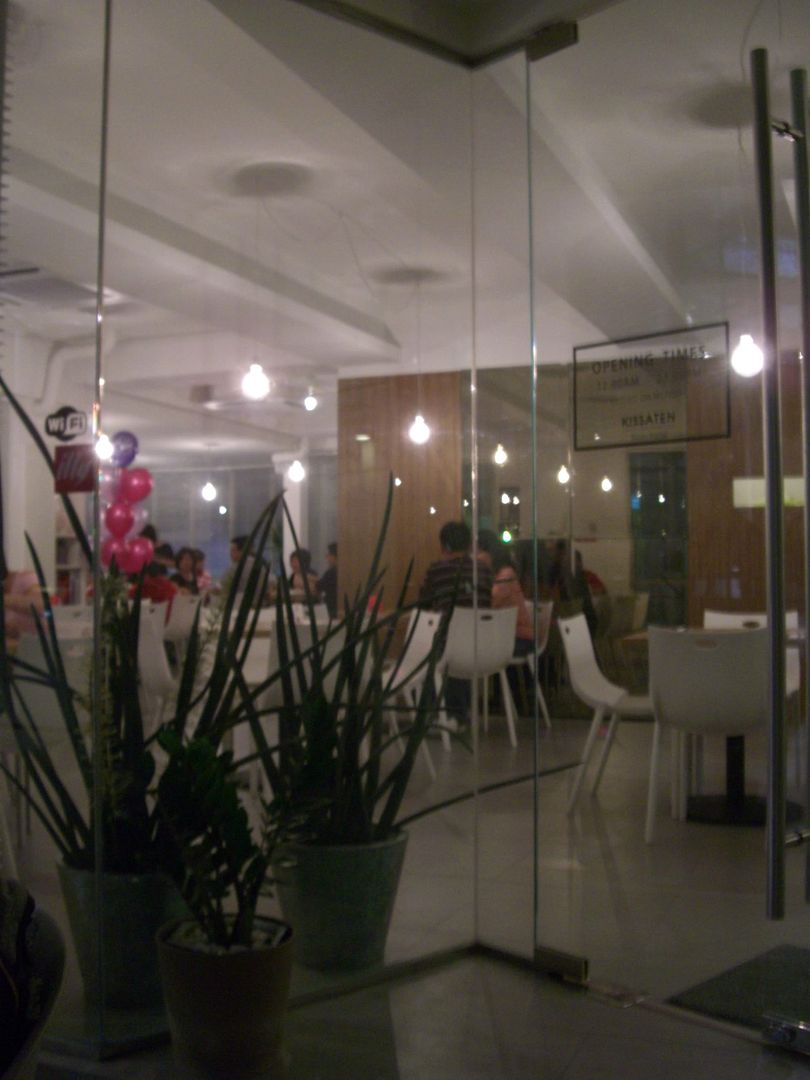 Looking into Kissaten from the outside seating area.....
As we browsed through the menu, we couldn't help but wonder: "Wah - Why so many different types of food wan?".
It's not that there is a huge variety of items but there seems to be a strange mix of a couple of classic Japanese dishes (eg. Chashu Ramen, Sashimi), Fusion Japanese (eg. Japanese style pizzas and pastas) as well as some Local Food (eg. Lam Mee, Ipoh Horr Fun).
(Hmmm... a bit of an identity crisis I think... Haha)
Anyway, we eventually decided to try out the interestingly named Springy Balls (RM 8.90++) and Cheese Balls (RM 5.90++):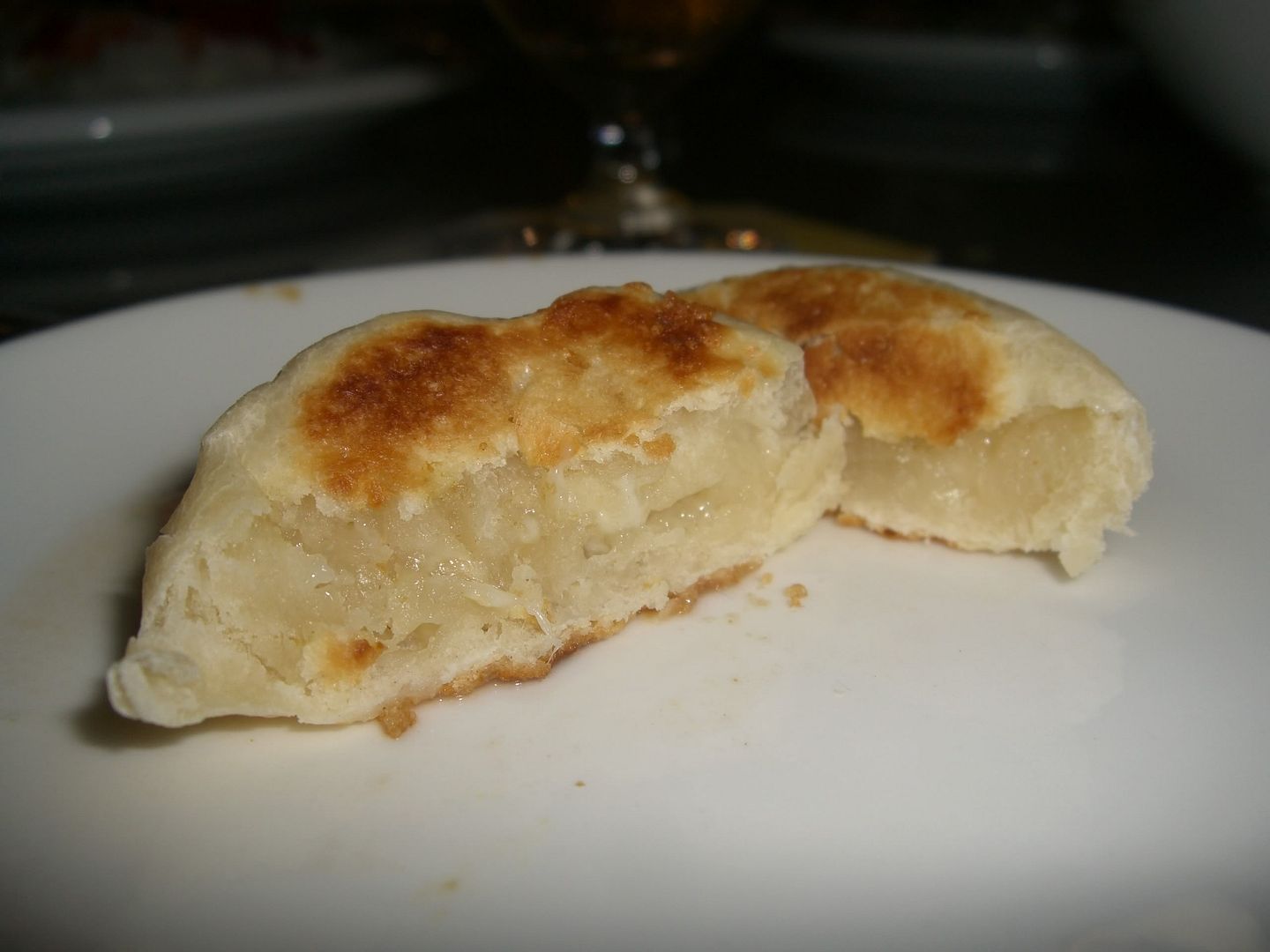 Top: The Springy Balls,
Bottom: The Cheese Balls.....
We were off on a bad start that night because both appetizers were not very nice:
- the Springy balls' texture were (as described), springy but it tasted very normal in it's "Ipoh Sah Horr Fun" soup gravy,
- the Cheese balls were a starchy, gloopy disappointment which left us wondering whether the chef accidentally left out the main ingredient (Well actually, we could smell a hint of cheese aroma but couldn't seem to taste any cheese no matter how much we chewed)
Understandably, our expectations then plummeted but thankfully, the Katsu Curry Rice (RM 18++) and Char Siew Pizza (RM 23.90++) that we had for our mains were nice: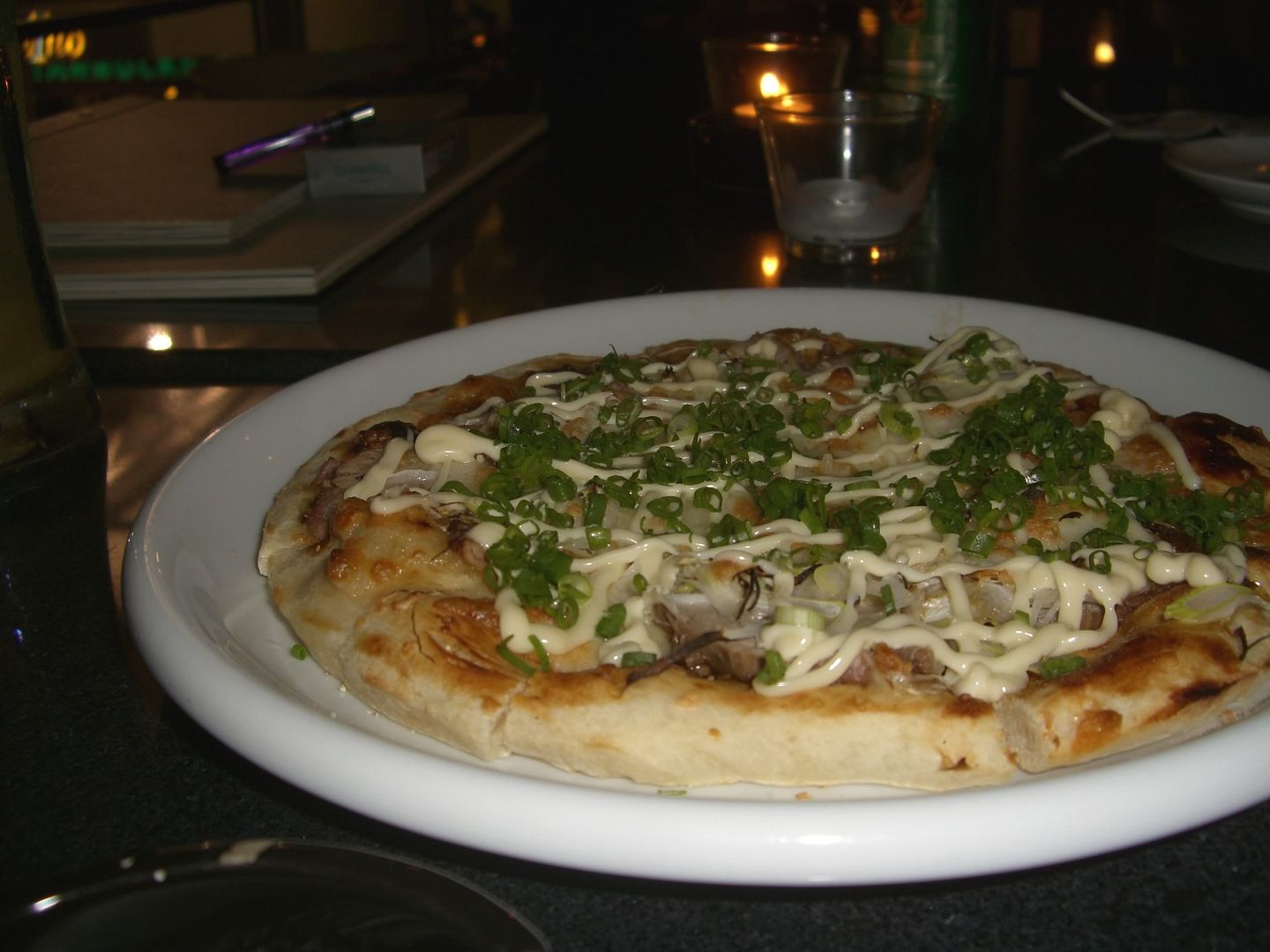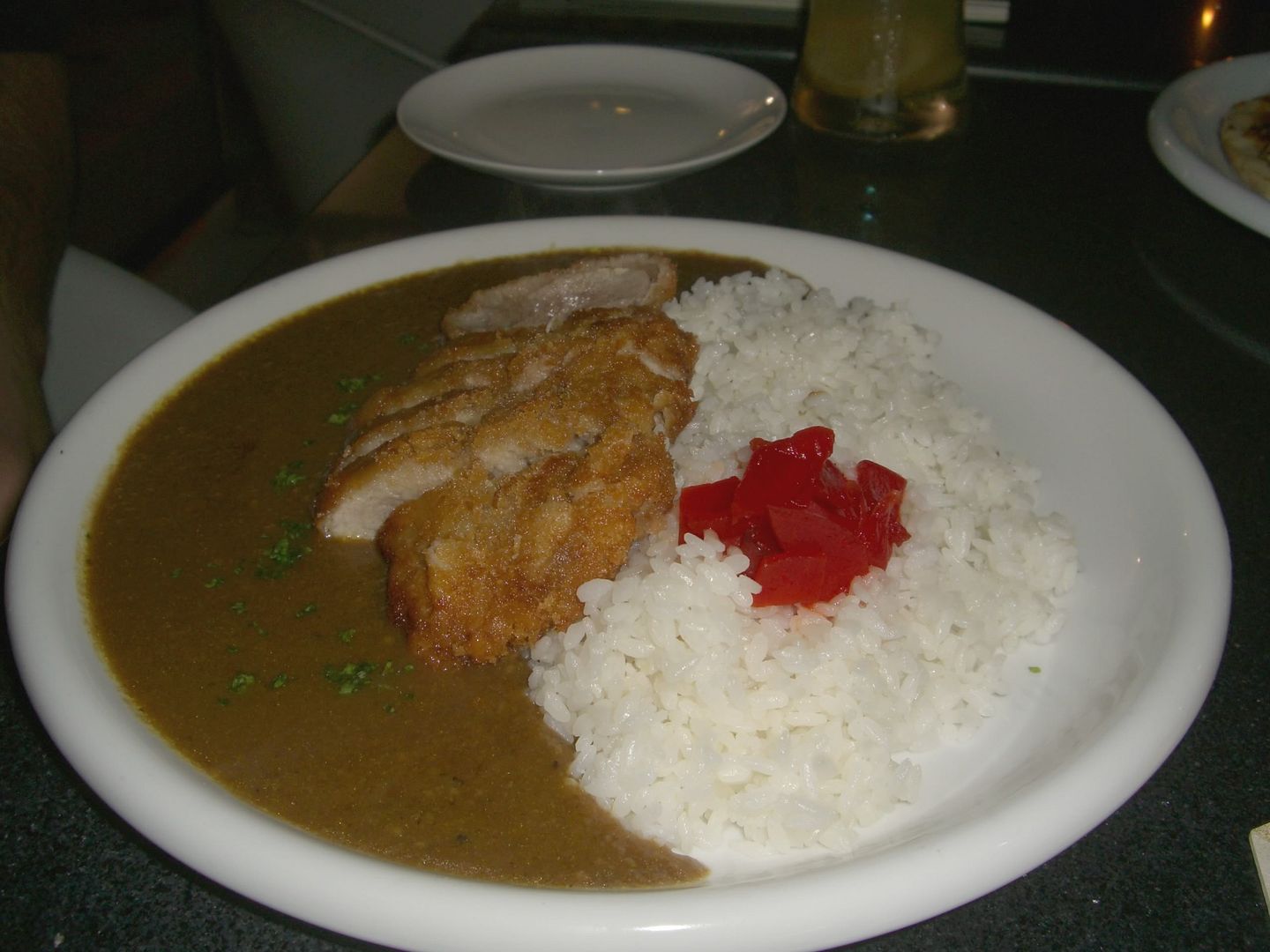 Top: The Char Siew Pizza,
Bottom: The Katsu Curry Rice.....
The deep fried Pork Katsu was tender, with a nice crispy crust... and was generously topped with suitably thick Japanese style curry sauce (which has a slightly sweet taste). It would have been better if the sauce was served with the usual chunky slices of radish, potatoes and carrots but overall, I wouldn't mind ordering this again.
As for the Char Siew pizza (actually, it's supposed to be Japanese "Chashu") - it was lovely! It was a slightly crispy (on the edges), medium thickness pizza with slices of tender pork, and topped with sinfully creamy mayo....
MMMMmmmmm.... Yum.
(I suspect it could be very "jelak" if you try to finish it all by yourself though)
We were pretty full by then but decided that we couldn't end the night without trying the Rich Chocolate Pudding (RM 7.90++):
The Rich Chocolate Pudding.....
The texture of the Chocolate Pudding was dense, smooth and not too sweet. Pat and I liked it, but my friend V took a bite and said that it reminded her of jelly (which she found a bit strange).
Oh well, more for me then! :)
(I love it when chocolate desserts have a very slight bitter note)
Overall, I liked the enjoyed the dinner at Kissaten but I'm going to make it a point to be more careful when picking out appetizers the next time I go there....
So, it's: Casual yet stylish restaurant with good selection of interesting selection of fusion Japanese-Western dishes (and some Asian food) for reasonable prices BUT nothing much to complain about except that some of the appetizers weren't that nice (but they were Ok lah)...
Restaurant Review
Summary Sheet:
Kissaten @ Jaya 1, PJ
(In the Palm Square area of Jaya One)

Taste: 6
Ambience : 6
Service : 6
Price** : RM38/++
Parking: OK (but I've heard the surrounding roads are pretty jammed on Weekday nights)

Website: (with map!) CLICK HERE

** Approximation - Per person, 3 course meal, excluding drinks
Telephone No.: 03-7954 1990
Opening Hours: 11am - 12midnight
NOT HALAL
OTHER REVIEWS:
-
A Whiff Of Lemongrass
-
I Just Wana Eat
-
Pink Painter
-
Sweets For My Sweet Tooth
-
Motormouth From Ipoh
TAGS: Food, Blog, Weblog, Malaysia, Restaurant Review, Restaurant Reviews, PJ, Petaling Jaya, Japanese, Kissaten Coffee and Restaurant, Jaya 1, Palm Square, Asian Food, Fusion