Hola, people.
I am back from the dead - finally updating (properly) after about 3 weeks.
(Yes, I have been that busy.... sorry)
This time, I bring you the review of a little restaurant in KL called the Coconut House.....
The Dinner
This quaint little eatery is set in an old house on Jalan Pudu Lama, and is situated pretty much behind the Maybank building.....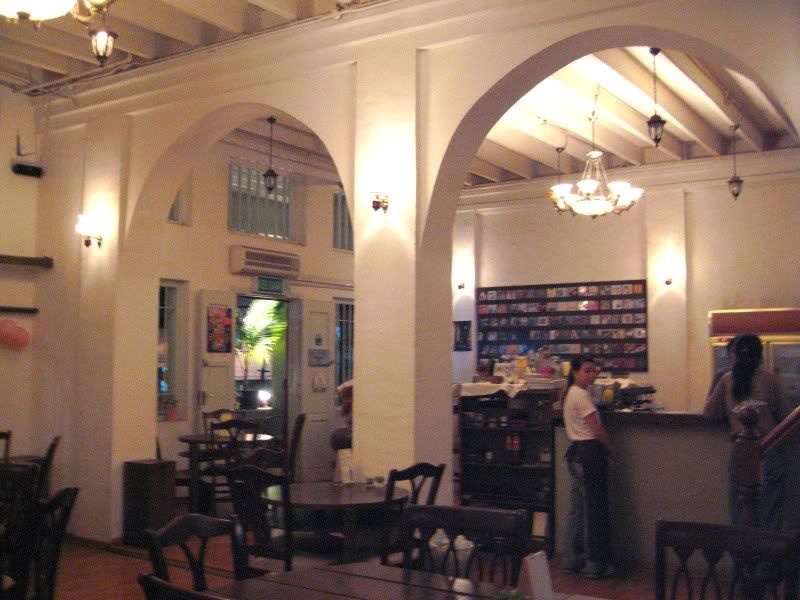 Coconut House - A Look From the Inside and Out
The restaurant is rustic, cosy and mostly open air. It is also
uncomfortably
warm. We were all sweating even before the first course arrived, but well, at least they were nice enough to bring in an extra standing fan for us later that night.
(Oh btw, there is a nice open air area in the back with a garden setting - nice place to chill out while sipping on a beer)
Open Air Area at the Back
The menu there is pretty extensive, mostly italian, ranging from antipastos to pastas to their specialty: crisp oven baked pizzas.
We started off the night with a selection of starters - The Grilled Mushrooms, Pate with Bread and Baked Garlic Mussels.
The mushrooms were ok - a bit cheating as they weren't 100% button mushrooms but instead an assortment of local and imported mushrooms fried with garlic and herbs (still, great value for around RM7). The Pate and the Baked Garlic Mussels were also really good though for the price.
I must say, I was very pleasantly surprised.
For the main, I had the Steak Parmagiana....
The Steak Parmagiana
This is definately something I look forward to ordering again.
I know, the idea of battering and deepfrying a good piece of steak may seem like an absolute blasphemy to most meat lovers but it was so good! - tender and tasty, served with a rich tomato based sauce and yummy potato cake.
Next up, the Roasted Pork that
Pat
had that night.
Oink Oink
The pork was tender and obviously very well marinated as it was bursting with flavour (also a steal for under RM33). There seem to be a strong Chinese influence in this dish though, as the sauce reminded me very much of preserved veggies somehow.
Anyway, something else worth a try is the Chicken with Porcini Sauce that Jo-Lyn tried....
Chicken with Porcini Sauce
This dish, which is basically grilled chicken served with imported mushrooms, was juicy and tasty.
What about the pizzas, you ask?
Well, we couldn't go without trying the specialty of the restaurant now, could we? That night, we tried the house special, the Leonardo Da Vinci pizza....
The Da Vinci Code

A delicious mesh of cheese, onions, olives and ham - the pizza was a good choice as the pizza dough was crispy with a bit of bite to it (oh, and without being starchy too).

For dessert, we ordered the Coffee Mousse, Banana Split and Poached Pear with wine sauce....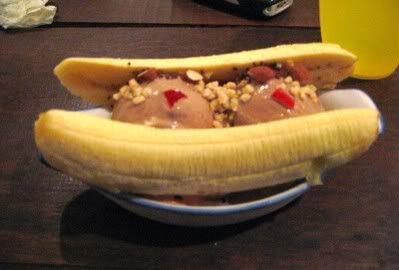 Clockwise from top left: Coffee Mousse, Banana Split and Poached Pear

I will just say this: Order it only if you absolutely HAVE to have dessert.
Otherwise, don't waste your time.

So, it's: Quaint and cosy restaurant, extensive menu, nice tasting starters and mains, and great value for money BUT disappointing desserts and uncomfortably hot environment (do go there sexily dressed, or risk having your date/ friends see you sweating profusely)

(And if you're wondering why the rating for service is only 5.5, well... it's a combination of blur but friendly waiter and slightly slow response time. Overall, acceptable but definately room for improvement)


Restaurant Review
Summary Sheet:
Coconut House @ Jalan Pudu Lama

Taste: 7
Ambience : 4*
Service : 5.5
Price** : RM 35/++ per person
Parking: Easy to find but dark

* Mouldy walls and horribly stuffy & hot in the back area... the open air area in front of the restaurant seems ok though
** Approximation - 3 course meal, excluding drinks
Telephone No.: 03-2031 2830
Opening Hours: 11am - late
NOT HALAL
TAGS: Food, Blog, Weblog, Malaysia, Restaurant Review, Restaurant Reviews, Jalan Pudu Lama, Kuala Lumpur, Coconut House, Italian, KL, Pizza