Ah, the salty taste of disappointment....
The Dinner
Klimt's is a cute little Austrian restaurant at the foot of the Damansara Heights area that has been around for ages....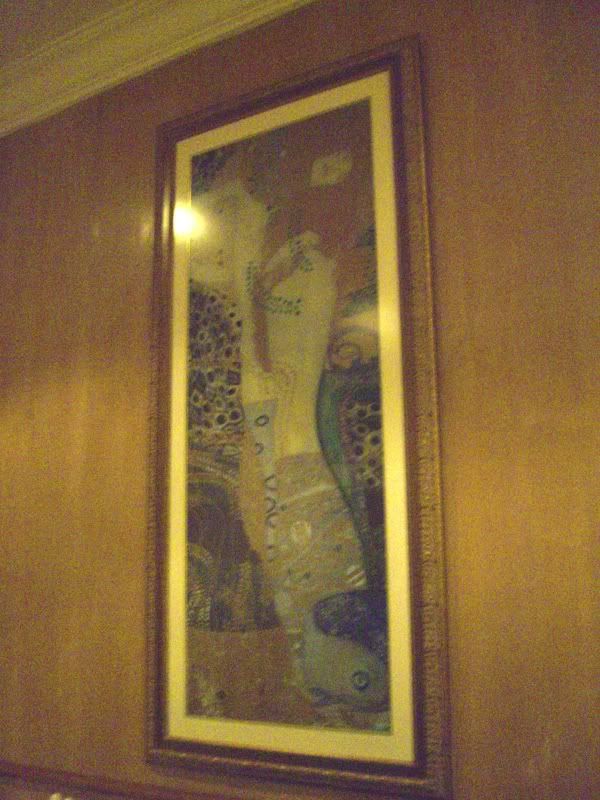 The interior of Klimt.....
For years, I had always heard from friends about how great the food at Klimt's is and now when I finally make my way there, it really looks like I've completely missed the boat.
To be fair, the soups we started off with that night (Mushroom Soup and Beef Goulash Soup) were ok...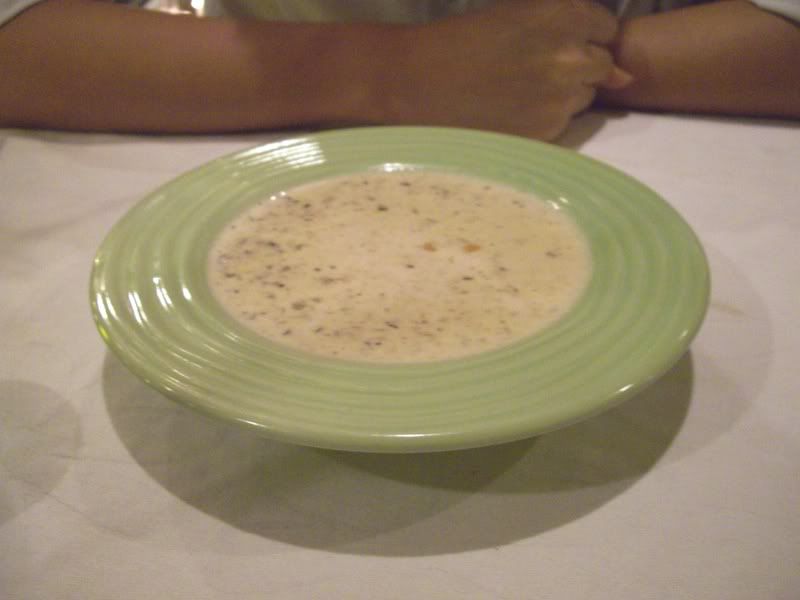 The Beef Goulash Soup and the Mushroom Soup
The serving size was a bit small but overall, both soups were nice: the texture was thick and they tasted deliciously wholesome.
However, the mains were a totally different story.
That night, we ordered funkily named Beef Something (sorry, sorry - the name's in a foreign language so it's slipped my mind) and the Klimt's platter:
The Beef Something and the Klimt's Platter.....
Z and I decided that if we had to rename the dishes to something more fitting with reality, his dish would be
"Tasteless, Soggy Broiled Meat With Chinese Style Veggies"
and mine would be
"Variety of Dry, Overcooked, Oily and Salty Processed Meat Served with a Pickle"
.
(And mind you, the food there isn't cheap! The mains can range anywhere from about RM25++ to RM70++)
Ok.
*breathes*
Maybe I'm just being a bit too quick to judge.
Apparently, the pasta and the fish dishes there are nice....
... but before you Klimt fans out there say that I'm being unfair, please consider this: Do you think that any normal person who tries out a restaurant for the first time and gets charged so much for such yucky food would EVER voluntarily go back to find out whether the rest of the food is nice?
(I think they desperately need to clean up their menu to make sure that there are no more total "bombs" on it)
Having been disappointed with the mains, I decided to cut my losses and NOT order dessert.
(So, sorry... no dessert piccies and review)
So, it's: Cosy, dimly lit "romantic" but simple ambience and nice soups BUT some real "bombs" on the menu and it's pretty expensive considering food quality and serving size.
Restaurant Review
Summary Sheet:
Klimt @ Damansara, KL

Taste: 4
Ambience : 5
Service : 5
Price** : RM 60/++ per person
Parking: OK

** Approximation - 3 course meal, excluding drinks

Telephone No.: 03-2092 1978
Opening Hours:
Monday to Friday: 12noon - 2.30pm, 6pm - 11pm,
Saturday: 6pm - 11pm,
Sunday closed

NO PORK SERVED
TAGS: Food, Blog, Weblog, Malaysia, Restaurant Review, Restaurant Reviews, KL, Kuala Lumpur, Bukit Damansara,Damansara Heights, Klimt, Austrian, European