Nice concept restaurant + upmarket grocery store in the cool Dempsey area, Singapore....
An update! *ta-da!*
:)
It's not a new restaurant in Malaysia though.... but if you are in Singapore, here's an interesting restaurant to try out in the "happening" Dempsey area.
While visiting my dear friend C L (finally! after she complained for many years that we have "forgotten" her since she started working in Singapore), she brought us to a lovely place, called Jones, to have a lazy Sunday brunch.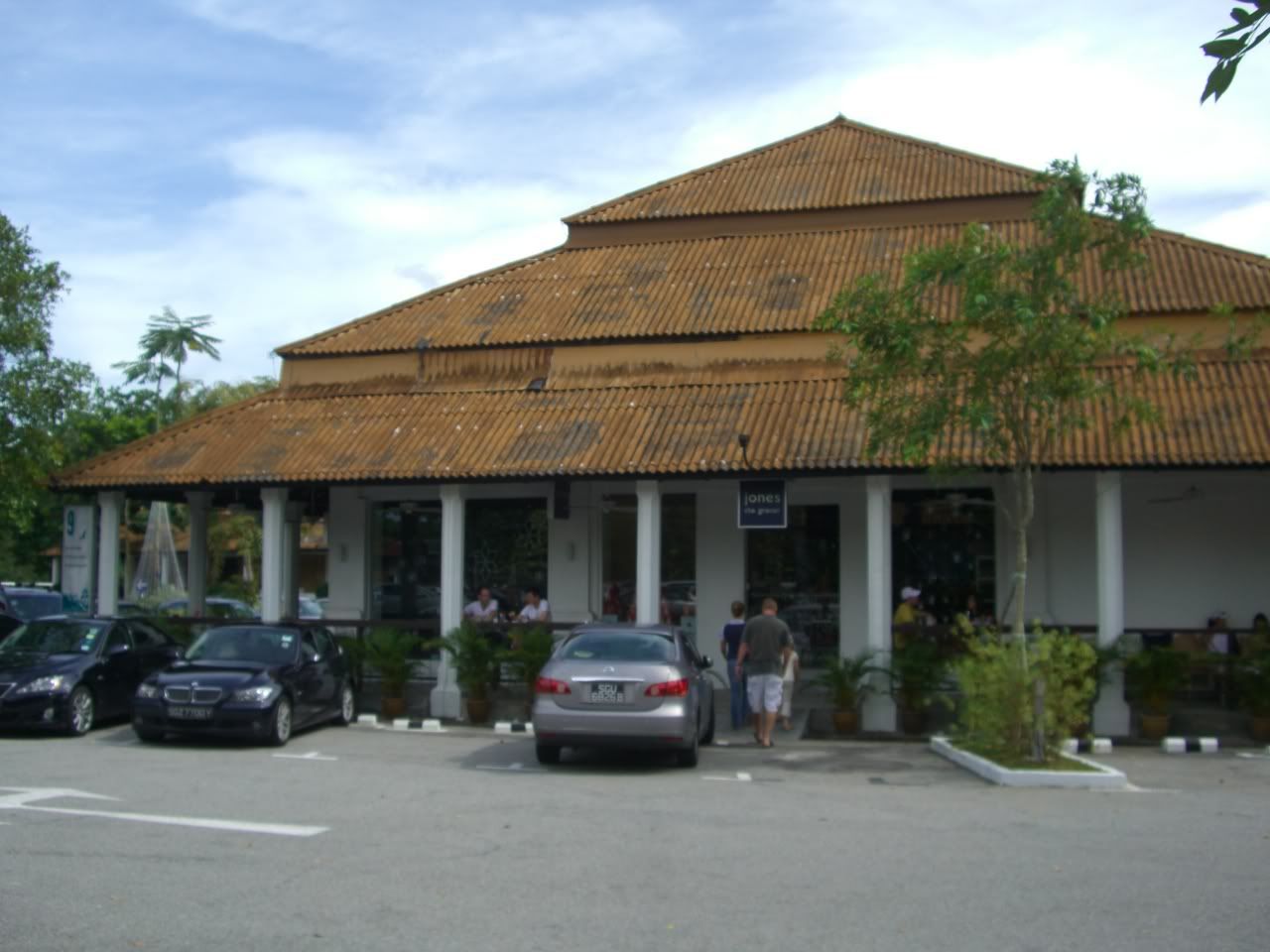 Jones the Grocer from afar....
Jones The Grocer is part of an Aussie concept restaurant/ specialty grocery chain and has a casual yet stylish setting which I really liked. A downside was that it is wildly popular for Sunday brunch and was super packed - so it was difficult to find a table AND it didn't help that the staff were sort of young and disorganized *sigh*:
Dine inside or outside? Hmmmm....
Anyway, we eventually found a table outside and proceeded to order the delicious sounding Classic English Breakfast (about SGD 16) and a freshly squeezed orange juice (about SGD 4):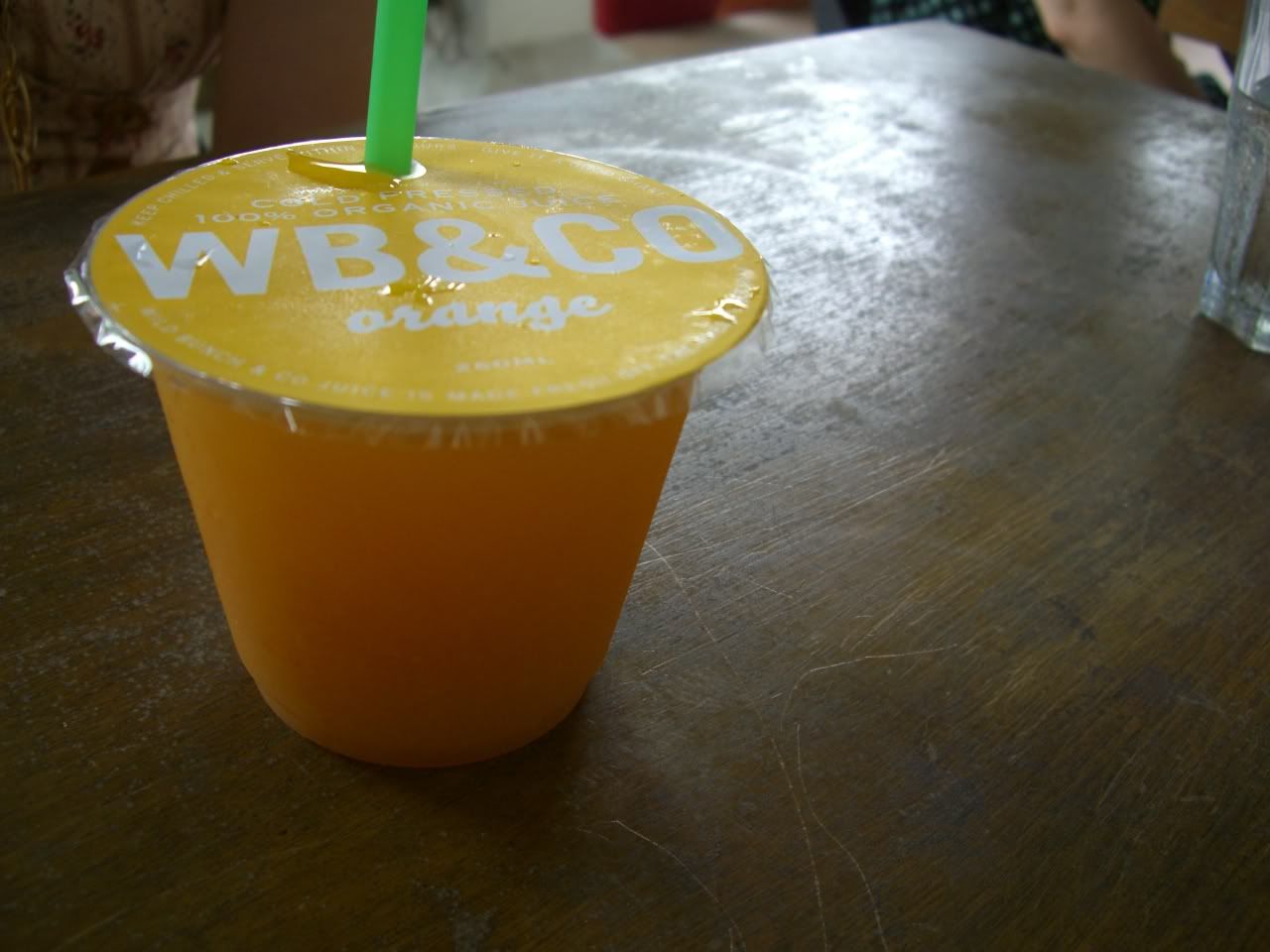 The English Breakfast and the OJ....
Overall, the breakfast and juice was quite nice :
- fresh toasted bread (yum!) served with
- eggs (I chose scrambled - yummy!),
- sausages (Ok only - texture was a bit dry),
- grilled tomato,
- mushrooms (also yummy) and
- bacon (also ok only - wasn't crispy enough)...
I actually feel that the breakfast at Fogal's (in Plaza Damas, Hartamas, KL) is much nicer as the meats there are tastier... but the ambience at Jones won me over. :) There's just something about the tree lined, low density Dempsey area that is really special.
(If only the food tasted better - it would be such a nice place!)
Other than serving food, Jones also has a wide array of specialty foods : anything from tea, biscuits, jams, sausages, pasta, cheese to wine: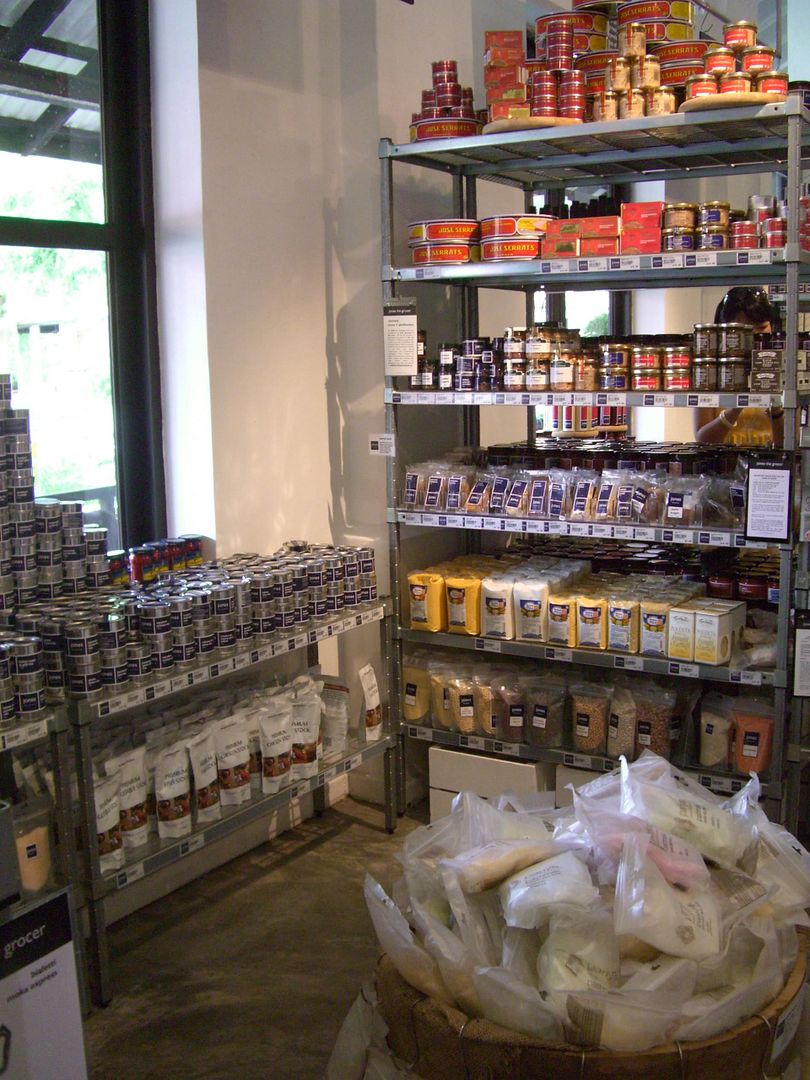 Lots of freshly baked goodies and specialty products to choose from....
All in all, I'd definitely return to Jones despite the only ok tasting food (or until I find another place like it which serves nicer food in Singapore anyway) - Call me a fool but I just really like the ambience there! :)
So, it's: Interesting concept restaurant with a nice ambience and cool specialty grocery shop attached BUT food is only ok, slightly overpriced and service could have been better....
Summary Information:
Jones The Grocer @ Dempsey Road, Singapore

Opening Hours: 9.30am till 11pm.
Phone: +65 6476 1512
Address: Blk 9 #01–12, Dempsey Road, Singapore 249679.

NOT HALAL

OTHER REVIEWS:
-
Passing Momentos
-
The Local King
TAGS: Food, Blog, Weblog, Malaysia, Restaurant Review, Restaurant Reviews, Dempsey Road, Jones The Grocer, Western, Singapore