A long overdue review on an interesting new non-Halal Italian restaurant in the Bangkung area....
[ BEGIN EDIT ]
(
Oct 2009
July 2010)
I've been back to Leonardo's a couple of times already and I'm happy to say that the food is (mostly) still good, and the cocktails are good too. :)
Please heed this warning though:
Do not risk walking in without a booking
(at least 3 days in advance for Fri/ Sat). Leonardo's is getting increasingly popular, especially with small corporate/ personal events so they are fully booked quite often nowadays....
You have been warned! :)
Hugs,
J
[ END EDIT ]
Note: I was at Leonardo's for a
Nibbleish.com
food tasting so this is not one of my normal reviews (as in, I didn't pay for any of the food)... but hope you trust that my opinions are objective. :)
Also, there are no prices attached to the dishes because it is an interesting new concept where you can pay a one discounted price to have a 3 course meal at 3 restaurants. Sounds interesting, right? - More details at
Nibbleish.com
or
here
.
Anyway, onwards to the review:
Leonardo's is fairly new (about 6 months' old) and has taken over the Attic's location in Jalan Bangkung:
Step up to Leonardo's....
They have a much warmer (romantic even) feel across the 2 levels:
- The upstairs area (2nd floor) is more of a cool bar/ lounge area, where you can drink, munch and chat with your friends, while,
- The lower area (1st floor) is the main dining area, with a choice of indoor or outdoor dining: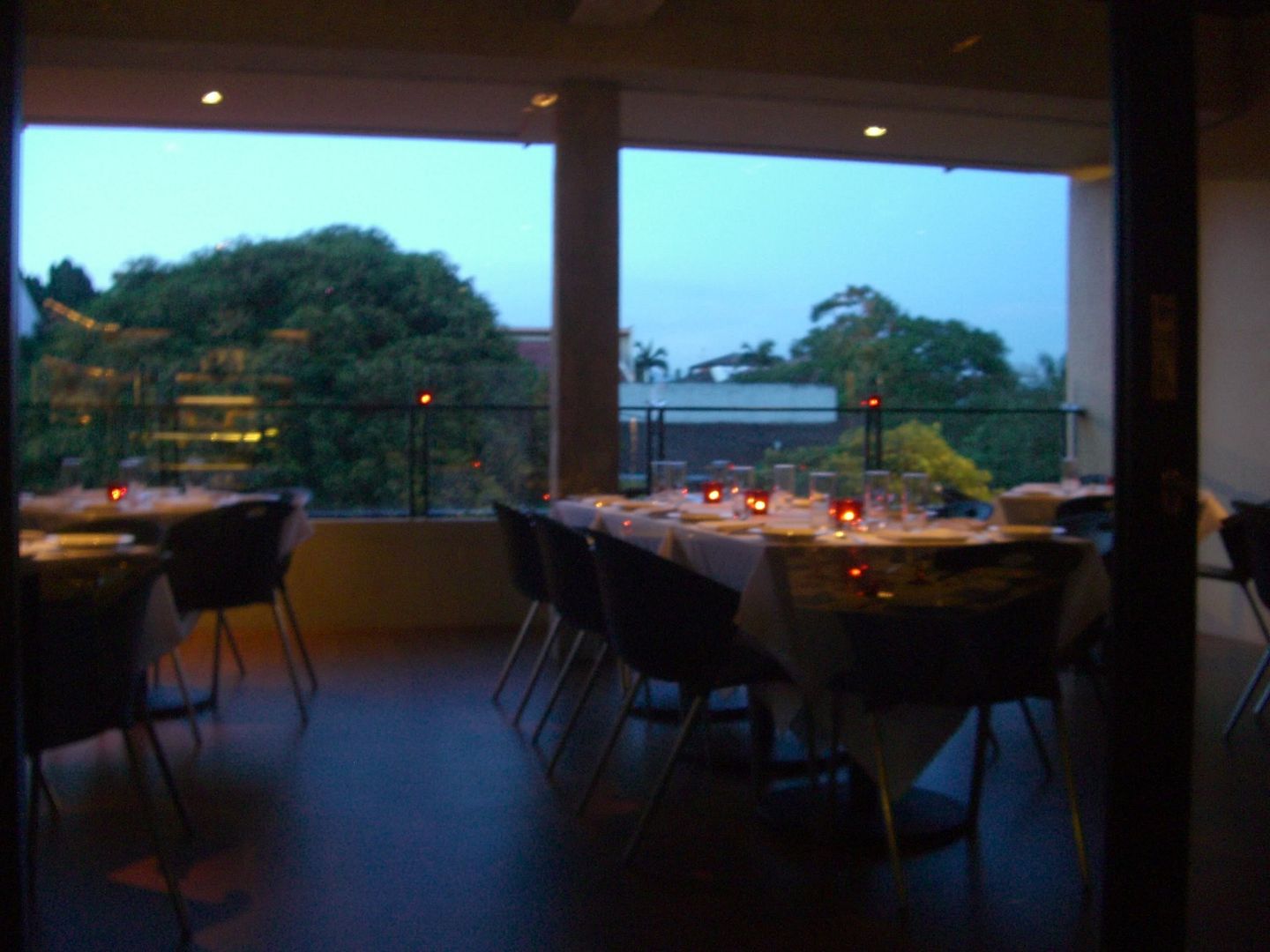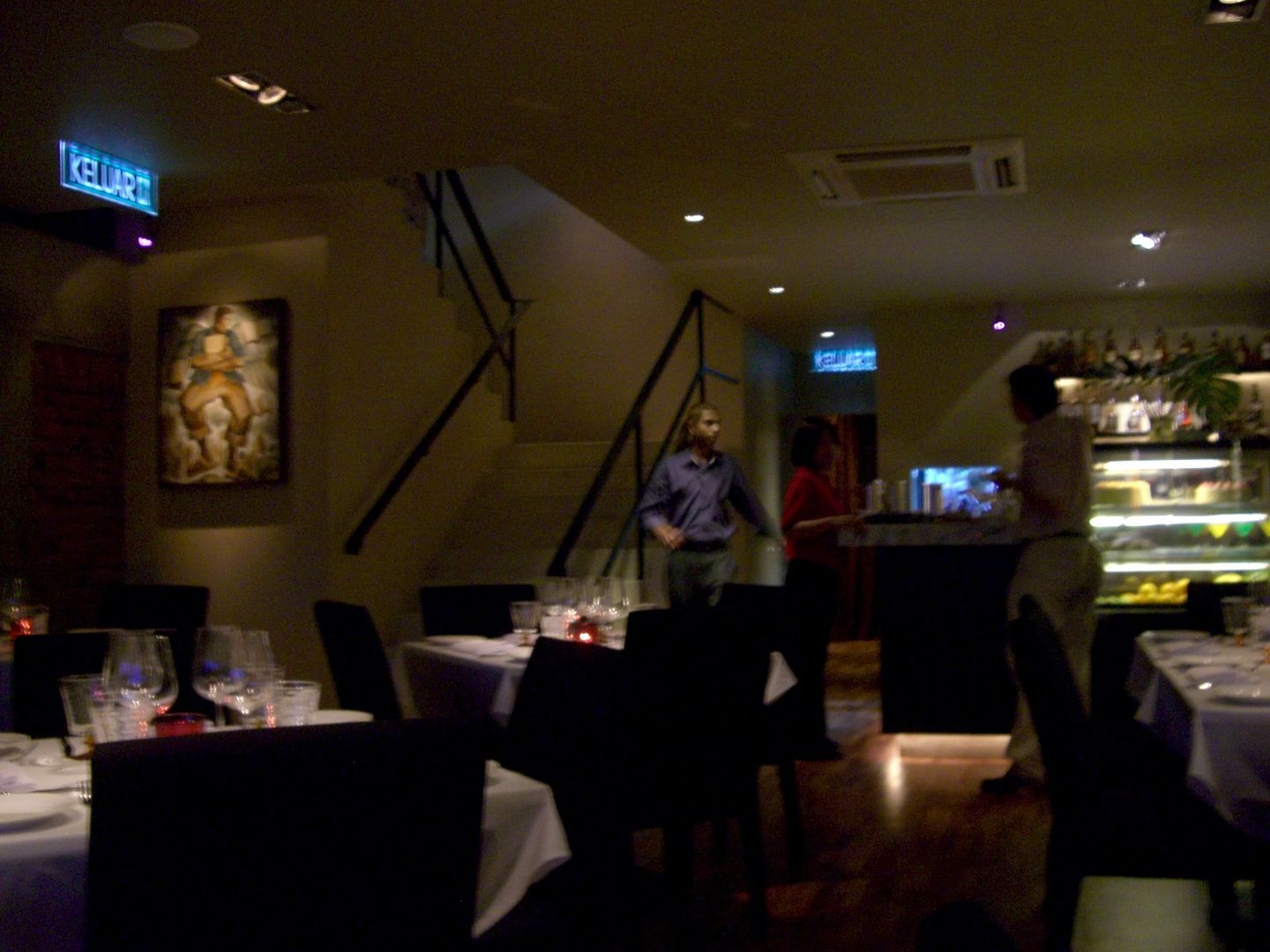 Leonardo's interior: Level 1 indoor and outdoor dining areas....
First up, for the night, was the complimentary bread... which I fell in love with. :) Crunchy and light, with a deliciously creamy mushroom topping – Perfection!:
Yummy, yummy bread... *drool*....
I had to tear myself away from the bread and move on to the "official" food. For the starters, there were 3 options for the night - the Cured Salmon Carpaccio, Waldorf Salad and Italian Sausages & Onions: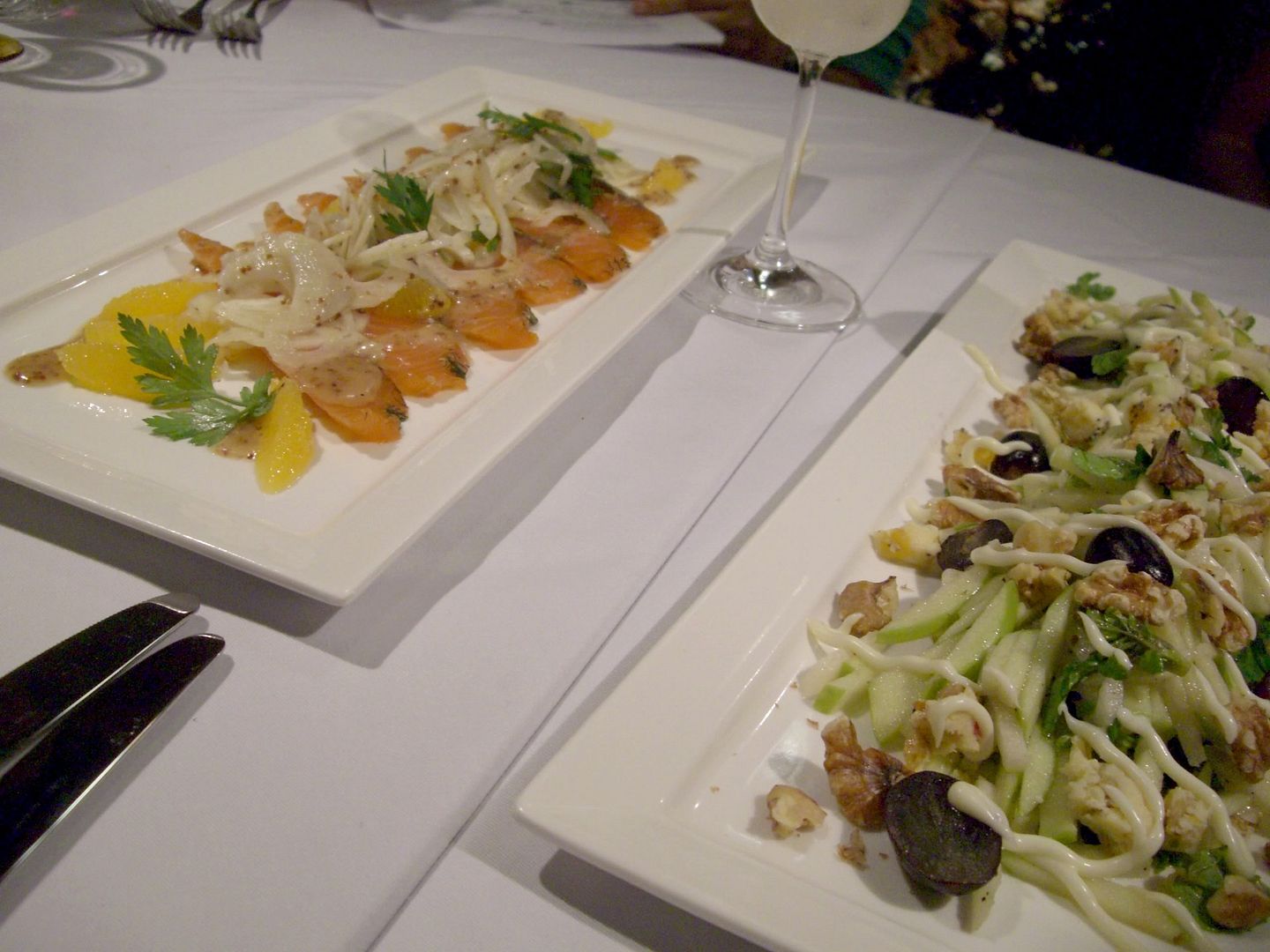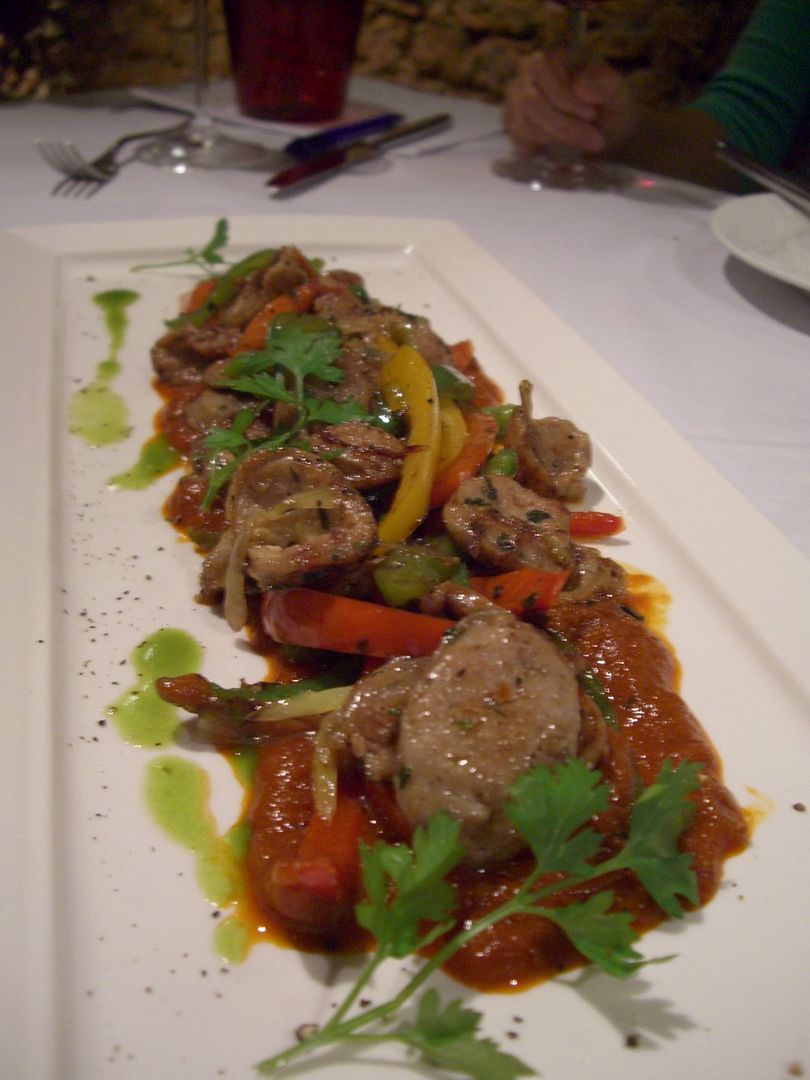 Clockwise from top left: The Salmon Carpacio & Waldorf Salad, close up of the Salmon Carpaccio and the Sausages....
I am largely a carnivore, so I really enjoyed the Italian sausages with its simple but robust tomato based sauce. Still, the other starters were nice too:
- the Salmon Carpacio served with fennel parsley orange salad and campari dressing was piquant and refreshing, whilst
- the Waldorf Salad was ok (chunky bits of crunchy apples, sengkuang, walnuts balanced with juicy grapes, creamy cheese and dressing).... Definitely an interesting textural mix (but like I said, I'm really more of a carnivore).
Before the mains, we were served a Virgin Margarita: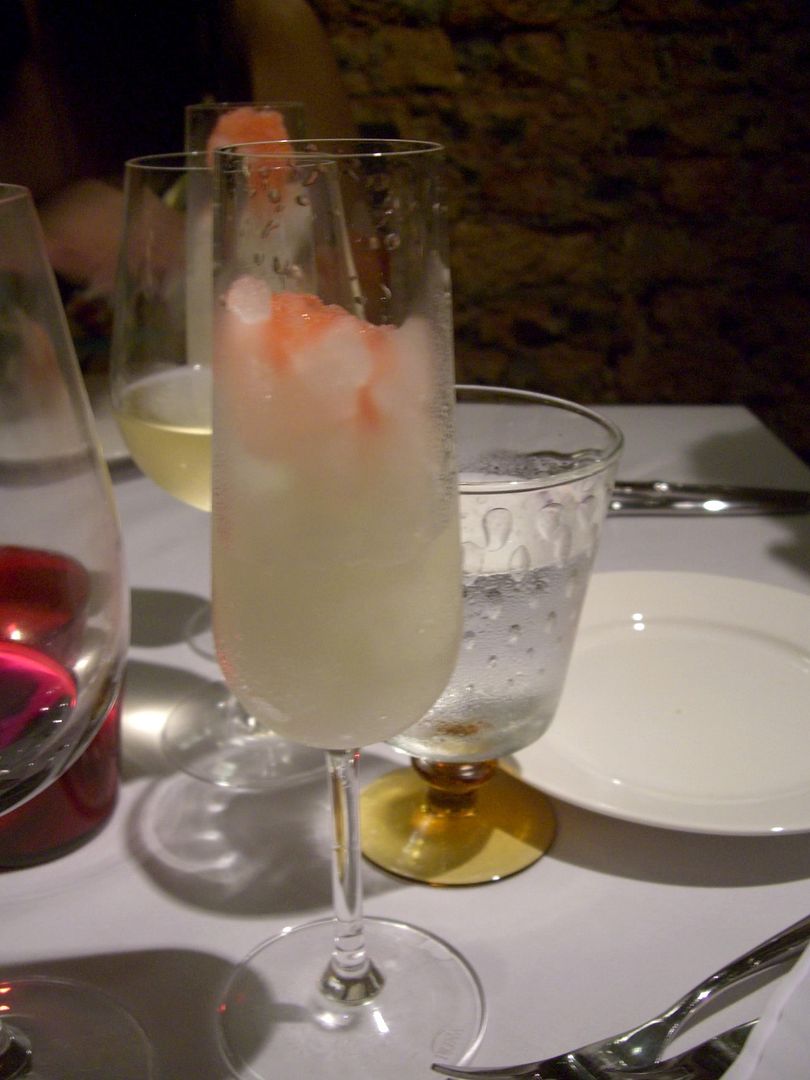 A virgin at our table....
I was surprised - despite the lack of alcohol, the margarita turned out to be a welcome addition to the meal, refreshing and not too sweet.
Moving on to the mains, we had the Miso Glazed Salmon, Spaghetti Vongole and Grilled Pork Chops with Strawberries: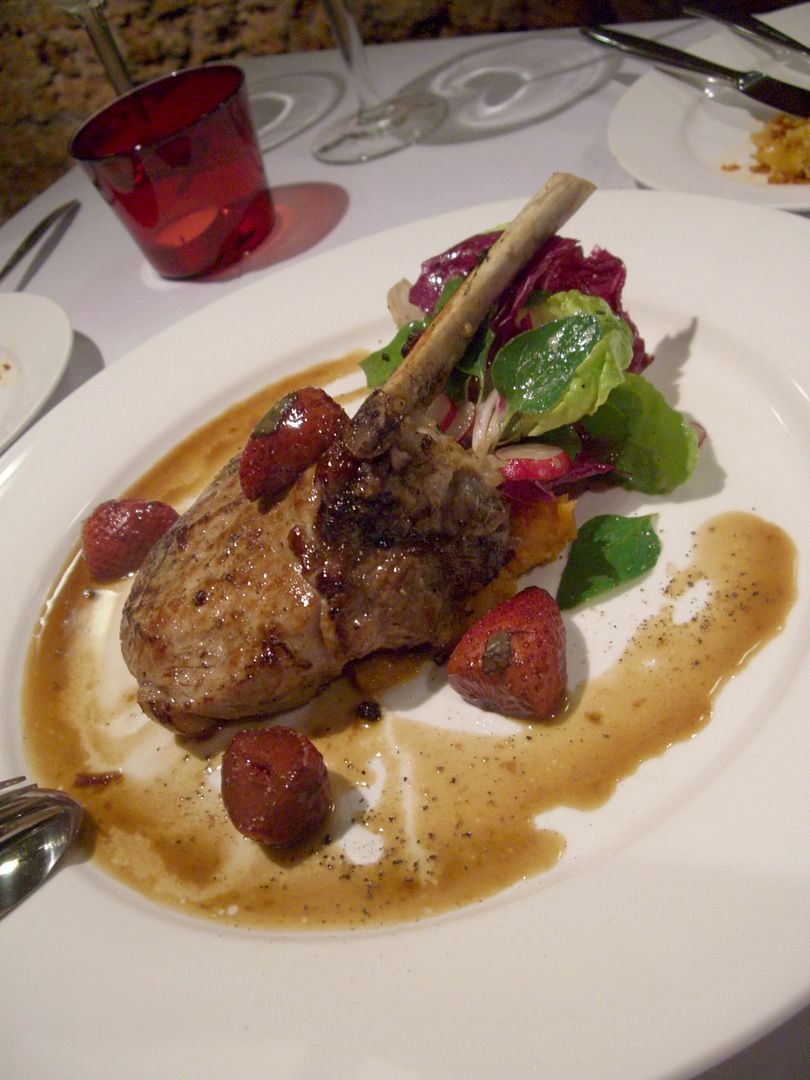 Clockwise from top left: The Spaghetti, the Salmon and the Pork Chops...
My favourite for the night is a toss up between the Miso Glazed Salmon and the Spaghetti Vongole:
- the Salmon was PERFECTLY cooked - juicy and flavourful, matched well with the miso glaze, sweet potato mash and topped with 2 strips of crispy bacon. :)
- the Spaghetti was fusion at it's best - the classic vongole jazzed up with a generous amount of fragrant bunga kantan and some cili padi for kicks. YUM.
(
UPDATE:
I've gone back to Leonardo's recently and tried tha Vongole again and good news! It's still good.... )
As for the Pork Chops, I'm a bit conflicted. I liked the interesting pairing with the strawberries and balsamic reduction,... but the meat was a wee bit dry (the chef explained that he was trying to keep it healthier with a leaner cut of meat - which he says he will probably change now).
Lastly, for dessert, we were served Affogato, Tiramisu and Waffles a la mode: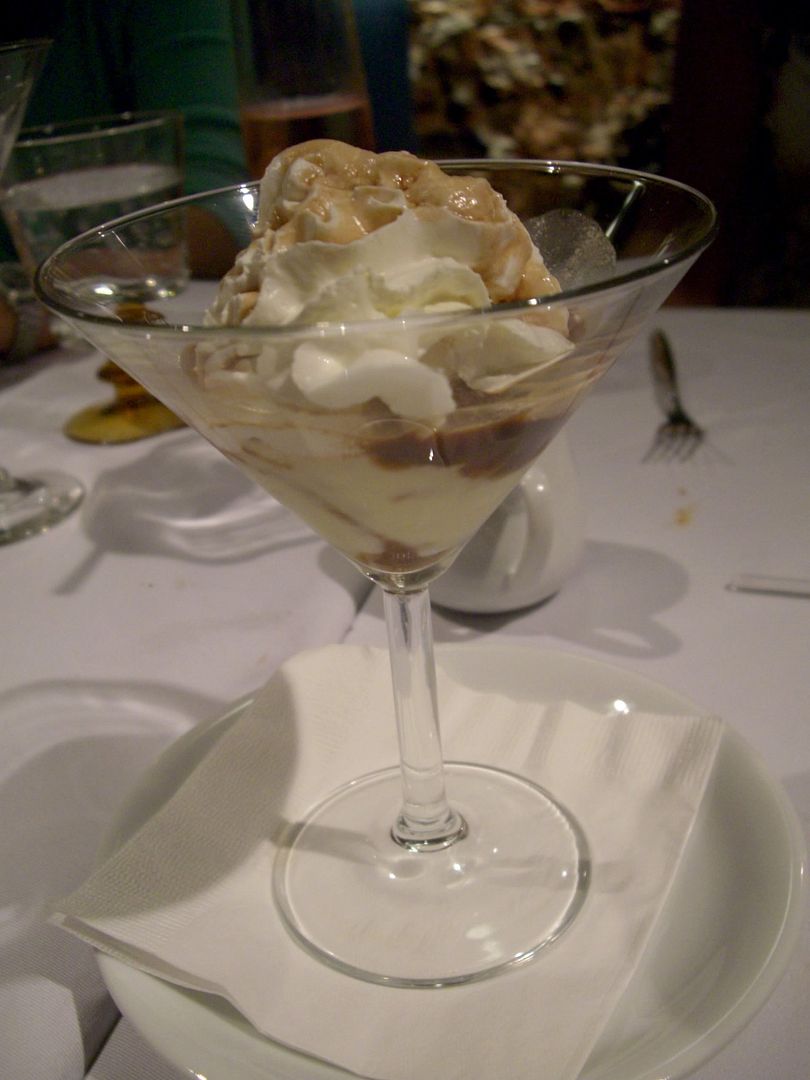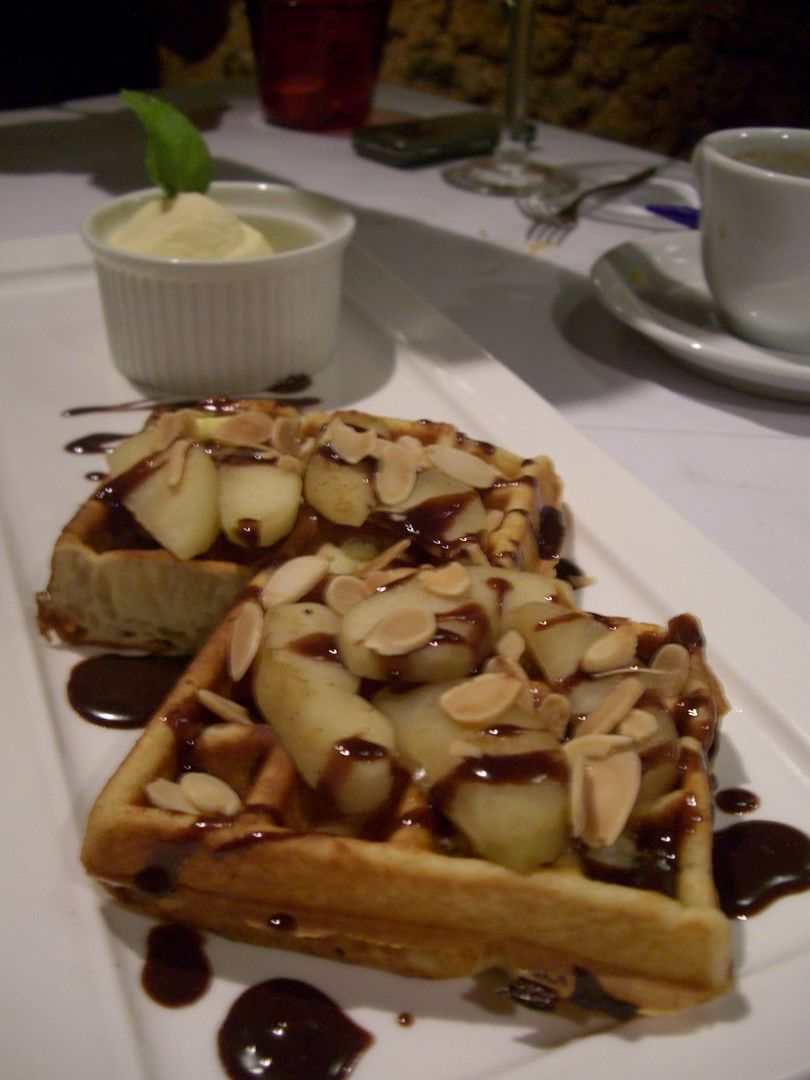 Clockwise from top left: The tiramisu, affogato and waffles....
Honestly, by this time I was already so so stuffed... but thank God I have a separate stomach for desserts... Haha....
Anyway, all 3 desserts were ok - simple and light (although I would have preferred if the waffles had been crispier).
Overall, a fun night! Food was nice (although a few things could have been better), and it was made even better by excellent company - You know who you are, dahlings... ;)
Overall: Interesting porky fusion/ Italian restaurant in the Bangkung area with a nice ambience and friendly service BUT nothing bad to comment - I have to go back and try it in a normal (non food tasting setting) to get a better feel of the place though.
*TA DAH!*
Here's Master Baker
FBB's
review of Leonardo's:
CLICK HERE
Summary Sheet:
Leonardo's @ Jalan Bangkung, Bangsar

Taste: 6
Ambience : 6
Service : 7
Price** : RM ?? per person
Parking: OK (It's Bangsar after all)

Telephone No.: 03-2096 2226
Opening Hours: 5pm till late
Parking : OK

** Re. the Price: Sorry - like I said, I didn't pay that night. If I had to guess though it would starting from RM80 per person for a 3 course meal, without the
Nibbleish.com
package.
(
Nibbleish.com
package is RM70 flat for the Bangkung area)
TAGS: Food, Blog, Weblog, Malaysia, Bar, Restaurant, Cocktails, Alcohol, Bar, Lounge, Bangsar, Jalan Bangkung, Pork, Leonardo