[ BEGIN EDIT ]
(March 08)
Is it too much to ask for decent service???
*growl*
(Sorry lah... enough is enough)
First of all, let me be clear: I am definately not saying that anyone should boycott this restaurant. What I will say though is that the service in Spring Hatsuhana has been dying a slow painful death over the years and I've personally had enough.
Ok, I will not go into the gory details but no one should have to wait THAT long for food and get stupid excuses like:
1) "Oh, *nervous laugh* sorry but we are short staffed" when ask why many other tables that came later than us got their food first, and
2) "Haha.. oh, sorry ah. We just don't do that" when asked how come they don't even have the decency to volunteer something
small
like a 10% discount or a free drink due to the unacceptably long wait.
Service rating in the Restaurant Review Summary has been downgraded accordingly.
(Food still tastes decent for the price though)
[ END EDIT ]
The Dinner Lunch:
Once again, me and mein family ventured to Bangsar Shopping Center (BSC) to dine at Spring Hatsuhana. This restaurant started by the
Hatsuhana Group
has been around for over 10 years and is popular with the people who live in the area.
Ambience wise, it is simple and cosy with dark wood and clean lines but there are clear signs of wear and tear since the last renovation.
What about the food, you ask?
Well, there is an extensive menu with a large array of different sets/ bentos to choose from, as well as a lot of different ala-carte selections.
First of all, the Unagi Set was pretty good...
For about RM27, you get a rather generous serving of tasty eel in the delicious "kabayaki" style, served with the usual rice, miso soup, pickled veg and a small side-dish....
Hey, baby.... Wanna have a taste of my eel? *wink-wink*
If you are feeling glutton-ous, you can opt for the Teppanyaki + Mixed Tempura set. There is a choice of either Chicken, Beef or Seafood Teppanyaki ... served with Mixed Tempura and a salad to help you fool yourself that you are eating healthily...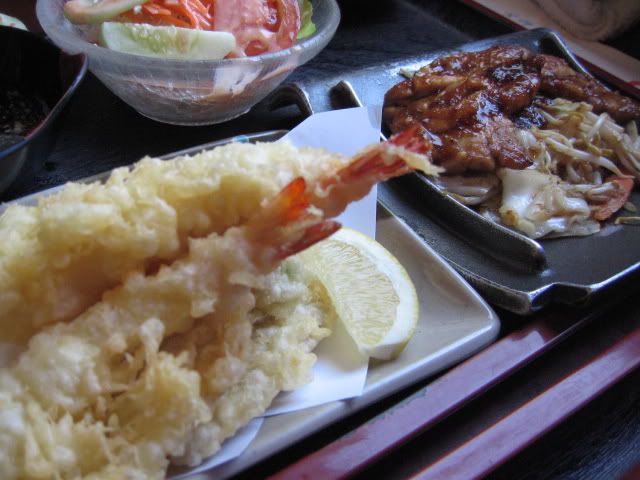 Why bother picking just one? Eat it all!
Thankfully, the Mixed Tempura comes with 2 juicy prawns and a variety of veg fried in a crispy and light tempura batter. I have seen many an aneroxic tempura prawn, and must say that the serving size here is very worth it...
The teppanyaki? Well... *shrugs*... it was alright.
(I'm not a fan of teppanyaki lah Sorry!... My mum liked it though, so I suppose it's ok)
For me, my favourite is the simple yet tasty Saba (that's mackeral to you and me) Steak set.
Mmm-hmmm, we always hurt the ones we love...
The fish is fresh, tender and lightly grilled with many yummy onions in a sweet soy sauce....
(Also served with the usual things on the side)
If you want something much heavier, then you should go for one of the Bento sets... Pictured below is the Sashimi Bento set: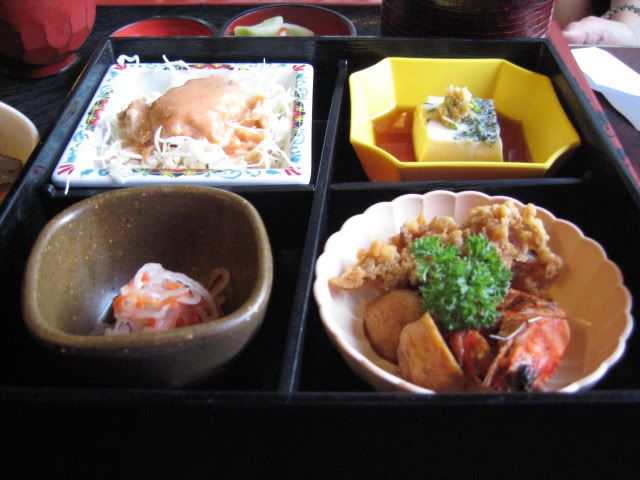 Glutton's delight....
This Bento comes served with a a variety of fresh fish slices (sashimi) as well as a salad and 3 other side dishes. The side dishes are always changing, so you'll always have a little variety whenever you order this set.
Overall, it's not a place with food that will knock your socks off, but it is definately a nice place for a simple and quiet meal that is tasty, affordable and most importantly, consistent.
(I've been eating here on and off for almost 10 years and I have never had to complain about the food yet)
Well,... it's USUALLY quiet anyways....
The day that I went there, we had the misfortune of having an obnoxiously loud woman who was wheeling and dealing Multi-Level Marketing stuff over her mobile phone.
Honestly, her voice can rival a team of rabid football fans.
Sigh.
If only she would use her powers for good.
Restaurant Review
Summary Sheet:
Spring Hatsuhana @ BSC

Taste: 6
Ambience : 5.5
Service : 6 3*
Price** : RM 25/++ per person
Parking: OK but Quite Pricey (It's BSC lah)
* FAIL!
** Approximation - 1 hearty bento/ set meal, excluding drinks
Telephone No.: 603 - 2093 0808
Opening Hours: 11am - 11pm

NO PORK SERVED
TAGS: Food, Blog, Weblog, Malaysia, Restaurant Review, Restaurant Reviews, BSC, Bangsar Shopping Center, Spring Hatsuhana, Japanese, Kuala Lumpur