Sawadeekap, kiddies!
This week we shall be venturing to Bangkok Jazz @ Chulan Square, Kuala Lumpur.
:)
Without further adue:
The Dinner
Chulan Square is a (rather) new, hip and happening area just off the Jalan Bukit Bintang area in KL (aka. as the Golden Triangle area) which houses a variety of interesting restaurants. There are about 6 restaurants there, ranging from Western to Asian food.
The Chulan Square Area
That night, since we had a hankering for some Thai, we ventured to Bangkok Jazz.
The restaurant has a really nice contemporary feel to it. It does not have the usual exotic Thai fixtures, but instead maintains simple, clean lines with an understated Asian touch here and there.
A Peek Into The Interior of Bangkok Jazz
We decided to kick off the dinner with the age old Thai classics: Mango Salad with Prawns and the irrefutable Tom Yam Soup.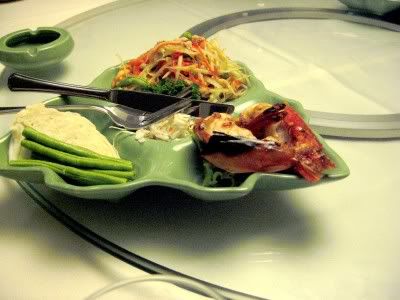 The Tom Yam Soup and The Mango Salad
The salad is a definate must try - the mango was fresh and tasty but not too overpowering (too sour/ too stringy), as mango salads sometimes are, and it came served with a nice big prawn.
And the soup?
Well,I thought it was great - smooth as well as
juuuuuust
sour and spicy enough but then again, I have a pretty high tolerance for spicy-ness....
(Some like it hot! *wink* *lol*)
(Still, 5 out of 9 people voted that the soup was too spicy for them...)
(...especially
Pat
who thought that he was SO lucky to get a larger serving until he took that first sip of the soup and completely burnt off the nerve endings in his tongue)
YOU HAVE BEEN WARNED!
:)
Anyway, moving on we selected a variety of mains to share and eat with our rice. Behold!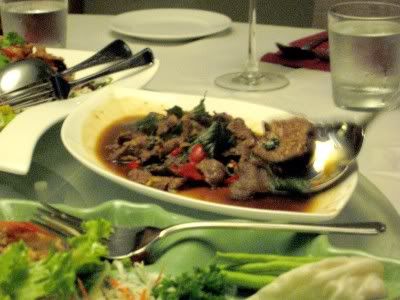 (Clockwise from upper left) The Greencurry Chicken, Thai Styled Steamed Fish, Naked Duck, Mixed Seafood and Basil Beef
In general, the portions were a little small and the taste was so-so... nothing to fault about it, but nothing that made it very special either.
The best of the lot was the Green Curry Chicken - the meat was tender and the curry was flavourful without being too santan-y.
The Naked Duck (Hey you! Stop snickering!) was "ok" too but well, once you get past the amusing name, it's just battered up deep fried duck la. Also, the general consensus was that the Thai Style Steamed Fish was good too...
(*whispers: "... but I thought it was pretty normal..."*)
A major plus point for this restaurant tho is that you get an automatic table booking for the jazz lounge downstairs when you dine at their restaurant...
(I suppose this is subject to how busy they are so please call ahead)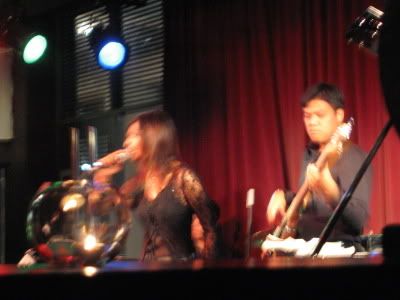 A Peek Into The Lounge Area of Bangkok Jazz
The lounge is not very big but there is a nice open general area near the stage and many little cosy sofa sections around that where you can listen to the live band with a little more privacy. There is also a decent variety of drinks there and the prices are not too expensive.
So, all in all, Bangkok Jazz was a great night out...
The food was in no way fantastic and was a tad expensive, but the ambience of the restaurant as well as the convenience of being able to saunter down to the lounge downstairs and enjoy the music more than made up for it.
Restaurant Review
Summary Sheet:
Bangkok Jazz @ Chulan Square, KL

Taste: 6
Ambience : 7.5
Service : 7
Price** : RM 70/++ per person
Parking: OK
** Approximation - 3 course meal, excluding drinks
Telephone No.: 603 – 2145 8708
Opening Hours: 11am – late

NO PORK SERVED

TAGS: Food, Blog, Weblog, Malaysia, Restaurant Review, Restaurant Reviews, Kuala Lumpur, Bangkok Jazz, Thai, Chulan Square