This review is a kinda overdue so I'll try to make a little special.
:)
[ BEGIN EDIT ]
(June 2010)
Great news - Fast forward to 2010 and according to the esteemed Masak-Masak, Chutney Mary is still good! Isn't it amazing that a restaurant can maintain it's quality even after 5 years?
:)
(I have added the link to her review at the bottom of this post)
Cheers,
J
[ END EDIT ]
Chutney Mary
, a new restaurant in the Bangsar Telawi scene,
Just opposite La Bodega, serving modern North Indian cuisine.
Chutney Mary Exterior
They specialise in tandoori, briyani and curry,
We tried the Tomato Fish Curry - it was VERY yummy,
The Tandoori Chicken was also good,
Very tender, try these you should.
Clockwise from Top Left: Bread and Lamb Curry and Briyani, Tomato Fish Curry, Tandoori Chicken
The serving sizes there were fair,
But the appetizers were bigger than the main fare,
The Kulfa was very nice for dessert,
Mango or almond, though so sweet it hurts.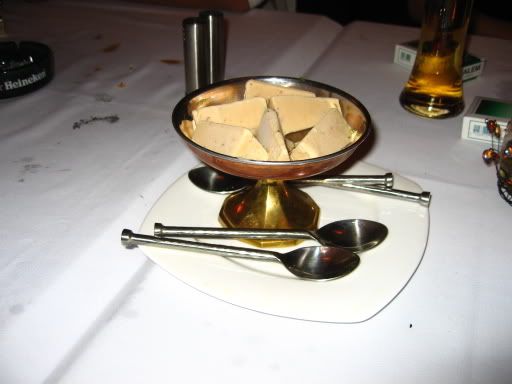 The Kulfa
One of the flaws is the expensive drinks,
RM12++ for a Mango Lassi? Cut throat, I think.
The service was friendly and generally alright,
In a funky but romantic setting, with dim lights.
So?
All in all, a good night.
Chutney Mary Interior
*ta-da......!*
:)
Restaurant Review
Summary Sheet:
Chutney Mary @ Bangsar

Taste: 7
Ambience : 7
Service : 7
Price** : RM 55/++ per person
Parking: Hard to find and/or Expensive

** Approximation - 3 course meal, excluding drinks
Telephone No.: 03-2282 9923
Opening Hours: 11am - late
NO PORK SERVED
OTHER REVIEWS:
-
Masak-Masak
TAGS: Food, Blog, Weblog, Malaysia, Restaurant Review, Restaurant Reviews, Bangsar, Telawi Street, Chutney Mary, Indian, North Indian