The Dinner
La Bodega
(which means "The Winery", if you were wondering) is probably THE household name for
Spanish Tapas
in Malaysia. In fact, it is a veritable anchor in the ever-changing Telawi street area in Bangsar (which has seen the demise of many a bar/ restaurant over the years)... You can choose between the La Bodega Cafe, Bistro or Lounge.
(The menus are pretty much interchangeable tho, so don't fret)
That night, we chose to go to the La Bodega Lounge situated upstairs.
I love the cosy environment there...
The comfy couches (as worn out as they are), the warm hues of red and orange.....
The art-y black and white photos are a total heart stopper tho...
(I never really REALLY looked until about the third time I dined at Bodega)
(What do I mean? Go check it out yourself la)
The Interior of La Bodega
We decided to start off the night with some tapas...
There is a wide variety to choose from, with hot tapas, cold tapas, healthy veggy tapas and hearty meaty tapas... Anyway, we chose the Button Mushrooms in Butter Garlic Sauce and the Fried Prawns with Garlic Mayonnaise: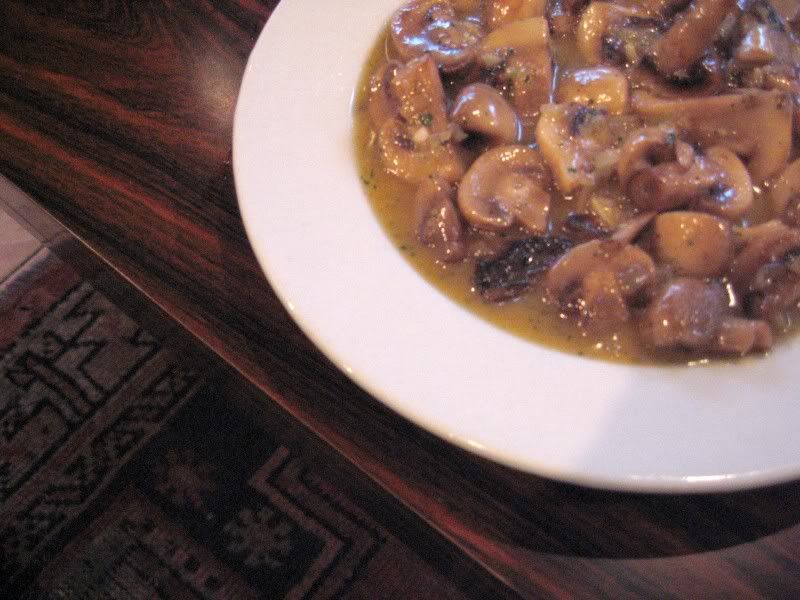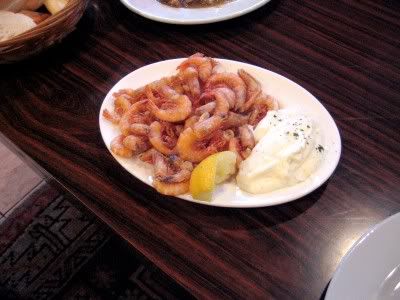 The Mushrooms and The Prawns
The mushrooms, that come served with bread, were lovely! - succulent without being overpowered by the rich sauce - definately something I would recommend.
The prawns tho I would say are only so-so... They remind me of a badly done version of an Ebi Karaage - teeny prawns in batter, same kinda taste, but just not as crunchy.
We then moved on to the Seafood Paella for our main:
The Seafood Paella
The paella (which is a fancy Spanish way of cooking rice) was moist and flavourful, with the wholesome taste of the tomato based sauce going well with the mussels, clams, squid and prawns.... Yum.
It was a tad small tho.... so we went on to another round of tapas, the Beef Sausage with Feta and Wine Sauce, as well as a basket of fries: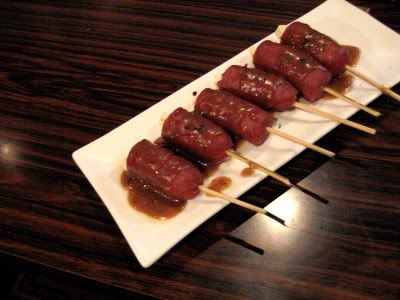 The Sausages of Beef
Avoid the Beef Sausage unless you love paying for expensive processed meat.
It's not that it tastes bad or anything... In fact, I think that the sauce is quite nice... It's just that I refuse to ever pay RM18++ ever again for what is effectively 3 gourmet sausages, halved and served with some sauce.
("Overpriced hot dogs", as
Boon
put it)
Another let-down was the Red Wine Sangria. Although it was generously filled with yummy chopped up fruits, it just tasted so watered-down....
(Hmmmm... maybe it was because we ordered the Happy Hour Sangria which is only RM38++)
I must say, the rising fuel prices must be affecting La Bodega terribly because the food servings seem to have shrunk drastically....
:(
I remember a day when me and
Pat
couldn't manage to finish off a 2 person serving of the paella... Now, I think either one of us can easily finish it off on our own.
La Bodega was busy as usual, so the service was a bit slow but thankfully, friendly.... Other than that, it was a good night: decent food (albeit a few hits and misses), decent prices and a nice place to chill out.
Restaurant Review
Summary Sheet:
La Bodega @ Jalan Telawi, Bangsar

Taste: 7
Ambience : 7
Service : 7
Price** : RM 50++ per person
Parking: A real P-A-I-N
** Approximation - 3 course meal, excluding drinks
Telephone No.: 603 – 2287 3803
Opening Hours: 11am – 1am

NO PORK SERVED

TAGS: Food, Blog, Weblog, Malaysia, Bangsar,Restaurant Review, Restaurant Reviews, La Bodega,La Bodega Bangsar, Spanish, Tapas, Jalan Telawi