One of the new Japanese restaurants in One Utama Shopping Centre's old wing....
The Dinner:
Looking at Pasta Zanmai from the outside, you may almost mistake it for just a specialty (Japanese) grocery store: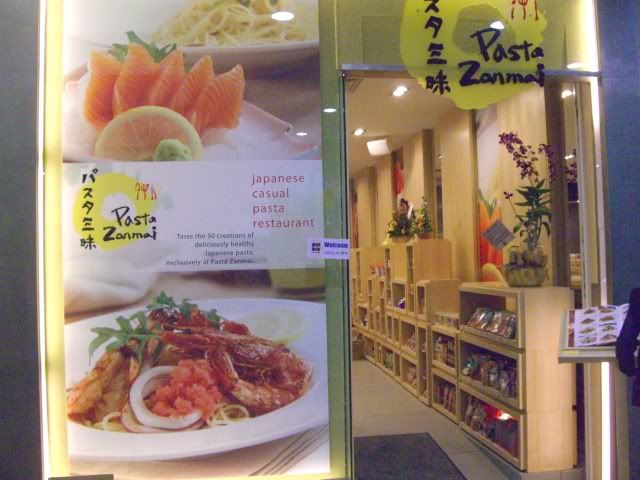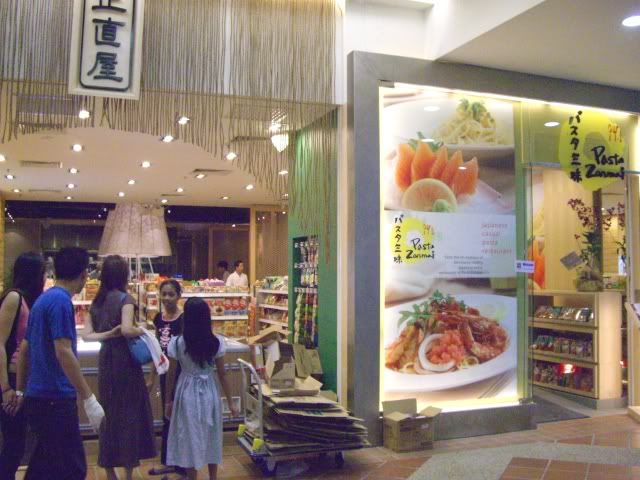 The Exterior of Pasta Zanmai...
However, if you just venture in, you'll find a modern, simple but comfortable little restaurant awaiting in the back:
The Interior of Pasta Zanmai...
We started the night with a serving of the Creamy Corn Croquette (RM 12++):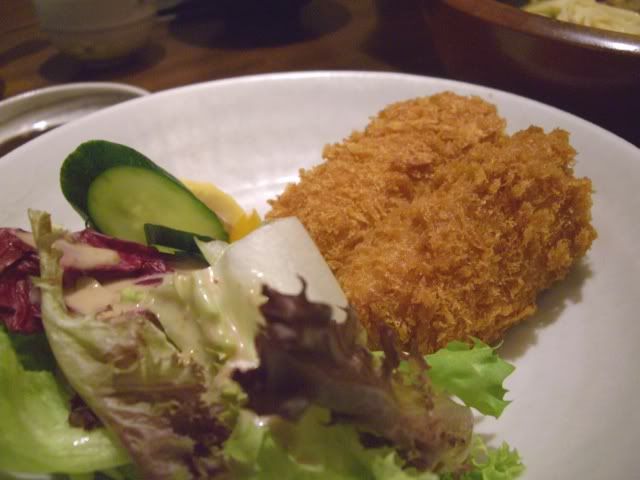 The Croquettes...
I was a bit hesitant to try this at first (as I don't really like the taste of sweet corn) but I found the crispy texture and creamy filling quite nice....
(And thankfully, there wasn't any overpowering taste of corn)
(If I only have one complaint is that it seems a bit too expensive to charge 12 bucks for this)
As for the mains, I tried the Black Sesame Beef Pasta (RM25++) that night: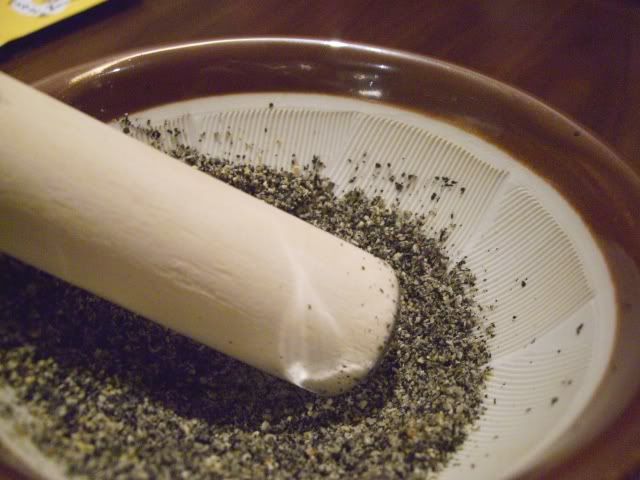 The Black Sesame Beef Pasta...
Overall, I found the pasta interesting - good texture of the spaghetti, tender beef slices and light cream sauce enhanced by sprinklings of freshly grounded black sesame.
Next up, the Creamy Chicken Pasta (RM 18++) with added egg (RM 3++):
The Creamy Chicken Pasta...
As with the Beef Pasta, I found this dish ok overall (good pasta texture, tender chicken, light sauce)... but in this case there wasn't something extra (eg. the ground sesame in the beef spaghetti) so it tasted just a litte bit too "light"/ bland for my tastebuds.....
Lastly, the Rice with Meat Sauce (RM 18++):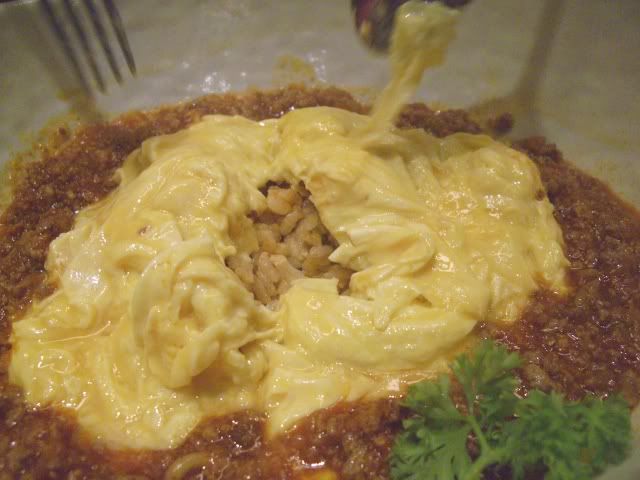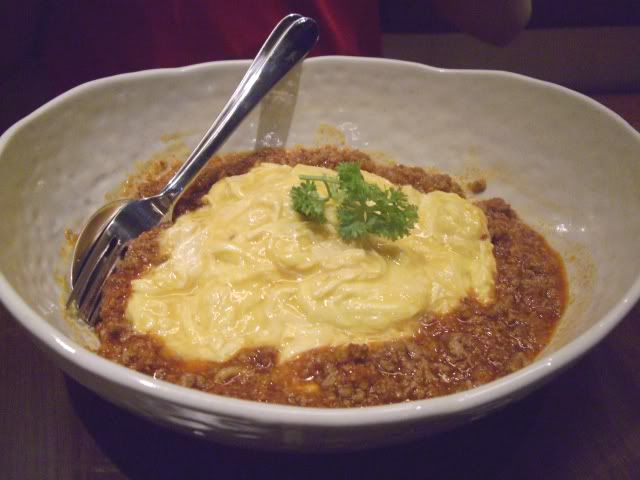 The Rice dish...
Looking at this dish, it reminded me of Nasi Pattaya (because the rice was wrapped in a layer of egg) topped with Bolognaise Sauce... *lol* ... Still, overall it was a nice uncomplicated dish to have when you feel like having some carb laden comfort food.
Mmmmmm, it's strange: All 3 dishes were actually pretty unique and tasted quite nice but somehow they didn't knock my socks off. I mean, it was ok but not
great
....
(I suppose it was beause my expectations were super high because Lyn, Ken and Nick said they really like this restaurant/ dish...)
Still, I think this restaurant is definately worth a try if you're looking for something different from your normal pasta or Japanese place....
:)
So it's: Interesting Japanese food with a modern twist BUT nothing much to complain about except that people who like salty food like me might find some of the food here a little bit too "ching" (light).
Restaurant Review
Summary Sheet:

Pasta Zanmai @ Ground Floor, One Utama Shopping Centre (Old Wing, near Burger King)

Taste: 6
Ambience : 6
Service : 6
Price** : RM 42/++ per person
Parking: Difficult on weekends

** Approximation - 3 course meal, excluding drinks
Telephone No.: 03-7728 1210
Opening Hours: 10am till late
NO PORK SERVED
OTHER REVIEWS:
-
Jason Mumbles
-
Kampung Boy City Gal
-
Masak-Masak
-
KY Speaks
-
Malaysia Food Blog, Malaysia Travel Blog
-
Omoshiroi
TAGS: Food, Blog, Weblog, Malaysia, Restaurant Review, One Utama Shopping Center, 1 Utama, Pasta Zanmai, Japanese Pasta,Shopping Centre, Bandar Utama, KL, Kuala Lumpur