Thai food at the Gardens Shopping Center, Midvalley....
The Lunch:
While scouting around Gardens for a new place to try, the bright modern look of this quirkily named Thai restaurant caught my eye: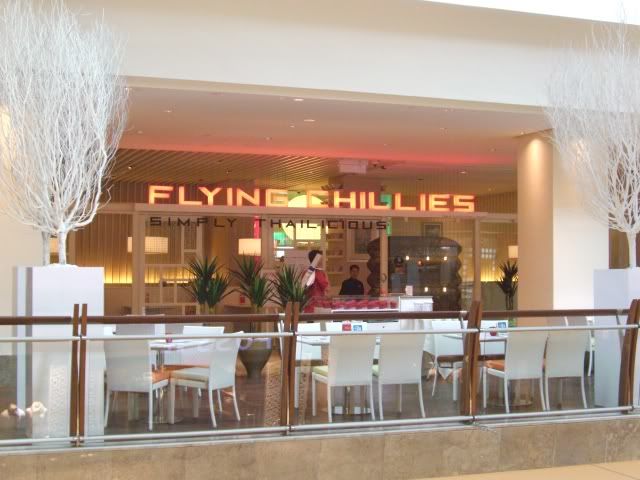 The exterior of Flying Chillies....
Although I was tempted to sit in the bright airy area outside, I decided to check out the seating inside the main restaurant area. I liked the setting inside too - sleek, simple and modern with a few Thai decorations: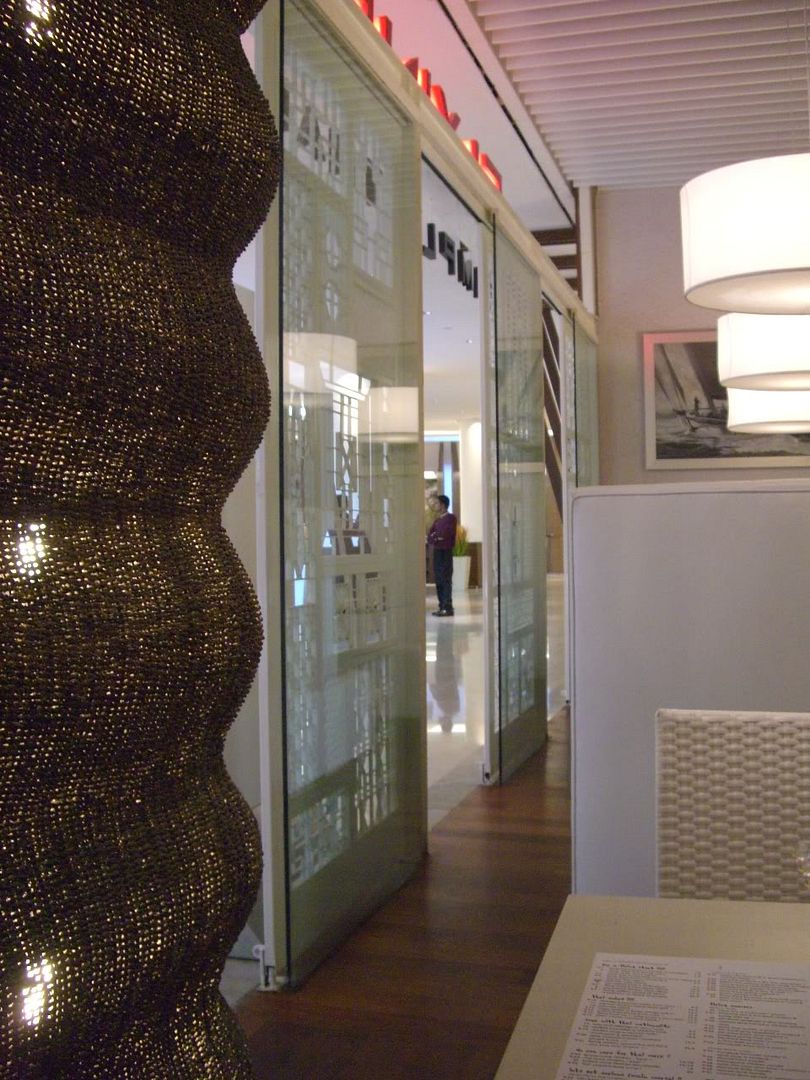 Inside Flying Chillies....
I started my meal with a serving of the Thai Fish Cakes (RM 9.50++):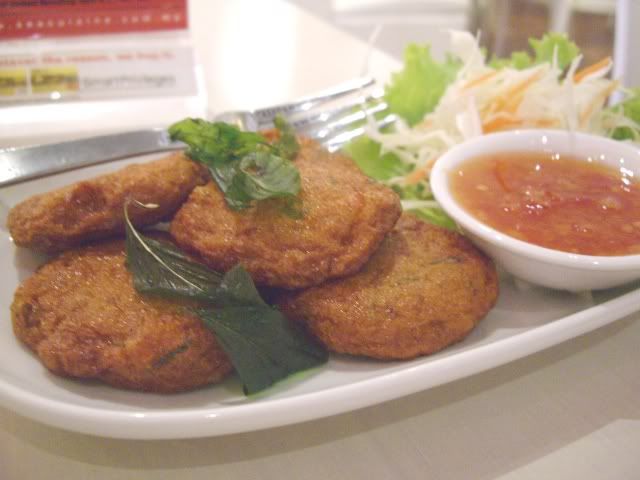 The Thai Fish Cakes....
I found it ok but not fantastic - Bouncey texture, fragrant taste with herbs (lemongrass and misc herbs that I couldn't identify) but was a bit too salty. A dab of the accompanying sweet chili sauce does balance the saltiness somewhat though.
I then moved on to the Tom Yam Mee Hoon Soup (RM 16.50++):
The Tom Yum Mee Hoon Soup....
At first (upon examining the menu) I had thought that the food was overpriced but was pleasantly surprised at the serving size. In fact, I couldn't finish the hefty bowl of mee hoon! As for the taste, the thick tom yam soup was fragrant and quite spicy but was not as sour as I would have liked.
(There was a fairly generous serving of stuff inside - seafood and some fish balls)
My only big complaint about this restaurant was the teeny weeny size of the drinks. Exhibit No. 1, the Thai Iced Tea I had that day (RM 10++):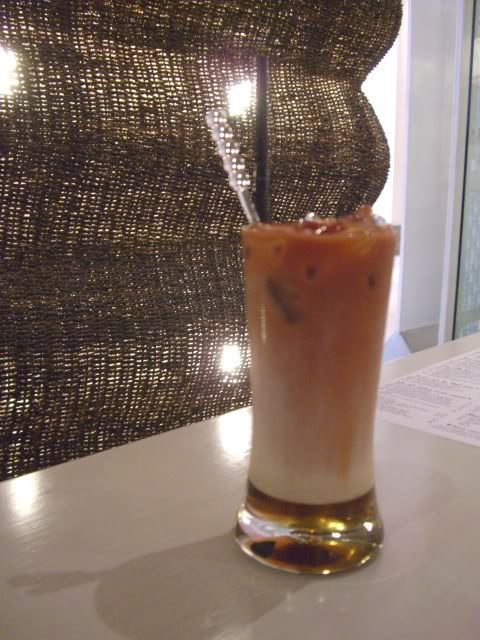 The Thai Iced Tea....
It's hard to judge from the photo but
trust me
, it was small.
Not that it tasted bad or anything - in fact, it was quite nice... a smooth, fragrant milky tea that was not too sweet but was just such an absurdly small serving.
:(
(This is the first time I actually felt like HAD TO "complain" to the manager. He was pretty nice about though - he said he'd see what he can do.... So, hopefully the drinks will grow in size or at least reduce in price very soon)
So, overall I wouldn't mind going back again to try out some of the interesting rice/ noodle dishes that caught my eye as I scanned the menu that day..... but not too soon lah - this place is definately a little on the high end (especially if you take the drinks into account) and I'm a little broke.
So it's: Sleek, airy modern setting with friendly staff, fair range of decent tasting Thai food BUT although the food serving size is ok, the drinks are really expensive (such small glasses/ cups!).
Restaurant Review
Summary Sheet:

Flying Chillies @ 3rd Floor, Gardens Shopping Centre, Mid Valley

Taste: 6
Ambience : 7
Service : 7
Price** : RM 45/++ per person
Parking: Difficult on weekends

** Approximation - 3 course meal, excluding drinks
Telephone No.: 03-2287 7708
Opening Hours: 12noon till late
NO PORK SERVED
OTHER REVIEWS:
-
Cely
-
Pink Elle Reviews
-
Squeak. Speak. Roar!
-
Daily Rantings
-
Random Delights
-
Eat Drink KL
TAGS: Food, Blog, Weblog, Malaysia, Restaurant Review, Midvalley Megamall, MidValley, The Gardens, Thai Food, Flying Chillies, Shopping Centre, KL, Kuala Lumpur