Same same but different :).......
Fogal's has always been one of my favourite places in Plaza Damas to go to for a simple but hearty yummy meal (except the desserts, which have never impressed) so I was pretty sad when I heard that it closed down! :(
Thankfully it turned out to be (most probably) a case of twisted rumours - all that happened was that Fogal's had changed its name to The Blue Cow:
Clockwise from top: Outside the Blue Cow.....
Otherwise, the concept and menu remains the same (with the addition of a few new items) - a quality butcher shop which also serves simple yummy meaty meals. :)
One of the new additions is the Spicy Tomato Soup (around RM12? Darn it lost the receipt AGAIN):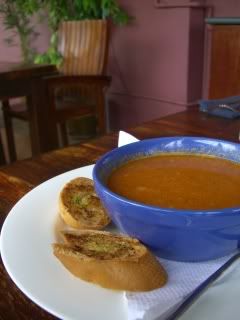 Clockwise from top: Yum! The Spicy Tomato Soup.....
Maybe it's an effort to "lighten" up their heavy menu items but I LOVE IT. It has great consistency - not too light yet not too thick, robust flavour, with little bits of bacon to chew on, and a nice spicy kick to make this simple soup special.
As I felt like something lighter for lunch, I tried their B.E.L.T sandwich (about RM16?):
A nice B.E.L.T sandwich (Bacon, Egg, Lettuce, Tomato).....
Overall, it was not bad - a generous portion of bacon, egg, lettuce and tomato made this a pretty filling meal overall.
Overall: Good quality butcher that also serves simple yummy meaty meals in a casual cafe setting BUT (not in this review, but I have eaten here often enough) desserts are not that nice and beef is a bit iffy (although the pork and sausages are always nice)
Restaurant Review
Summary Sheet:
The Blue Cow (formerly known as Fogal's) @ Plaza Damas, Hartamas, KL

Taste: 6
Ambience : 6
Service : 6
Price** : RM50/++
Parking: OK
** Approximation - Per person, 3 course meal, excluding drinks
Telephone No.: 03-6201 3206
Opening Hours: 8am - 10pm

COMPLETELY NOT HALAL
OTHER REVIEWS:
-
Mouthwatering Food
-
Always and Forever
-
La Dolce Vita
-
Lots of Cravings
-
A Whiff of Lemongrass
-
Kampung Kayell
-
Ah Mok
TAGS: Food, Blog, Weblog, Malaysia, Restaurant Review, Restaurant Reviews, Hartamas, Fogal's, Butcher, Blue Cow, Pork, Plaza Damas