A nice (slightly belated) Mother's Day treat at Haagen Daz, courtesy of Pat-Lin Communications.........
I usually never believe when I am told "Free! No strings attached" when it comes to invited food reviews/ events but I guess it can really happen... :)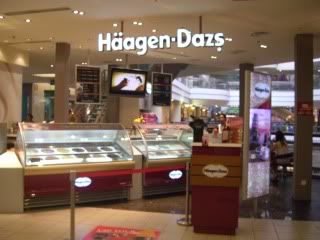 The Haagen Daz at One Utama, 2nd Floor, New Wing
Ok. So what were we doing that day?
Testing out a yummy new flavour! :)
Basically, Haagen Daz is celebrating their 25th anniversary and launched a (limited time only) flavour : Cappuccino Truffle. And since it was around the Mother's Day, they decided to pamper our mums too by extending the invite to them.
(So sweet... )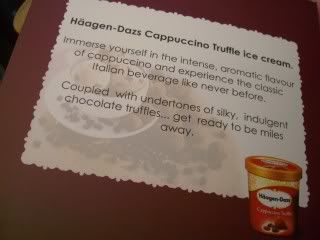 What is the Cappucino Truffle flavour all about?.....
My mum chose her favourite, a variation on the Banana Split, called the Banana Reverie (RM 29.90++):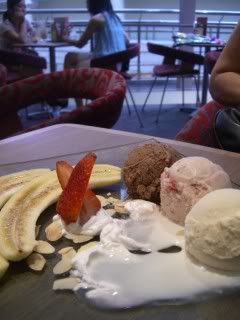 The Banana Reverie.....
It was a bit normal.... I guess if you want something simple, this would a good choice.
As for me, I was really curious about the new flavour so I chose the Cassata Tiramisu (RM 29.90++):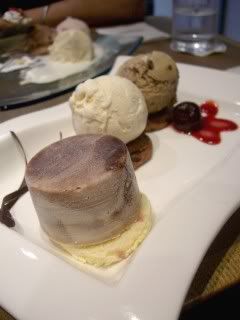 The Cassata Tiramisu .....
Yum.
:)
Although I would have liked the ice cream to be a bit more coffee-ish, the melt in your mouth chunks of chocolatey truffle in it won me over.
(I am a chocoholic after all)
(Oh, the Tiramisu ice cream cake that came with this was not bad too)
Oh, and for you coffee lovers out there: Haagen Daz serves Illy!: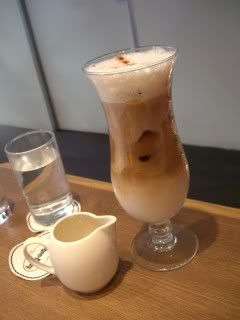 My caffeine fix.....
Mmmmm... The Illy Iced Cappucino was smooth and had a strong enough (but not too bitter) taste to satiate my other addiction - caffeine. :)
Anyway, to end it off:
- A big thanks to Regina and Sabina @ Pat-Lin - You girls were the perfect hostesses and the ice cream was so yummy! :)
Also, to
Sue Lynn
and
Wei Zhi
:
- It was so nice to see you girls again. Hope we can chat properly next round. Sorry, I was too busy stuffing my face with ice cream. :D
So, it's: New flavour added into a range of yummy ice cream!! :) BUT it's not cheap, is it?.....
Summary Information:
Ice Cream! @ Haagen Daz, One Utama

Opening Hours: 11am till 10pm
Price: varies
Phone: 03-7726 2835
Address: 2nd Floor, One Utama Shopping Center New Wing

HALAL

TAGS: Food, Blog, Weblog, Malaysia, One Utama Shopping Center, Ice Cream, New Flavour, Haagen Daz, KL, Kuala Lumpur