Haha... I know it's no big deal (it's just a simple brekkie) but I only cook maybe 4 times a year (?). So, I thought I'd share the Mother's Day breakfast I prepared for my mum (and dad) with you all.
What's in it?: 2 gourmet sausages (1 garlic, 1 spicy), streaky bacon, cheese-y oven roasted tomatoes and scrambled eggs: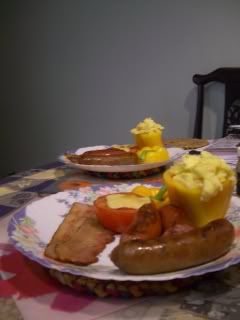 *TA DAH*
What do you think? :)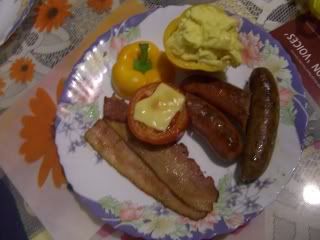 I must say though, cooking breakfast was very eventful - I almost set the kitchen on fire! >_<
Let's just say that my dad's "
kiam siap
" (stingy), "let's not waste anything" behaviour backfired in a big way - he confidently told me that one of the pots was safe for usage on an induction cooker... and guess what?
It was not.
(It took about 3 seconds for the butter to EXPLODE - I am not kidding. There was a small pillar of flame that singed most of the hair off my left hand)
*sigh*
:(
(Ok. Technically, the pot was made of stainless steel which is suitable for usage with induction cookers, but because it is the normal kind of pot - vs the induction cooker ones which generally are made thicker at the base or have special coatings - the heat went right through it and combusted the butter)
Anyway, I survived. Hopefully I don't burn the house down on Fathers' Day.
Haha.... :)
Hugs,
J
TAGS: Blog, Weblog, Malaysia, KL, Kuala Lumpur, Personal