London duck has come to town...
One thing's for sure: There is no shortage of nice food to try in Malaysia. :)
(Yay for happy gluttony. Boo for waistline....)
Among the latest additions to the KL gastronomic scene is a branch of the famous London Bayswater Four Seasons restaurant. They have just recently opened in the new Capital Square commercial center, just off Jalan Munshi Abdullah in KL:
From the outside....
Overall, the restaurant is comfortable, clean and cheerful with lots of natural lighting: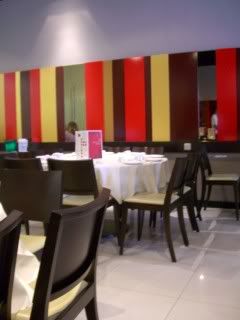 The Interior of the Four Seasons restaurant....
I'm not sure how the menu selection compares to their London branch, but there was quite a selection of classic Hong Kong style dishes to choose from.
(Noodles/ rice/ dishes to share)
We chose the Deep Fried Salt & Pepper Beancurd(RM 18+) as an appetizer:
The deep fried tofu....
Overall, this was ok: I liked the silky cubes of tofu encased in a crunchy, salty and pepper-y batter... but Jo commented that some of them tasted "chow tarr" (hokkien for burnt taste).
(Oh, and I think that RM 18+ is pretty expensive for a plate of tofu!)
Next, we had the Hot & Sour Soup (RM 8.50+):
The Szechuan style Hot & Sour soup....
I loved the soup. :)
It could have been just a bit spicier, but it had the right consistency (not too watery yet not too starchy), sour enough and a generous enough amount of meat/ other stuff inside.
For the mains, we ordered a serving of Two combination BBQ meat - "siew yoke" (crispy roast pork) & "char siew" (honey roasted pork) (RM 29+):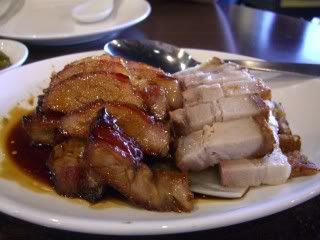 Pork & more pork......
Both were good.
- The "siew yoke" : Tender meat, melt in mouth fatty layer and crispy skin. :)
- The "char siew" : Tender meat, nice "bbq" taste and not too sweet. :)
Of course, we also absolutely
had
to order the famous Special Roasted Duck (RM 32+ for half a duck):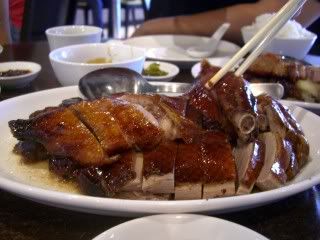 The Star of the Show: the Special Roast Duck
The meat didn't impress me THAT much. It was tender enough and pretty fragrant but wasn't like SUPER special. No, no... the thing that did it for me was the skin *DROOL*, mmmm:
- crispy (and so tasty!), and
- with a layer of melt in your mouth fat (Hello, cholesterol... Haha).
Of course, the duck ignited a conversation/ debate about where the best duck is. Contenders include :
- "Say Ngan Chai" (Quote:
" Best in town lah! Cannot compare! "
)
- Paramount's Loong Foong (Quote:
" Ok, maybe the duck's skin at Loong Foong is not as crispy, but the meat there is nicer! "
), and
- erm, mystery duck (Quote:
" The duck my mum ta pauws from the market is the BEST, dunno which stall though..."
)
:)
Anyway, the moral is: Everyone has their favourites...
... but for me: I think Four Seasons has one of the best (albeit one of the most expensive) Hong Kong style roasted ducks you can find in a comfortable, clean, air-conditioned restaurant setting.
BTW, note: Mr. K, who has eaten in the original London Bayswater branch confirms that the KL Branch is JUST AS YUMMY....
(Just so you know)
:)
So, it's: Yummy Hong Kong style food (roasted meats, noodles, etc) in a clean, comfortable environment BUT fuyoh - some of the menu items are pretty expensive (almost RM30 for half a duck. YIKES).
Restaurant Review
Summary Sheet:
Four Seasons Chinese Restaurant @ Capital Square Center, off Jalan Munshi Abdullah, KL

Taste: 7
Ambience : 6
Service : 7
Price** : RM 35/+ per person
Parking: OK (in CapSquare.. Traffic on working days can be bad tho)

** Approximation - 3 course meal, excluding drinks

Telephone No.: 03-2698 9393
Opening Hours: 11.30am - 10.30pm
NOT HALAL
OTHER REVIEWS:
-
All The World's A Stage
-
Have Your Cake And Eat It Too
-
Kampung Boy City Girl
-
Masak-Masak
-
Pillow Talk With Bangsar Babe
-
Lots of Cravings
TAGS: Food, Blog, Weblog, Malaysia, Hong Kong style, Restaurant Review, Restaurant Reviews, Jalan Munshi Abdullah, Four Seasons, Baywater, Roast Duck, Capital Square Commercial Center, CapSquare, Kuala Lumpur, KL