Northern Indian dining in Sri Hartamas......
Saffron is located in the quieter side of Hartamas, right next to Auntie Nat's (go to the bottom of this post for the map):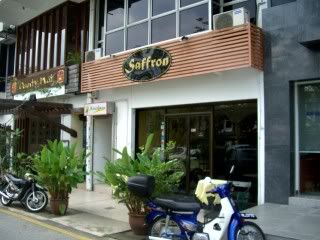 Saffron exterior.....
The decor inside is simple, making it an unpretentious, cosy place to dine in:
Casual, air conditioned dining in Saffron.....
As we scanned through the fairly extensive menu of Northern Indian dishes, we chomped on the crispy complimentary Pappadoms, served with a sort of sweet-ish dip:
Crispy pappadoms....
(Not bad)
After some deliberation (and some help from the restaurant manager), we started off with the Fish koftas (RM5.20++):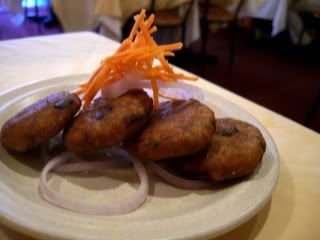 The fish cakes.....
Gosh, they were so small! (Each piece was about one mouthful)
Haha.. but they only cost about 5 bucks, I guess....
Anyway, I didn't like them very much:
Good points - nice crispy exterior and fragrant taste of spices,
Bad points - overall, the texture is too dry.
(Not something I'd order again)
Onwards to the mains, we tried the Achari chicken (RM 13.50++) and Maharaja brinjal (RM 8.70++):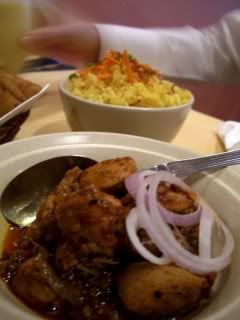 The chicken curry......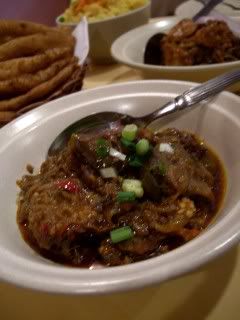 The brinjal......
I liked both, especially the chicken - Mildly spicy, fragrant semi dry chicken curry (Yum!). Well, the chicken could have been a bit more tender but overall, it was ok.
These went very well with the Garlic Bathura (RM 3.80++) that the restaurant manager recommended: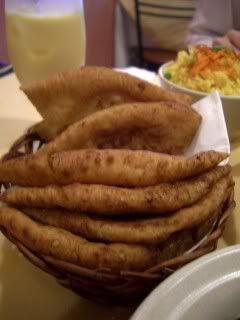 The garlic bathura.....
There was also an order of Tarka Dhall (RM 6.75++) with our meal:
Our serving of dhall.....
The dhall was ok - thick consistency (with a pretty unappetising colour, I must say!) but a bit bland for my tastebuds.
Overall, I enjoyed our (heavy) lunch there. Not all the dishes knocked my socks off... but I'd definitely go back as it's comfortable (as compared to hot, stuffy mamaks) and the food is pretty good.
Here's a map - hope it helps :):
Map from the back of their name card... :)
So it's: Casual, comfortable dining, fairly good selection of decent Northern Indian food, friendly service (specifically, from the manager) BUT nothing much to complain, I wouldn't classify the food as FANTASTIC but it is definitely good enough to revisit :)
Restaurant Review
Summary Sheet:
Saffron Indian Restaurant @ Hartamas
Taste: 6
Ambience : 6
Service : 6
Price** : RM30/++ per person
Parking: OK (... but can be a bit difficult on weekdays)

** Approximation - Per person, 3 course dinner without drinks

Telephone No.: 03-6201 1375
Opening Hours: Mon to Sat - 12noon to 2.30pm, 6.15pm to 9.30pm, Closed on Sundays

NO PORK SERVED
OTHER REVIEWS:
-
Food 4 Thot
TAGS:Food, Blog, Weblog, Malaysia, Restaurant Review, Restaurant Reviews, Northern Indian, Saffron, Sri Hartamas, Kuala Lumpur, KL