Begone evil restaurant review hiatus!....
The Dinner
After a long break from trying out new restaurants, I decided to check out the Eagle's Nest in Damansara Perdana.
Pat
had eaten here before and said that it was nice, so I thought it'd be worth a try...
Overall, I found the restaurant very comfortable - nothing lavish - but it was cosy and welcoming (music was a bit iffy though - they were playing a strange mix of songs: classic/ country music one moment and then chill/ jazzy tunes the next):
The Interior of Eagle's Nest.....
Looking at the menu though, there were only a few types of appetizers: escargot, a few salads and 2 soups. Nothing really caught my eye though, so I jumped straight to one of the specialties, the Steak Americano: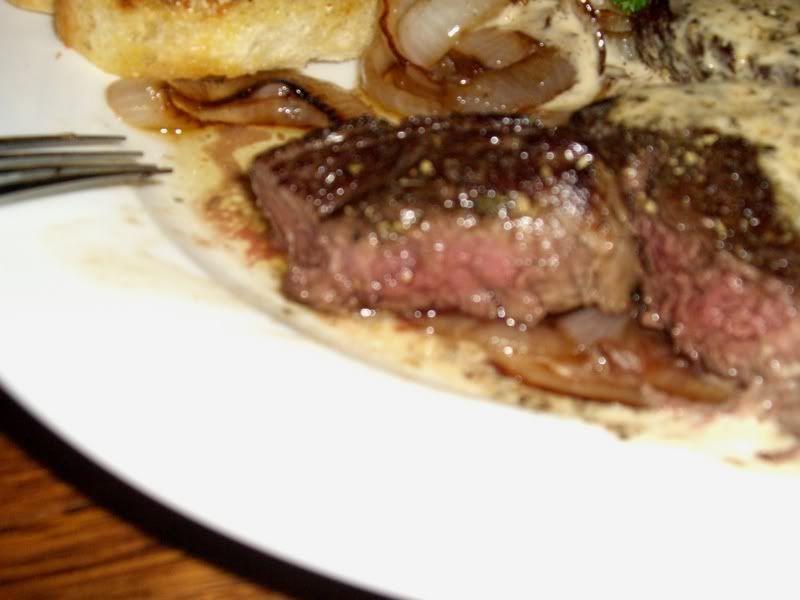 The Steak Americano.....
The Steak Americano was pretty good - reasonably juicy and tasty - served with a creamy bearnaisse sauce (ok only - very mild tasting), a few grilled mushrooms, vegetables and a crispy slice of garlic bread (yummy!). It was priced at about RM46++ though, so it wasn't cheap.
Here are some of the other steaks we sampled that night, the Surf and Turf Steak (RM53++) and the Ribeye Steak with Herb Butter (about RM40++):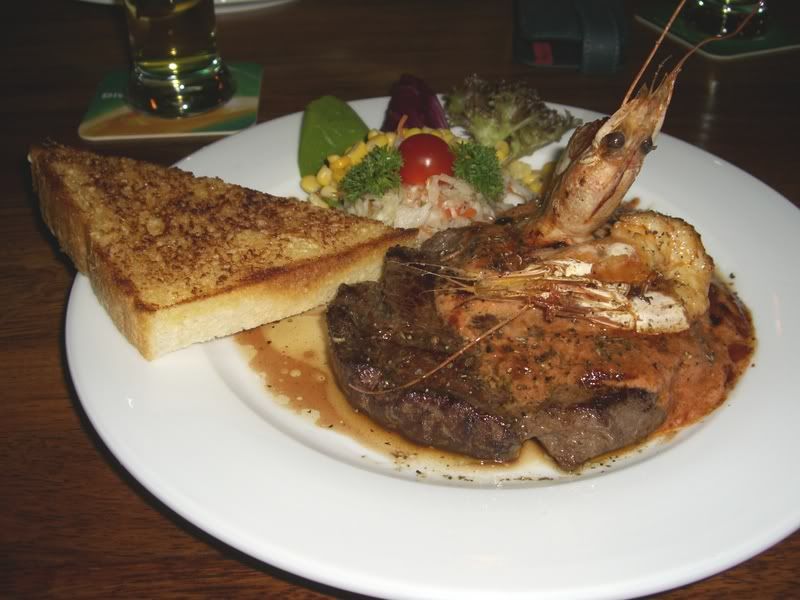 The Ribeye Steak and the Surf and Turf Steak.....
Overall, both steaks were ok too - the Ribeye came with with a choice of Herb Butter (Ok only - also very mild tasting) or Garlic Butter where else the Surf and Turf came with a Red Wine Sauce (Not bad - it had a nice tart taste to it).
The selection of desserts there is really REALLY limited though. You basically have a choice between plain ice cream or ice cream with strawberry sauce: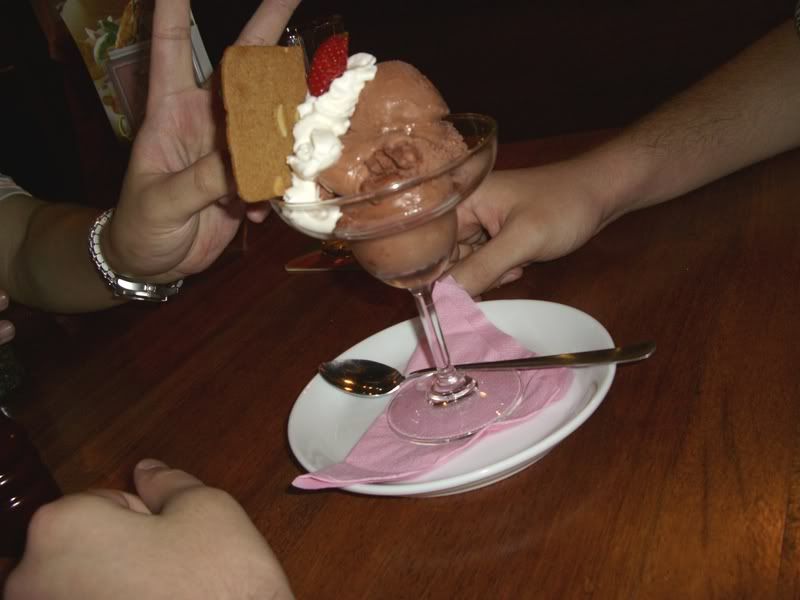 The Plain Ice Cream - Chocolate.....
Erm,... nothing much to say about the ice cream - it was normal. Still, it's not too pricey though so I suppose it's a simple way to cap off your meal
All in all, I wouldn't say that my experience at Eagle's Nest was bad.... Well, the steaks are ok (not cheap but definately ok considering the portion size and taste) but the selection of appetizers and desserts were dismal. If you are looking for a quiet place with decent steaks, friendly service and (relatively) easy to find parking then the Eagle's Nest would be a good choice though.
So, it's: Quiet, cosy and simple ambience with friendly service and ok steaks BUT limited menu (other food - eg. pasta - starters and desserts).
Restaurant Review
Summary Sheet:
The Eagle's Nest @ Damansara Perdana, KL

Taste: 6
Ambience : 6
Service : 7
Price** : RM 60/++ per person
Parking: OK

** Approximation - 3 course meal, excluding drinks

Telephone No.: 03-7726 1220
Opening Hours:
Open for lunch and dinner: 12noon - 2.30pm, 6pm - 11pm,

NO PORK SERVED
TAGS: Food, Blog, Weblog, Malaysia, Restaurant Review, Restaurant Reviews, KL, Kuala Lumpur, Damansara Perdana, Eagle's Nest, Steak