... like you've had too much wine, that's amore!
The Dinner
Jo-Lyn
had always been raving about this great little wine place in Damansara Heights but somehow I was always unlucky:
- missed out on 2 outings where we were supposed to meet there, and
- went there on my own on Sunday only to find that it was closed.
:)
Anyway, I eventually succeeded in going to
Vintry's
and wow, I was pretty impressed! They really do have an
excellent
selection of wines: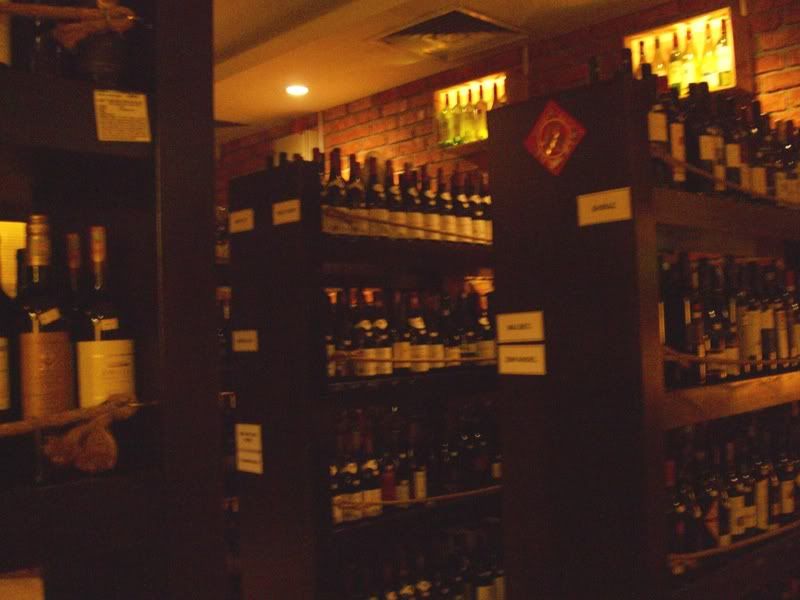 Spoilt for choice!: Rows and rows of wine to choose from.....
You have a wide range of wines to choose from: reds/whites/rose, merlot/cab sauv/chardonnay/etc, from USA/Europe/Australia/Chile/etc... and starting at really affordable prices.
(It's as low as RM60 for a decent wine!)
(Of course there are the bottles that cost hundreds of ringgit but those are really nice wines)
As for the interior of
Vintry
, it's a little small (2 levels) but is cosy and comfortable: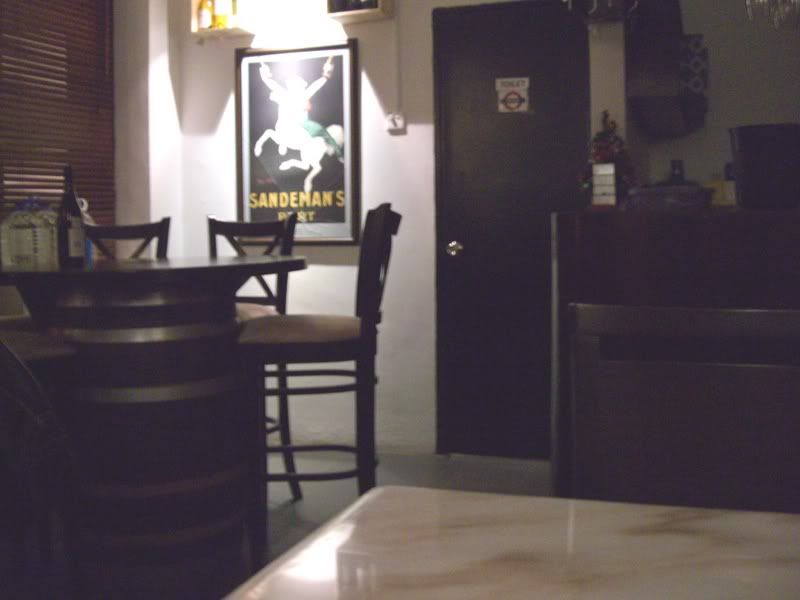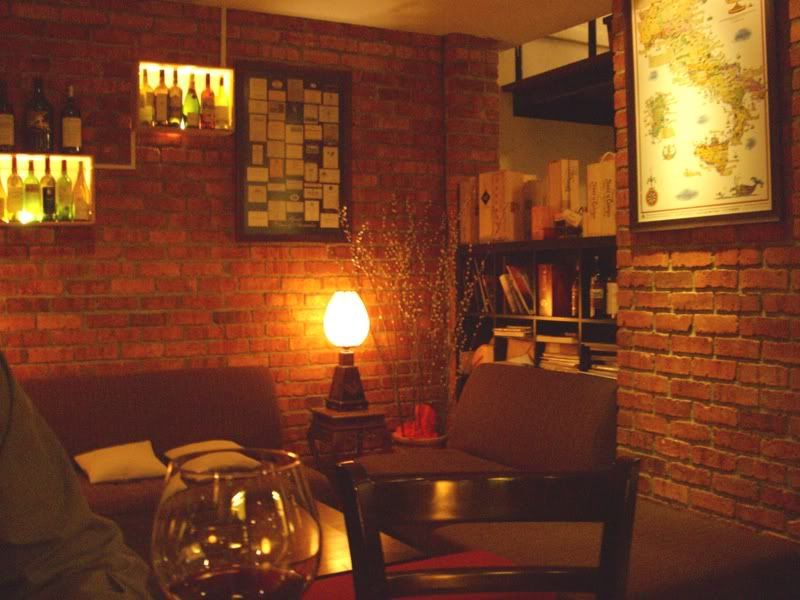 The interior of Vintry's, upstairs and downstairs.....
It does get a little too noisy during peak hours (weekends especially) as the area is small and people who are drunk on wine tend to laugh/ speak/ etc very loudly... I suppose if you're drunk enough yourself, you won't notice too much.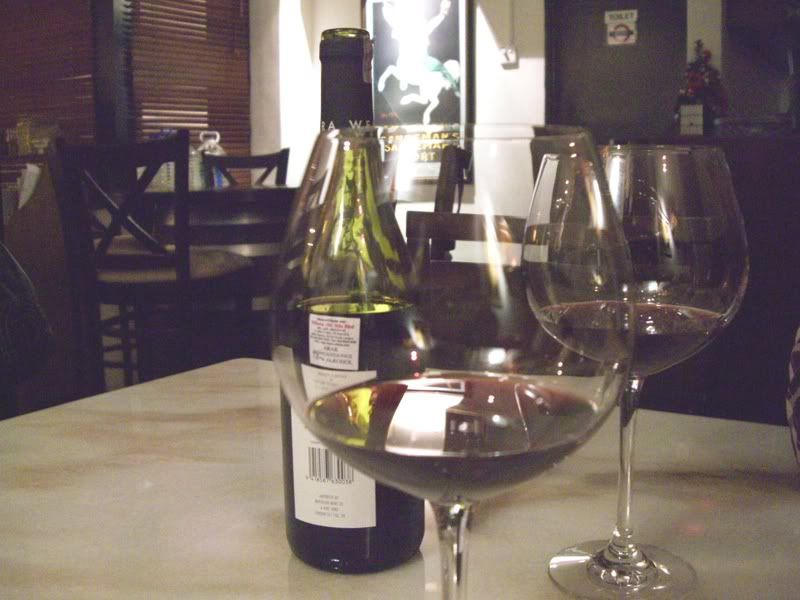 Ah, a glass of vino.....
As for the food, Vintry's has an interesting concept: They have the menus from all the surrounding restaurants (eg. The Rib Shop, La Risata, Ka Soh, etc) and you can order whatever you want. The food will then be delivered to you at
Vintry
(but you have to pay immediately, upon receiving the food).
Vintry
also has an extensive range of their own food too.
Here are some of the starters we tried: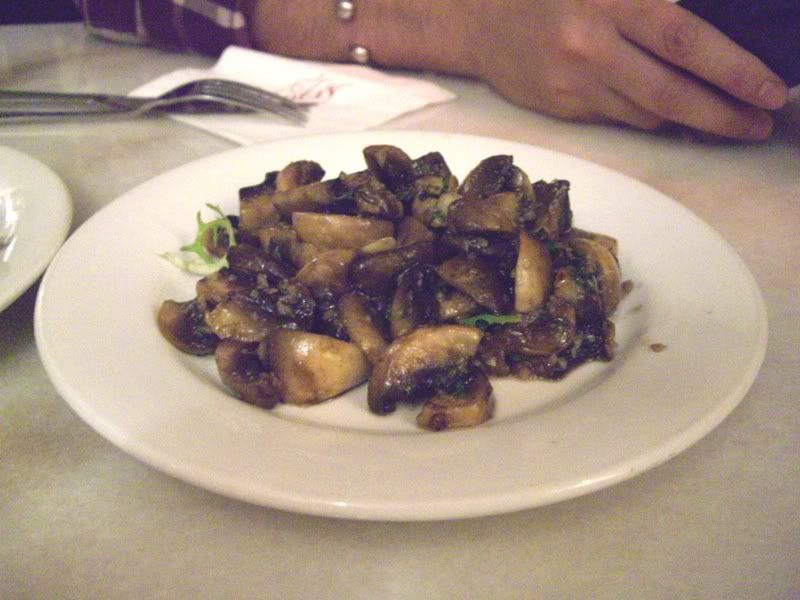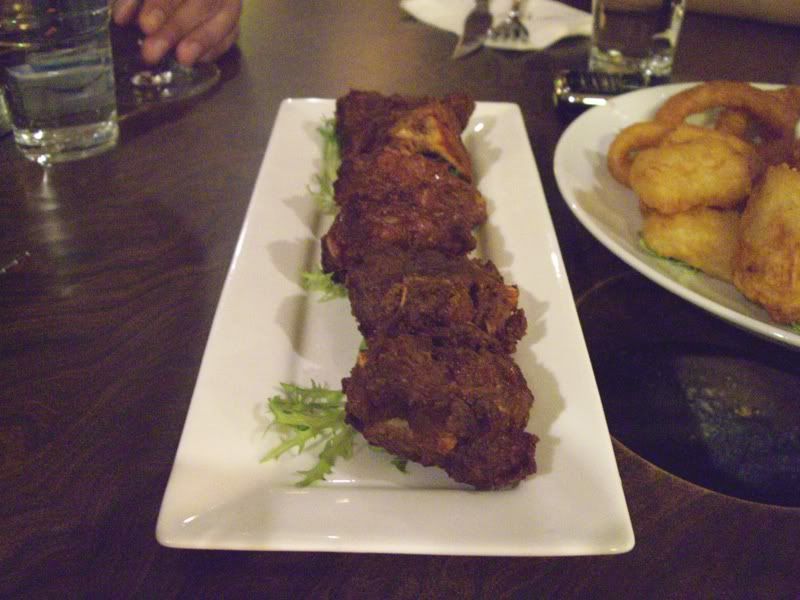 Clockwise from top left: The Seafood Platter, Sauteed Button Mushrooms, Tom Yam Spare Ribs and Caremelised Pork.....
Overall, everything was ok:
- I liked the Mushrooms as they were fragrant and not too oily,
- The Seafood Platter was ok... nothing fantastic but it tasted freshly made (and not like something straight out of a supermarket brand pre-prepared frozen food packet),
- I didn't enjoy the Tom Yam Spare Ribs (tough & salty) and Caramelised Pork (oily & not crispy) but
Pat
and
Jo-Lyn
say that these are usually much nicer.
(They are supposed to be the specialties anyway)
As for the mains, we tried the Blue Cheese Pork burger and the Pork Chop: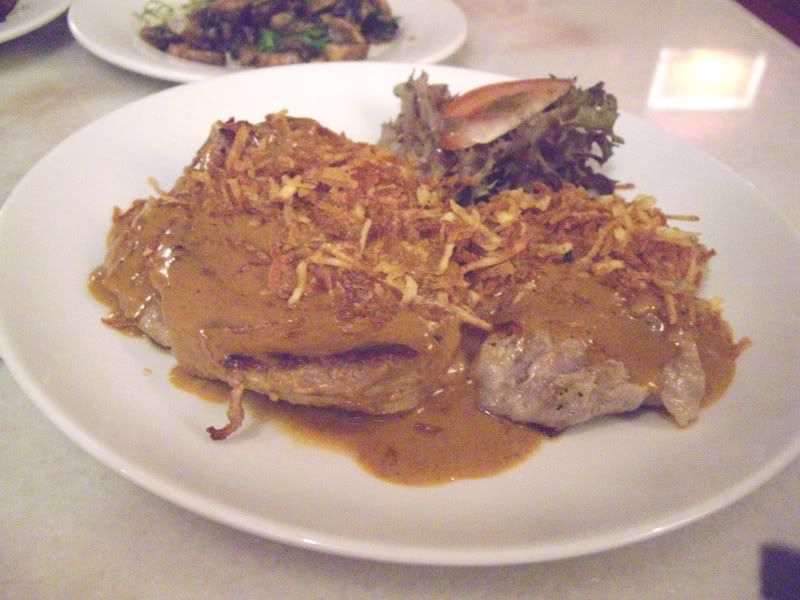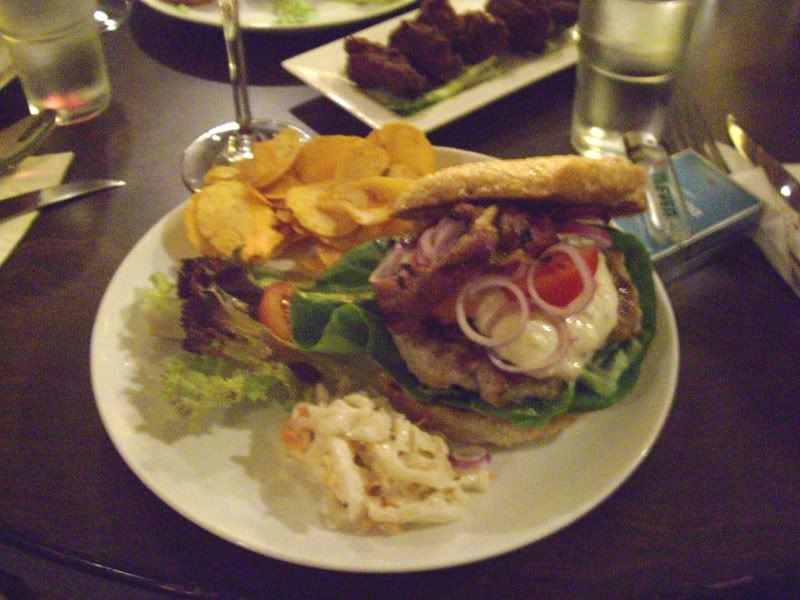 The Pork Chop and the Blue Cheese Pork Burger .....
The Pork Chop serving was huge for the price (about RM22 if I recall) but overall only ok - the meat was reasonably flavourful and the sprinkling of deep fried potato bits (although probably horribly unhealthy, tasted good) but the meat wasn't very tender and it was drenched in an overly salty brown sauce.
As for the Burger, it was GOOD!
The combination of the tender meat patty and the blue cheese sauce was delicious.
(Please avoid it like the plague if you are totally turned off by the smell of blue cheese though....)
Somehow, at the end of the night we still managed to find space for dessert: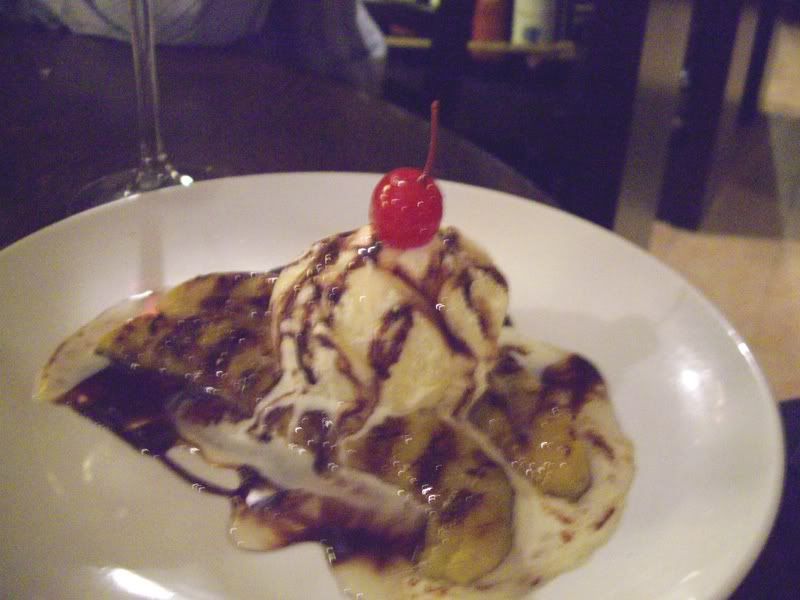 The Pan-Fried Bananas with Ice Cream and the Tiramisu....
The Pan Fried Bananas were a little pricey considering how small the serving is but yummy nonetheless... My fave between the two though would definately be the Tiramisu though.
YUMS.
So good....
So creamy...
(So SINFUL!)
I didn't note down the exact prices of each item but the food there is pretty affordable: Starters from around RM6 to RM15, mains from RM18 to RM40 and desserts around RM9 to RM18.
(Roughly lah........)
[ BEGIN EDIT ]
1) (June 2007)
Vintry is getting too popular for it's own good and is constantly packed on most nights, especially Fridays and Saturdays. So, please take heed: You MUST book at least a few days ahead or risk disappointment.
(There's no such thing as getting a table if you're a walk-in customer any more, unless you are EXTREMELY lucky)
Oh, and they've just added some new items to their menu - some of which aren't that nice so be careful of what you order (I didn't take photos but the Fried Noodles & Cuban Sandwich, which are not new but I'd never ordered them before, are also not that nice).
2) (Jan 2008)
Guess what?
Vintry's new and much bigger outlet in Jaya 33 shopping centre is now open!
Guess what (again)?
IT'S HALAL.
Don't ask me why. There was already a hint of exasperation in my voice when I asked the waiter what sort of angle their going for: "A Halal Restaurant which specialises in Wine"?
Oh well. I guess I was just being grumpy because I had been really really looking forward to having the sinfully delicious deep fried pork strips....
Anyway, now you know: New Vintry outlet = Halal, Old Vintry outlet = Still Non-Halal.
[ END EDIT ]
So, it's: EXCELLENT range of wines, cosy ambience, decent food for good prices, friendly waiters BUT sometimes service levels drop because they are just too busy.
Restaurant Review
Summary Sheet:
Vintry @ Bukit Damansara Heights
(Behind Victoria Station's row in Damansara Heights)

Taste: 6
Ambience : 6
Service : 6
Price** : RM45++ per person
Parking: Very limited and generally painful

** Approximation - 3 course meal, excluding drinks
Telephone No.: 03-2094 8262 (Damansara Heights outlet)
Opening Hours: 11am - 12midnight (Closed on Sundays)
NOT HALAL
TAGS: Food, Blog, Weblog, Malaysia, Restaurant Review, Restaurant Reviews, KL, Kuala Lumpur, Vintry, Tapas, Bukit Damansara