New Italian restaurant with a light dining concept in the Damansara Perdana area (at the base of the Tropics Shopping Centre)
The Dinner
OkI'mBusyAtWorkSoI'llDoAQuickReview.
P and I were cruising around his office area when we noticed that there was a new Italian restaurant. Being a pizza/ pasta maniac, I insisted we forget about our new diet plan and have a bite there: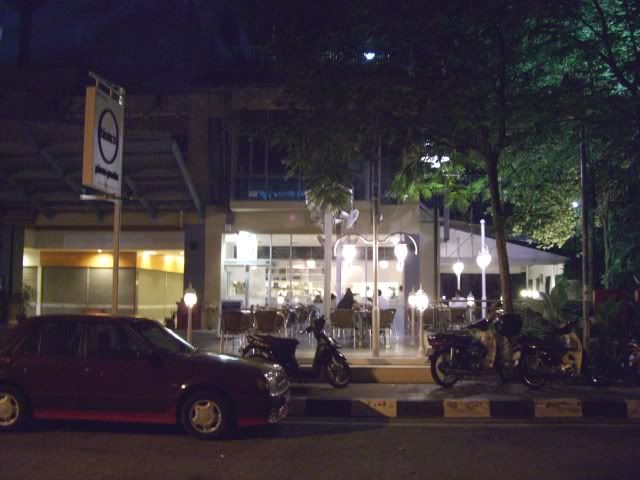 The Exterior...
It was a bit difficult to find parking at the side of road (so many cars) but hey, it's free so can't complain so much lah.
:)
As for the interior, it was modern and airy - with a large open area in the courtyard area (with a retractable awning just in case it rains) and another smaller but cosy covered area at the side: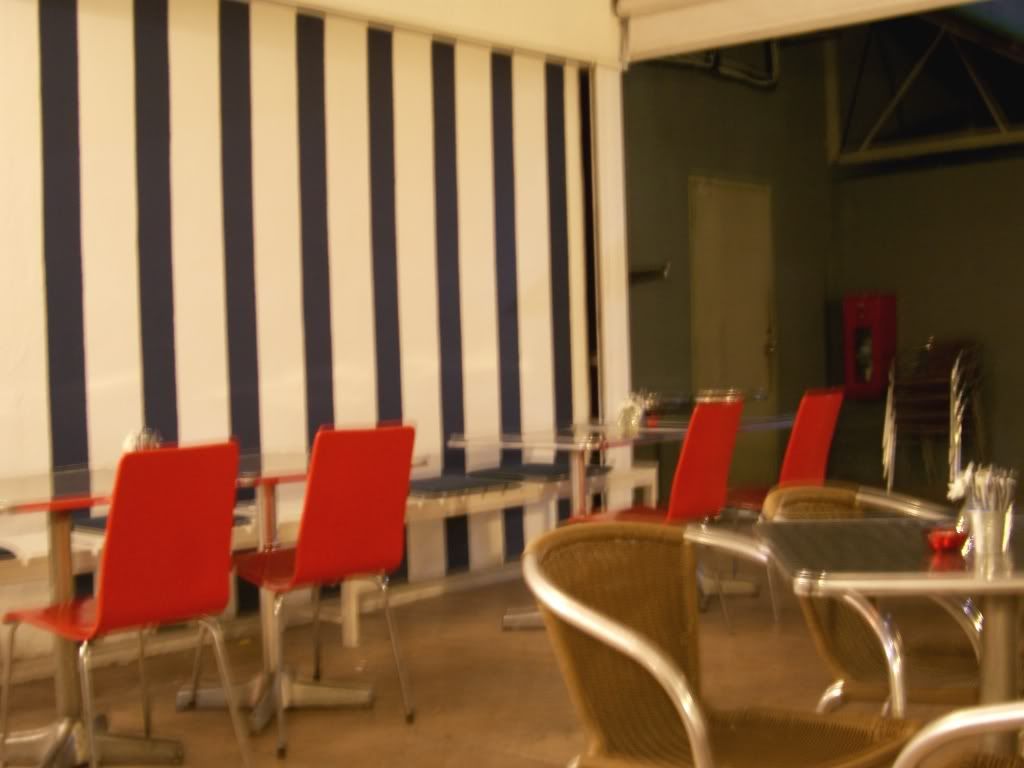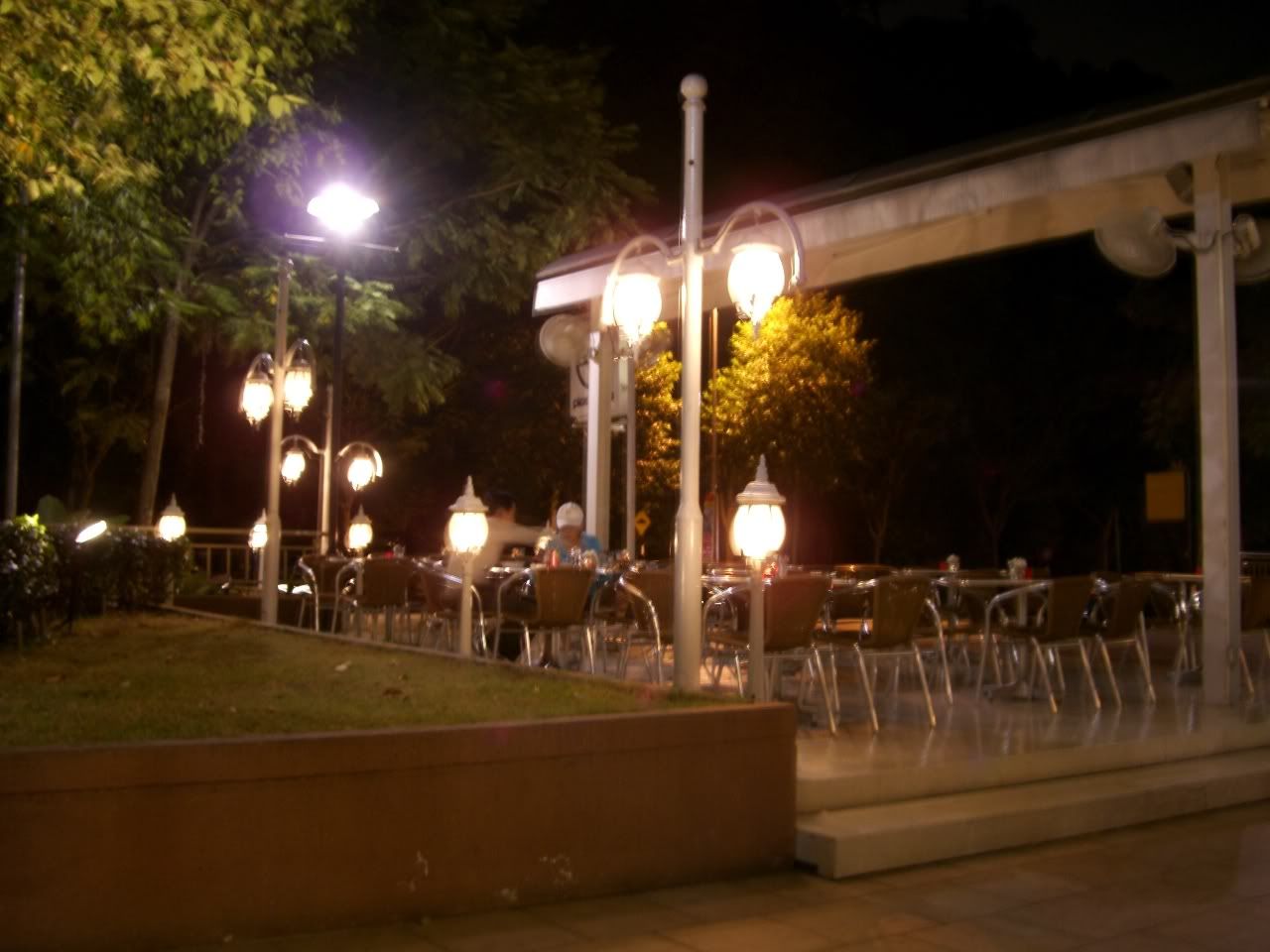 The side area and the open couttyard area...
Scanning the menu, the range of food seemed very focused (in other words : limited) due to their concept. One of the friendly wait staff explained that they are designed to be a place where you can get a light, guilt free Italian meal.
That night, we started off with the Chicken and Mushroom Ravioli (about RM17++):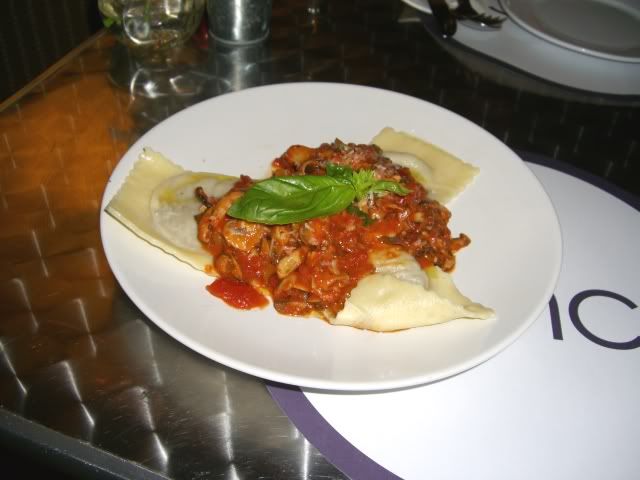 The Mushroom and Chicken Ravioli...
Mmm-MMMM.
I am definately going back to eat this again - the tasty minced chicken and mushroom stuffed ravioli, complemented by the robust chunky tomato based sauce was delightful.
(Initially, I was shocked to see how small the serving was (it was only 3 big pieces of ravioli) but considering the price and the yummy-ness, I think it's ok)
We then moved on to try the house specialty pizza, the Bianco Special (RM18++):
Pizza...!
I wasn't overly impressed with the taste of the toppings (simple tomato base, herbs, cheese, spinach and an egg) - very simple taste, bordering on bland. However, the pizza base/ crust won me over - It was so light and fluffy... more like a really thin Naan than a pizza but I found it interesting.
(I would have liked it crispier though... but according to the waiter, you can just request for it to be crispier and they will happily accomodate)
Of course, we left some room for dessert - in this case, the Elvis Presley Pizza (erm.. about RM9++ I think, and a little extra for the optional scoop of ice cream):
The King is in the house...
If you like bananas, peanut butter and chocolate as much as I do, then you will LOVE this dessert.
Try it.
(Seriously!)
(If you're allergic to nuts though, please avoid or you are asking for trouble)
BTW, if you're not familiar with the Damansara Perdana area, here's a map that may help ("borrowed" from the Bianco website):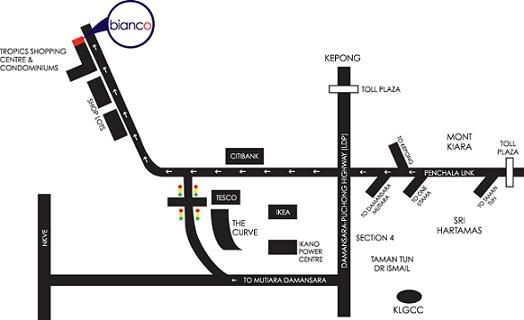 Treasure map...
So it's: Casual yet stylish ambience with friendly staff, yummy light Italian food at a decent price BUT very limited menu (only pizza, pasta and a handful of starters and desserts).
Restaurant Review
Summary Sheet:

Bianco @ Damansara Perdana, KL
(At the base of the Tropics Shopping Centre)

Taste: 7
Ambience : 7
Service : 7
Price** : RM 31/++ per person
Parking: OK

** Approximation - 3 course meal, excluding drinks
Telephone No.: 03-7724 2878
Opening Hours: Tuesday to Sunday, 11.30am till late
NO PORK SERVED
OTHER REVIEWS:
-
Cumi & Ciki
-
After Giovanni
TAGS: Food, Blog, Weblog, Malaysia, Restaurant Review, Hartamas, Damansara Perdana, Bianco, Italian, KL, Kuala Lumpur