New Asian/ Peranakan restaurant in Northpoint, near Mid Valley Megamall....
First of all, thanks so much to
Tim
for organising this Malaysian Food Blogger (aka. Flogger) gathering.
:)
It's not often that restauranteurs (THANK YOU, ELIZABETH!) in Malaysia are so open and generous to actually knowingly invite a bunch of strangers armed with cameras and websites to try out their food and tell them to feel free to tell the truth.
(Ok, so New Formosa @ SS2 was a real good sport too but I missed out on that event)
The Dinner
Located on the Mezzanine floor of the new Northpoint Office Tower, right next to the ever popular Midvalley Megamall.
(Just cross the walkway/ bridge from the Midvalley exit near Esquire Kitchen which brings you automatically to the Mezzanine floor of Northpoint - it'll be the first restaurant you see when you get there):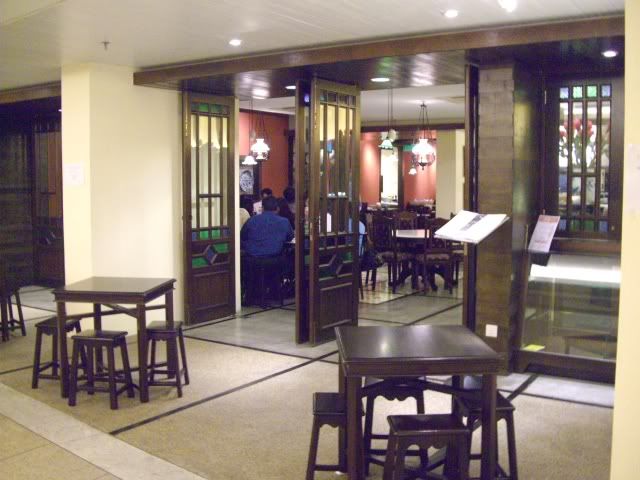 The Exterior of Red Ginger
I loved the cosy, Asian themed interior which had a rustic yet comfortable feeling with it's simple dark wood tables and large blue and white plates mounted as decorations:
Red Ginger Interior.....
Seeing as we had the pleasure to sample so many dishes that day, I'm going to sum up each dish as concisely as I can.
(Also, I'd hate to sound ungrateful but Elizabeth the generous owner/ boss lady of Red Ginger really served us too many dishes! I was careful to only try small bites of each dish but halfway through, I felt like my belly was going to explode!)
Starters:
1) Fruit Rojak (RM 7.80++)
The Rojak.....
Verdict:
Not bad. Fresh fruits complemented by right balance of the black sauce and peanuts (not too pungeant).
2) Otak-Otak (RM 9.50++)
The Secret Recipe Otak-Otak.....
Verdict:
Yum. Spicy, moist and fragrant with no "fishy" smell at all (Elizabeth's grandmother's secret recipe apparently)
3) Pomelo Salad (RM 8.80++):
The Refreshing Pomelo Salad.....
Verdict:
Ok only. Interesting concept. Simple refreshing taste but I found it a bit bland.
4) Lobak (RM 8.90++):
The Chicken Lobak.....
Verdict:
Not bad. Crispy yet meaty. Went well with the chili sauce. A bit salty though.
5) Stuffed Yu Char Kuey (RM 5.50++):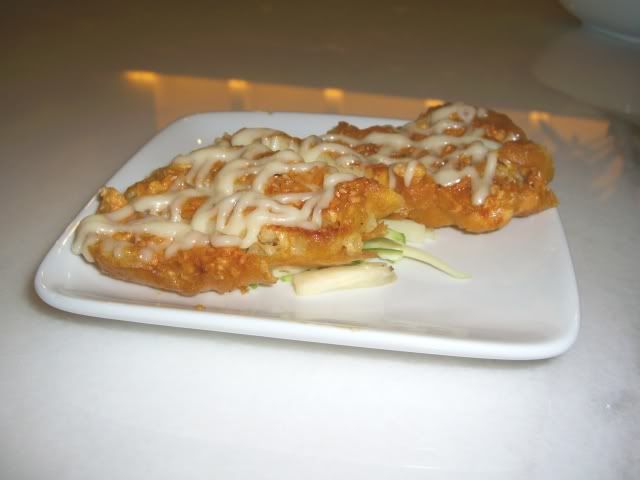 The Stuffed Yu Char Kuey.....
The Verdict:
Nice. Loved the combination of the crispy "yau char kuey" stuffed with fish paste. Beware though - some may find it a littlt bit fishy tasting.
The Carbs:
1) Red Ginger Fried Rice (RM 14.90++):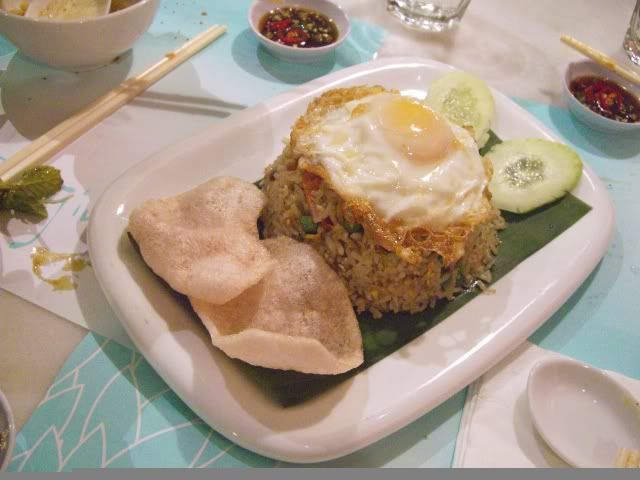 The Delicious Fried Rice.....
The Verdict:
One of my favourites that night. I love fried rice and this one was special. Strange sounding but delicious mix of sweet (raisins) and salty (salted fish) taste.
2) Kam Heong Fried Kuey Teow (RM13.90++):
Char Kuey Teow with a difference.....
The Verdict:
Signature dish. Not bad. Silky char kuey teow with "kam heong" flavour as a twist. Found it a bit too salty but was outvoted on that.
3) Dry Curry Sang Har Noodle (RM 23.90++):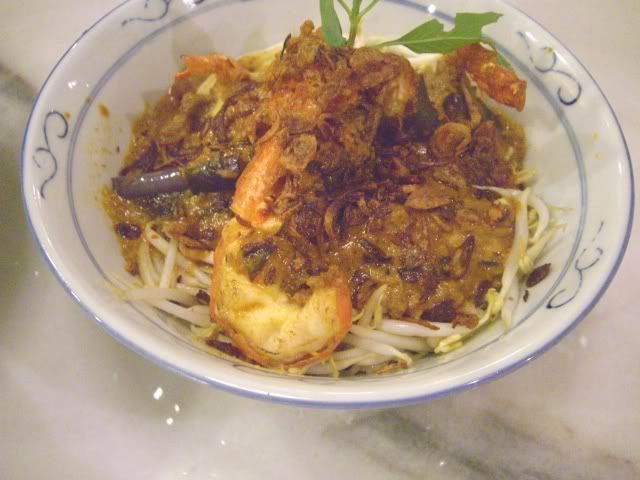 The Dry Curry Sang Har Noodles.....
The Verdict:
Another signature dish. Big prawns. Fragrant curry taste. Also found it a bit too salty but again outvoted (Maybe my tongue is too sensitive?).... Not bad overall but I'm not sure if I'll pay 24 bucks to eat it again.
4) Ipoh Sah Hor Fun (RM 13.80++):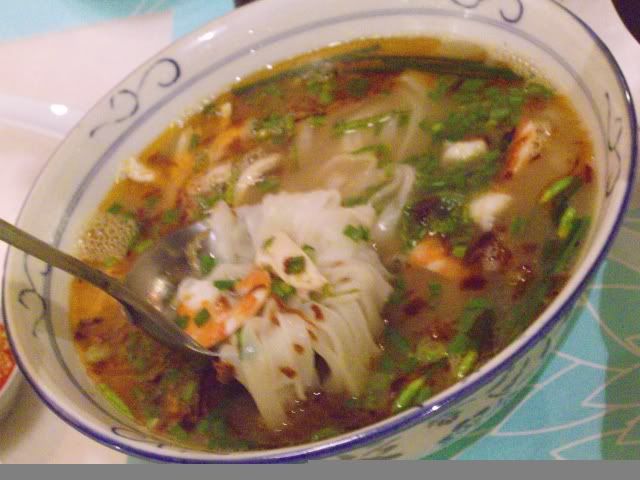 Yummy Ipoh Sah Hor Fun.....
The Verdict:
Another favourite that night. Silky smooth noodles. Savoury clear broth. Large juicy prawns. Mmmmmm - Delicious.
5) Laksa Lemak (RM 11.80++):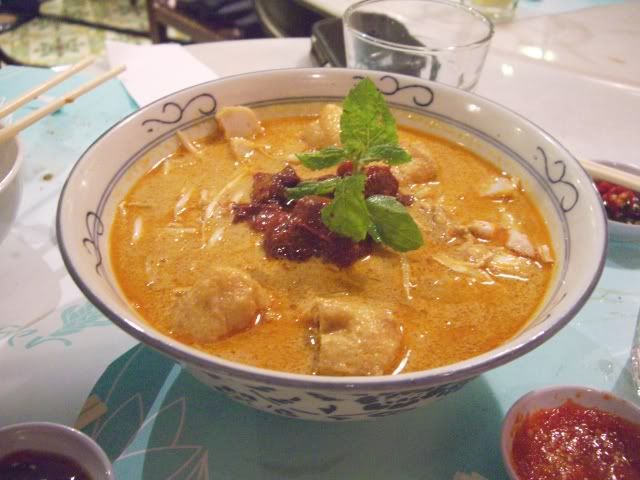 The Laksa Lemak.....
The Verdict:
Also very good. Sinfully creamy broth with ample "lemak-y" goodness, bouncy noodles and fresh cockles.
Meaty Dishes for the Carnivores:
1) Steamed Chicken with Wine and Herbs (RM 18++):
The Steamed Chicken.....
The Verdict:
Ok only. Moderately tender. Nice light fragrance of herbs but super salty. Must be eaten with rice or not at all.
2) Black Pepper Beef (RM 17++):
Beef and more beef.....
The Verdict:
Also ok only. Moderately tender slices of beef. Nice taste of the bell peppers but not strong enough taste of black pepper.
Alright.
That about sums up all the dishes we tried that night.
(BTW, for any Floggers reading this : Nice to have met you that night - sorry I was a bit stoned.... Had just come back from a long, looooong meeting outstation)
I have tried to stay as objective as possible with this review (as it can be hard to keep things in perspective when you don't pay a cent for the food).
You still trust me though,.... don't you?
:)
So it's: Simple, comfortable setting with friendly staff, fair range of dishes and interesting food concepts BUT nothing much bad except that some of the prices seem a bit on the high side.
Restaurant Review
Summary Sheet:

Red Ginger @ Northpoint, KL (next to Midvalley Megamall)

Taste: 6
Ambience : 6
Service : 7
Price** : RM 30/++ per person
Parking: Difficult on weekends

** Approximation - 3 course meal, excluding drinks
Telephone No.: 03-2287 0890 (Plaza Damansara outlet : 03-2095 3118
Opening Hours: 11am till late (Closed on Sundays)
NO PORK SERVED

PS/ Oh... so shy lah. Other people's photos are so nice! Have to get a better camera and brush up my skills.... Do check out their reviews of Red Ginger at these links:


TAGS: Food, Blog, Weblog, Malaysia, Restaurant Review, Midvalley Megamall, Mid Valley, Red Ginger, Shopping Centre, Northpoint, KL, Kuala Lumpur