*yaaaawwwnnn*
And so yet another weekend comes to an end.....
Anyway, the usual weekly dinner (on a Friday this time) was at the
Fisherman's Cove
in the new Star Hill food avenue:
The Dinner:
The food was good, ......
(although I must say, the appetizers are severely overpriced! - I'm sure Kwong Heng will agree *lol*)
..... the evening was started off with a simple (and TINY) welcome appetizer, compliments of the restaurant, a morsel of zuchinni topped with a refreshing vinaigrette (don't blink, you might miss it)...

Kawaii...!

..... then, the various appetizers rolled in. Here's Kwong Heng enjoying his delicious RM26/++ appetizer which was basically a small serving of soba and 4 slivers of scallop (beautifully presented of course, but just
so small
)....

Kwong Heng sez: Yum Yum

..... and on the other extreme, here's
Pat
working hard to fend off freeloaders from his tempting bowl of seafood soup (he reports that it tastes good and the serving size is generous)....

Gwumpy Pat

..... Soon after, the main dishes were served (being a seafood restaurant, the fish dishes that we ordered were great - fresh and succulent, prepared in a simple yet delicious fusion Western-Asian style). Here's Vikram, Jo and Serina enjoying their food...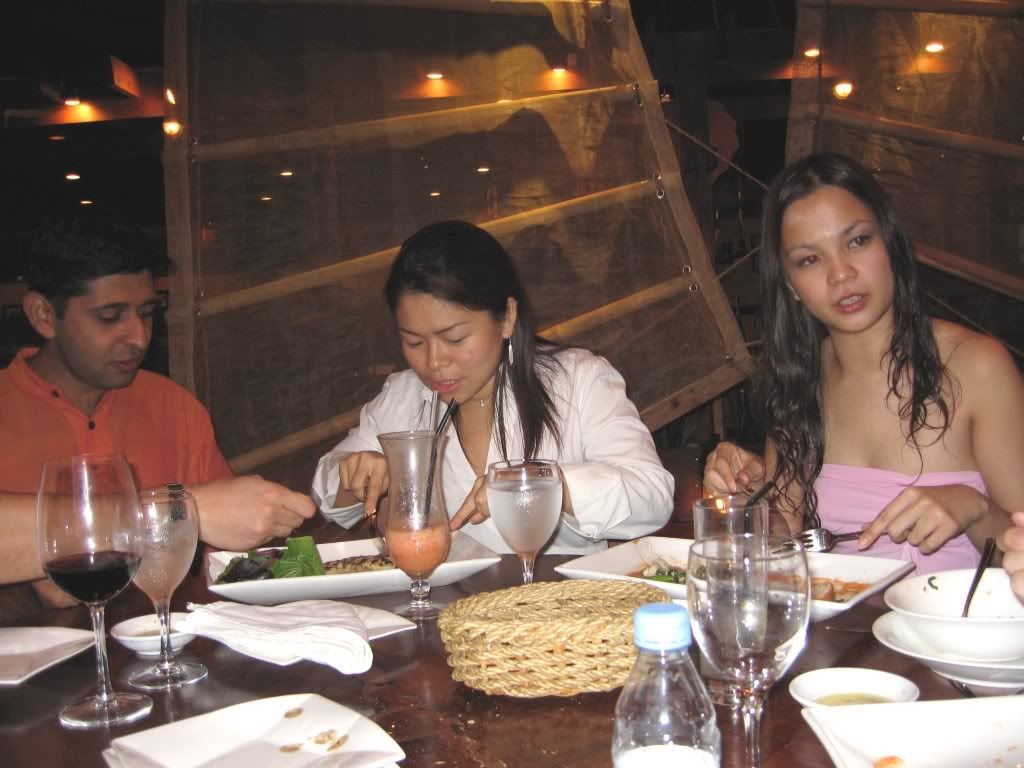 Vik, Jo and Serina stuffing their faces

Overall, it was a good dinner: Attentive service, tasty food, a wide selection of wines and nice ambience which was, of course, amplified by good company and conversation.
The moral of the Cove is: Order the seafood! - It is very fresh and very yummy indeed.
(We had some dinner attendees who ordered the pasta and other non-seafood items - not very impressive/ worth it)
Better still, instead of ordering off the generic ala carte selection, do what Vik and Jo did:
Order a whole fish (fresh from the tank), select one of the various preparation styles and munch happily at the slightly more expensive, but much larger serving that you will get.

Full stomachs, happy faces

Restaurant Review
Summary Sheet:
Fisherman's Cove @ Star Hill

Taste: 8
Ambience : 8
Service : 8
Price** : RM 100/++ per person
Parking: Ample

** Approximation - 3 course meal, excluding drinks
Telephone No.: 603 - 2782 3848
Opening Hours: 12pm - 1am

HALAL
The After(-Dinner) Party:
Bellies full and belts bulging, the convoy moved on to the nearby
Village Bar
where (miracle of miracles)
Pat "el' cheapo" Pincon
bought everyone a round of drinks to celebrate his long awaited graduation....
(Pssst....CONGRATULATIONS PAT! - It's about time!........ *hugs*)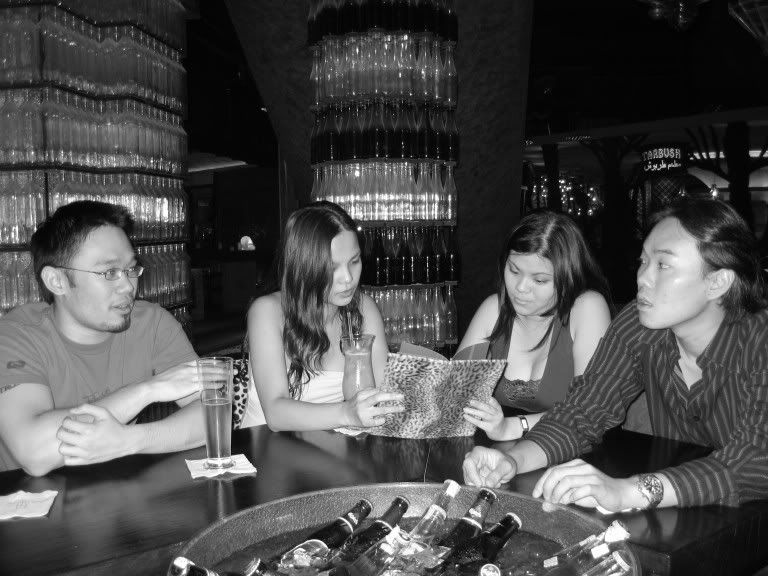 The Village Bar @ Star Hill

LG8, Feast Floor, Starhill Gallery,
181, Jalan Bukit Bintang, 55100 KL.
Tel : 03 - 2782 3852

Opening Hours
Mon - Sun: 12noon - 1am

OK,... I think that's enough for now..... Gotta go catch some sleep or I'll be a zombie at work tomorrow......
Over and out,
J
TAGS: Food, Blog, Weblog, Malaysia, Restaurant Review, Restaurant Reviews, Kuala Lumpur, KL, Fisherman's Cove, Fishermans Cove, Star Hill, Seafood