er-hem
*clears throat*
An Ode to Chocolate: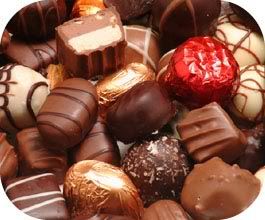 Dark or white,Even plain milky,
So dear to my heart, I love you completely,

You're my piece of heaven on earth.

*curtsies*
*lol*
Sowe.. was just feeling silly.
Anyway, it's Friday again!
(Wow,... the week just went by so fast....)
Work has been really tiring this week.. so it's good that the weekend's here.
Met up with Ver last night and had a nice chat over dinner.
(Ate at a quiet little restaurant called Tea For Two in Bangsar - will do a review later, if time permits)
It was really nice to catch up....
Feels like I see her so rarely nowadays... It can't be helped I suppose, since we're not working in the same office anymore...
Ooh, and work has been hectic as usual.
I spent about half of the week in Seremban (again)...
... sitting in front of my laptop (again)....
... looking at Excel sheet and tiny numbers (again! *arrgh*)
At least, it's begun to slow down (some what)..... sadly, it's just the calm before the storm...
I'll be starting on a new project next week and looking at the work allocated to me...
*eep*
...looks like I may disappear for a while starting from next week....
(wish me luck, people - I need it!)
O__O
TAGS: Weblog, Blog, Malaysia, Personal, Chocoholic, Chocolate, Poem