(sings)
"Do ya lurve me...?"
"Do ya lurve me?"
"Do ya lurve me...?"
"Do ya lurve me?"
"Now.... that I've UP-DA-AYyyyyy-AYYYyyyy-TED!"
(thankfully stops singing)
:lol:
..... the immense amount of coffee I consumed seems to have gone to my head...
Well, I am finally back in KL.
I have had an absolutely
MAD
3 weeks away, slaving on a really tight deadline....
Damnit.
I hate that almost a very high percentage of my recent posts are all about work or how much I am working etc.
I hate it even more that it's all
TRUE
....
Yup, the report has just come in: My social life is in a critical condition and is currently on life support.
:(
Still, I'm glad to be back.
(Yes, I'll stop whining now)
I shall put up a new restaurant review soon....
(after this weekend's dinner)
In the meantime, here are some exerpts from brief reviews done by my friend
Lenny
for dinners that I missed out on:
1)
Retro American Diner
@ Plaza Damas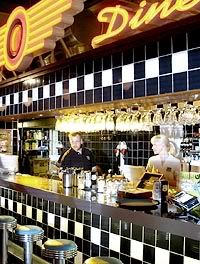 "Man, Saturday's dinner down at the Retro American Diner could've been so much better.

The escargot I had, was ok. Though I would've preferred if it was cooking in garlic butter. Covering the escargot in cheese meant that the only taste was cheese on that dish. The spaghetti with meatballs was only "pretty average" and JJ reckons he can cook better (maybe that's a hint). The fries came from a pack and were smaller than the McDonalds ones.

Prices were above the norm for that kind of restaurant. I reckon, Modestos should've stuck to what they know best and stick to either Chilis or Fridays if you're gonna go get some proper American food, cause these guys don't know what they're doing."

2)
Sri Ayutthaya
@ Damansara Heights
(Same row as Victoria Station in Damansara Heights)
Tel: 03-20942333
"..... We decided to each order one dish (with the help of the dinner party at the next table) so we had red curry prawns, green curry chicken, deep fried traditional thai style fish, kailan with belacan, kuali squid, black pepper beef, and some thai spring chicken, and some of us had individual servings of tom yam. My mother reckons we should have gone for the Thai Steamed Fish instead. Would've been a better choice according to her. But who's complaining. :)

.... The red curry prawns is a definite must try. It's flavour was rich with tastes of coconut milk and curry, although it was not spicey at all. In fact, this dish is probably the favourite around the table. This curry is not at all similar to Indian curry, although because it is not spicey, you could probably drink gallons of this sauce.

The serving of the green curry chicken was a lot smaller than that of the prawns, also rich in tastes of coconut milk, it's curry taste was slightly contrasting with the tastes of the red curry, but I do believe the green curry taste was slightly over powered by that of the red curry. Just be wary of those small green balls in the sauce, I once thought they were peas. They were peppers.

The Tom Yam Kungs ingredients come from a huge variety of seafood that's basically been thrown into the pot. So the tastes are rich with spice and sour. I order it everytime I'm there.

I was a slightly disappointed with the kuali squid because the kuali beef was so good. The kuali squid could've had more flavour........

.... The dinner was so good, we drank up nearly all the sauce in the pots. I believe Chen Hoe has some pictorial evidence of that. (I'll post up the pictures soon as Chen Hoe sends them over)

We called for the bill when everyone was satisfied and almost patting their bellies. The bill came up to approximately 50 odd bucks per person, but considering we were all so full, it was definitely well worth the meal."

(Psssssst.... thanks for bothering to do the review
Lenny
, since
Pat
is too damned lazy)
Hope you all enjoyed that cameo appearance.
:)
Signing off,
J
TAGS:
Weblog
,
Blog
,
Kuala Lumpur
,
Hartamas
,
Restaurant Review
,
Sri Ayutthaya
,
Retro American Diner
,
Malaysia
,
Personal