The Dinner:
[ BEGIN EDIT ]
(Dec 2007)
Darn... Looks like they've closed down.
:(
(Hooked is being replaced by a Thai restaurant called Sutra - still under construction)
[ END EDIT ]
It was a really big turn out that night, with over 26 people in the casual yet cosy restaurant in the Curve. On my end of the table, Pat, Lenny and I finished sniggering at the "Beaver's Basket" and the "Mini Beaver's Basket" on the menu, we ordered our food...

Feeling healthy, I decided to start off my dinner with a fresh Seafood Salad.
It had some funky name, Neptune's something or other….
(All the dishes on the menu at Hooked seem to have some sort of interesting name)

Erm. Anyway, here it is:




Seafood Salad @ Hooked





The salad greens were fresh and there were a fair bit of lightly cooked squid, mussels and prawns accentuated by the tart vinaigrette dressing.
'Twas "OK" by my standards.

The calamari rings that followed however, were better….





Squid rings ho... Attack!





Crispy on the outside and tender on the inside, the calamari rings come served in a cute little basket with a dollop of calories, erm, I mean mayo.
(It was not a big serving, but for the decent price of about RM7, ... it's something I would definitely order again)

Next up, the seasonal special that HY chose: Grilled fish fillet with a black pepper sauce:





Sgt Pepper's Favourite Meal





HY mentioned that the fish was tender and the sauce was a peppery and sweet - healthy and yummy, worth a try.

As for me, I had the Caribbean Craving, a lightly grilled fish with a rich tomato based sauce. It came served with a small side of mushroom spaghetti .....
(tasty, but I had trouble finding the mushrooms)
.... and panfried potatoes
(MM-Mmmm, yummy carby goodness).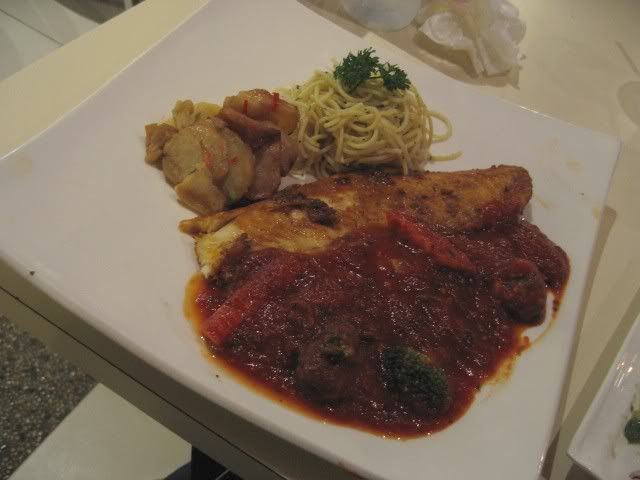 The Carribean Craving


This is definately something that I would recommend to try. The fish was fresh and the accompanying sauce was tasty... The serving size was also rather generous (I was surprised to find another large piece of fish under what I thought was just a pile of sauce)

All in all, really worth it for the price of about Rm17.



Pat and some of the others tried out Hook's specialty, the Hooked Highlight aka the fish and chips with the funky name: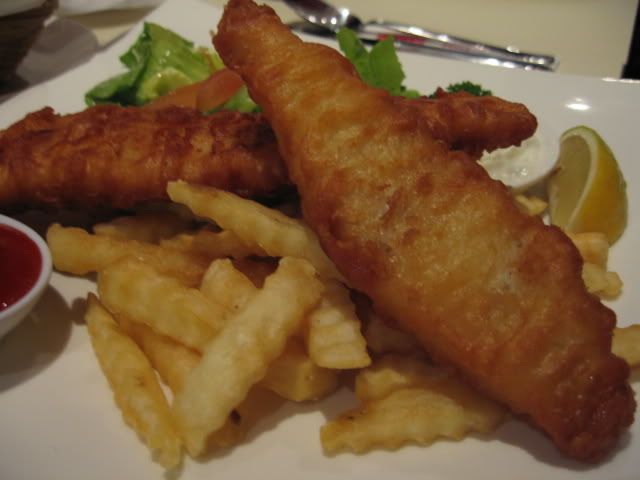 The Hooked Highlight
Hmmmm... the general consensus was that, although there was nothing largely wrong with it and no one could fault it in any way, it just wasn't really special....
Unfortunately, I had no space for desserts after all that but I hope to try some of the interesting desserts they had on their menu the next time I go there.....
***** Celebrity Sighting! *****
And gracing our presence that night, our very own
Zamil Idris
, who made us all proud when he made it to the Top 10 on the first season of Malaysian Idol.
Zamil sez: Eat at Hooked! It be DEEeee-licious!

Lenny sez: Yeah! You said it Zams!




*******************


Also, there is a little game at Hooked that allows customers to eat for free on the 11th and 22nd of every month... (*gasp* That's fantastic!)...
Here are the details :

*drum roll*


==============================
THE "EAT FOR FREE AT HOOKED" GAME
==============================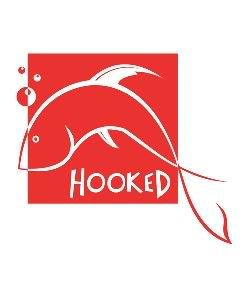 On the 11th and 22nd of every month, you have a chance to eat for FREE* at HOOKED. All you need to do is to roll the dices.

If you get 6-6, you will get to eat for FREE*
If you get 5-5, you will get 55% off total bill*.
If you get 4-4, you will get 44% off total bill*.
If you get 3-3, you will get 33% off total bill*.
If you get 2-2, you will get 22% off total bill*.
If you get 1-1, you will get 11% off total bill*.

(Of course there are some disclaimers/ rules:
* Terms and conditions:
Only one trial per visit, per day, per receipt, per table. No splitting of bill. Only a maximum of RM100 worth of discount or free meal will be given out, patrons will still need to pay for the difference, if any. Not applicable with other discounts and promotions. For dine in only. HOOKED remain the rights to change the terms and conditions without prior notice)



==============================




Restaurant Review
Summary Sheet:

Hooked @ The Curve

Taste: 6.5
Ambience : 6
Service : 7
Price** : RM 32/++ per person
Parking: Ample
** Approximation - 3 course meal, excluding drinks
Telephone No.: 603 - 7729 1090
Opening Hours: 11am – 11pm

HALAL


TAGS: Food, Blog, Weblog, Malaysia, Restaurant Review, Restaurant Reviews, Zamil Idris, Malaysian Idol, Damansara, The Curve, Hooked, Seafood