Malaysia Boleh!...... Go, Timmy!
Ok...
I've definately been a bit slow to sign up to
Nuffnang
...
As much as I wanted to support Mr Timothy Tiah (Malaysian enterpreneur and
pirate wannabe extraodinaire
), there was a side of me that kept screaming: "NO - don't you dare sign up! You have always said that you will never sell out and start putting ads on your blog!"...
Anyway, after much deliberation, I went over to the
Nuffnang
website and signed up in 4 easy steps.
:)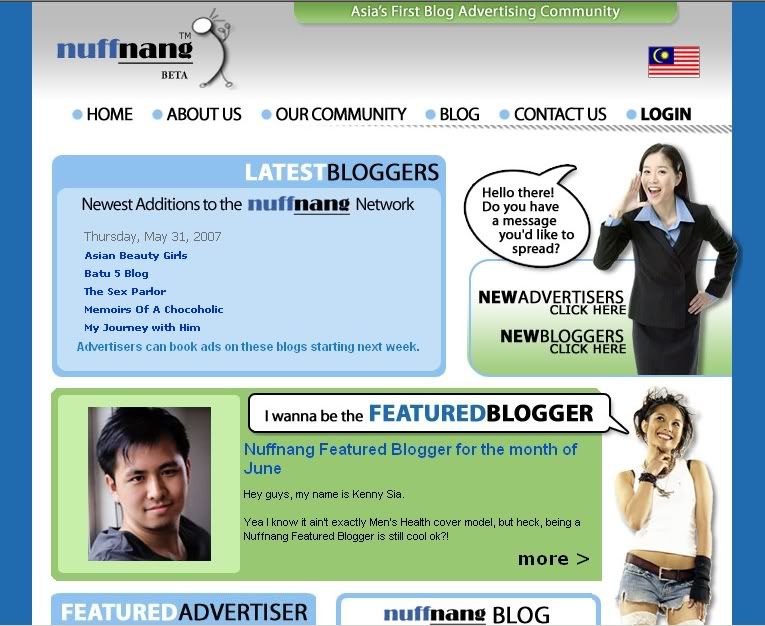 *ta-dah!*... C'est moi!
Unfortunately, I chose a bad time to sign up because out of the other 4 blogs highlighted on the list of latest bloggers to join are these 2:
1)
Asian Beauty Girls
Description: This blog provided to show our asian beautiful girls. The girls selected by blog owner. For the girls, you are the most beautiful girl in asian country.
2)
The S3x Parlor
Description: Prince-X Your Hot Blog! A must visit!
Oh man!
:(
Oh well, luckily the list refreshed itself fairly quickly (because there are so many people signing up now)...
Haha...
Anyway, there are better things to do than to worry about such things, right?
Hugs,
J
TAGS: Blog, Weblog, Malaysia, Nuffnang, KL, Kuala Lumpur, Personal