A nice place to have a big bowl of beefy pho goodness...
[ BEGIN EDIT ]
(June 2009)
Oops. Sorry! Forgot to update that Du Viet has moved locations to Damansara Uptown(It's been a while actually *blush*)...
Here are the details of the new outlet:
Du Viet (Damansara Uptown)
41A & 43A Uptown 37
Damansara Utama, Petaling Jaya
Tel: 03-7726 8101
(Upstairs, neat the 99 Speedmart/ the row with the HSBC Bank)
Also, you can check
this link
out for some more updated reviews.
Hugs,
J
[ END EDIT ]
The Lunch
One weekend afternoon, me and P felt like having a nice light lunch and he suggested going to Du Viet... This local restaurant chain has slowly expanded over the years from its original outlet in Damansara Jaya with 2 new outlets in Sunway Pyramid and Bangsar Village.
That afternoon, me and P went to the original outlet in DJ, which is located on the same row as Domino's Pizza in the old Atria shopping center area: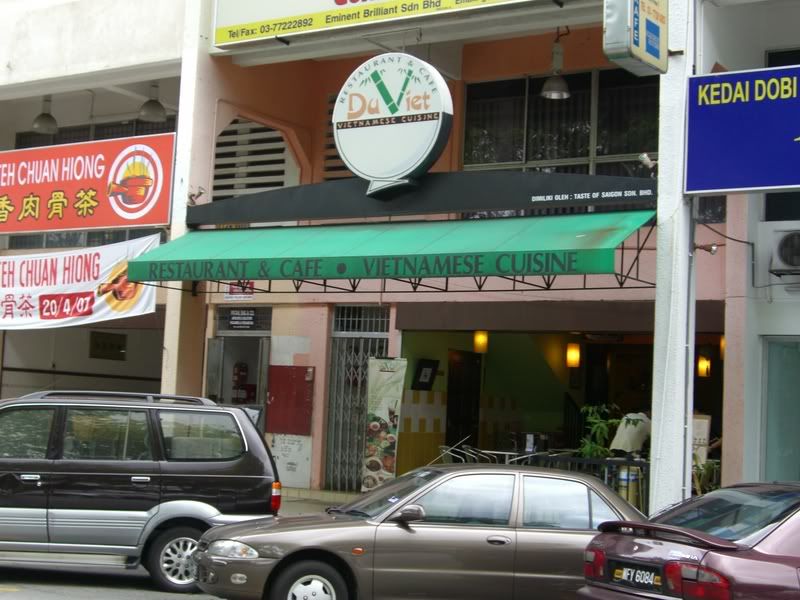 The exterior of Du Viet, Damansara Jaya....
Overall, the decorations at Du Viet are definately not lavish but it feels very down to earth and comfortable (.. a nice place for a casual meal):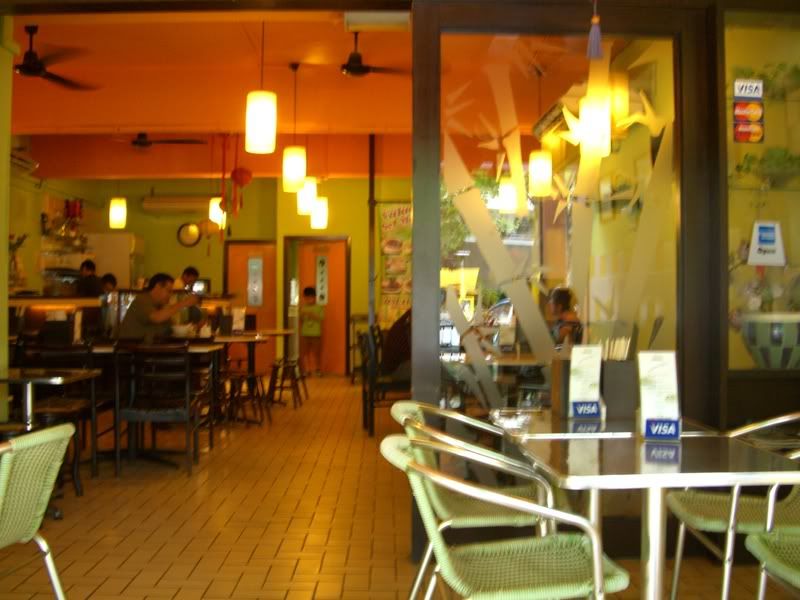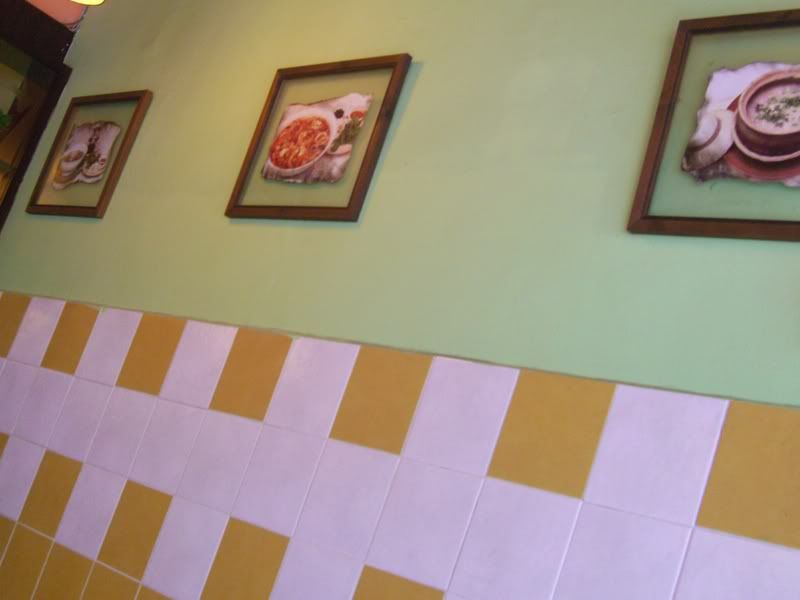 The interior of Du Viet....
There seems to be a good variety of dishes on the menu, with many choices of starters, noodle and rice dishes. We chose to start our meal with the mixed rolls: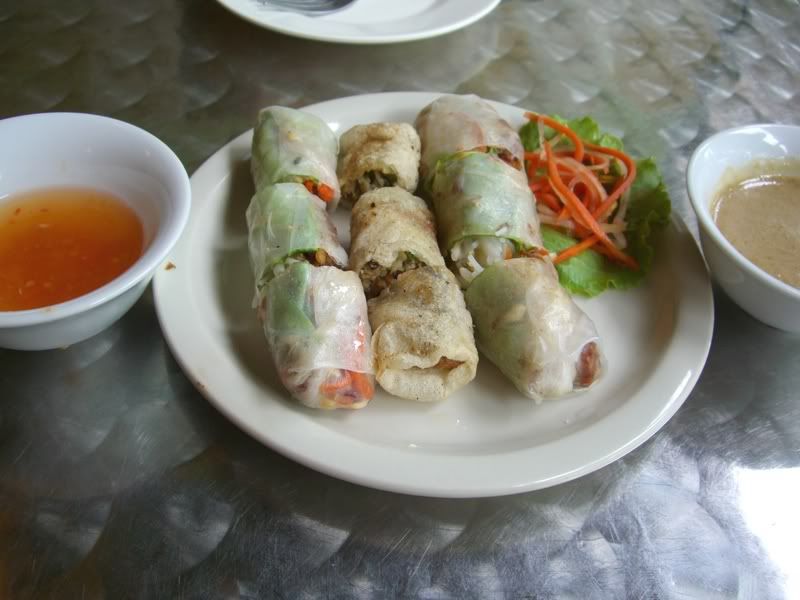 The Mixed Rolls....
There are basically 3 types of rolls in there: 2 "summer rolls" (one chicken and one beef) and 1 deep fried spring roll, served with a savoury peanut dip and a sweet/sour chili dip.
The rolls were a nice, simple way to start the meal.....
If I had to choose a favourite though it would definately be the Chicken Summer Roll - the "skin" of the roll was light and the chicken was well marinated, with a delicious lemongrass taste.
(All 3 rolls went very well with both the peanut and chili dip)
There are also some interesting drinks there. We tried the Minty Soda and the Fresh Lime Juice: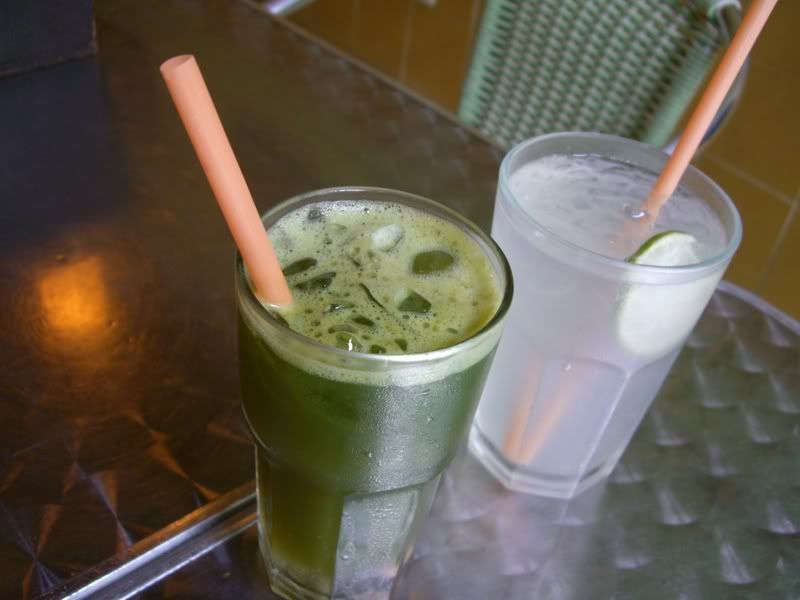 The Minty Soda and the Fresh Lime Juice....
Ok, so the Fresh Lime Juice really wasn't that special...
(In fact it was too sweet for my taste buds)
... but if you like the taste of fresh mint with a little fizz to it, the Minty Soda is absolutely delicious.
As for the mains, we tried the Vietnamese Pancake and the classic Vietnamese Beef Noodles: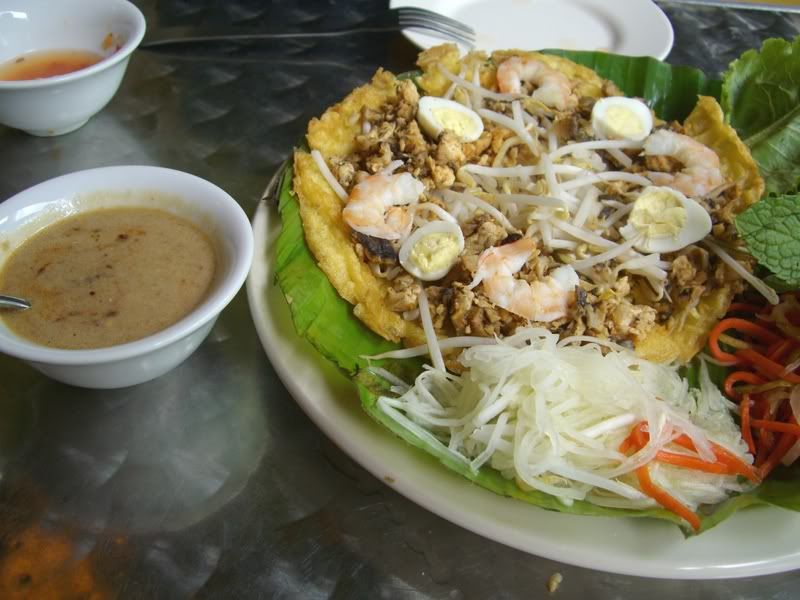 The
Vietnamese Beef Noodles and the Vietnamese Pancake....
They were both yummy!
:)
The pancake was light and fluffy (although an eencey-weencey bit too oily) and went well with the tasty topping of minced chicken, prawns, egg and taugeh.
(There are also a variety of optional toppings like mint leaves and other vegetables on the side that you can add on if you like).
And the beef noodles - MMMMmmmmm.
Although it's stated that it comes with beef balls, beef slices and tripe - I opted not to have the tripe.
(I just don't like animal innards in general - they're too squiggly for me)
The beef soup was wholesome and savoury without being overpowering, and the kuey teow served with it had a nice smooth texture. There were also a generous serving of beef balls and beef slices with it...
(The only downside for me was that the beef slices were just a bit overcooked/ tough but this is still something I wouldn't mind ordering again)
Du Viet is also pretty authentic in the way that they serve the optional additions of taugeh, basil, mint and a slice of lemon on the side - you can add as much as you like of each to the beef noodles.
After all that, we were pretty full so we didn't try any of the desserts.
(Sorry....)
The friendly owner of the restaurant kindly informed us that they would be relocating from Damansara Jaya to Damansara Uptown in about 2 to 3 months time... but had no other confirmed details for now.
(I'll update when I find out more)
So, it's: Pretty good food for the price, good variety, friendly service and down to earth dining ambience BUT hmmm, not many downsides except that sometimes it can be hard to find parking (all 3 outlets).
Restaurant Review
Summary Sheet:

Du Viet Cafe and Restaurant @ SS22, Damansara Jaya, PJ

Taste: 7
Ambience : 7
Service : 7
Price** : RM35++ per person
Parking: OK

** Approximation - 3 course meal, excluding drinks

Damansara Jaya outlet
Telephone No.: 03-7728 9262
Opening Hours: 11.30am to 3pm, 6pm to 10pm (Closed on Tuesdays)

Bangsar Village outlet
Telephone No.: 03-2283 5794
Opening Hours: 11.30am till late

Sunway Pyramid outlet
Telephone No.: 03-7492 0018
Opening Hours: 11.30am till late

NO PORK SERVED
OTHER REVIEWS:
-
After Giovanni
-
Precopis Pea
-
Pillow Talk with Bangsar-bAbE
TAGS: Food, Blog, Weblog, Malaysia, Restaurant Review, Restaurant Reviews, KL, Kuala Lumpur, Du Viet, Vietnamese, Beef Pho, Damansara Jaya, SS 22, DJ, Petaling Jaya