A decently priced restaurant with delicious Chinese food in the Bandar Menjalara area.....
One day, me and P were feeling a little adventurous and decided to look around the shophouses in the nearby but painfully far away Bandar Menjalara....
(Painful in terms of the RM 1.60 x2 at the toll that we PJ folks have to pay to get there and back)
The Lunch:
As we were rounding the main shophouses in the Medan Putra Business Center area, we decided to take a chance on the Andy Grace Cafe and Restaurant:
The exterior of Andy Grace restaurant...
The interior looks ok I suppose: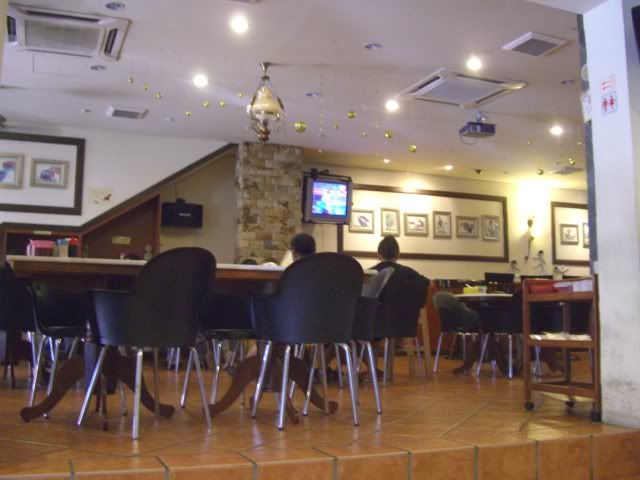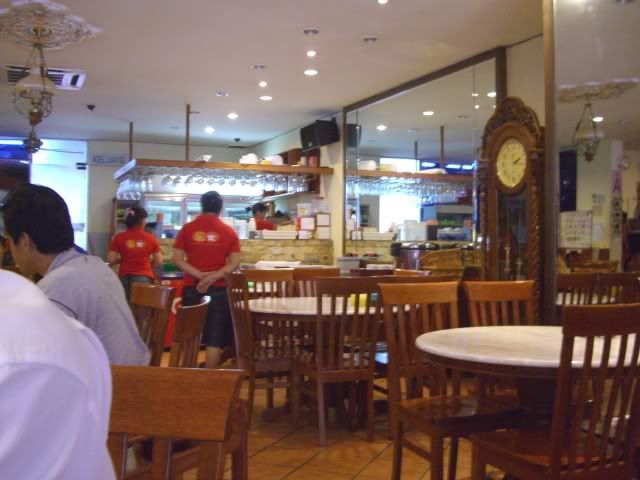 The interior of Andy Grace restaurant...
It has a casual setting with some interesting but oddly placed decorations (eg. The big grandfather clock near the counter, the cigar canisters pasted on the wall, etc...).
Unfortunately, I still couldn't help but to feel a little uncomfortable in there.
(It was so noisy! Not to say that there were many people in there with us but the acoustics are just terrible....)
Scanning the menu, we were a bit intimidated by the extensive range of dishes - everything from individual Chinese rice/ noodle dishes to sharing style a la carte dishes and a small selection of Western food. There were even various styles of frog dishes to choose from, for those who are into that kinda thing.....
Eventually, we decided on the Sour and Spicy Meehoon Soup (RM 6.80++), Fried "Tung Fun (Glass Noodles)" (RM 6.80++) and Fried "Tau Meuw" (RM 9++):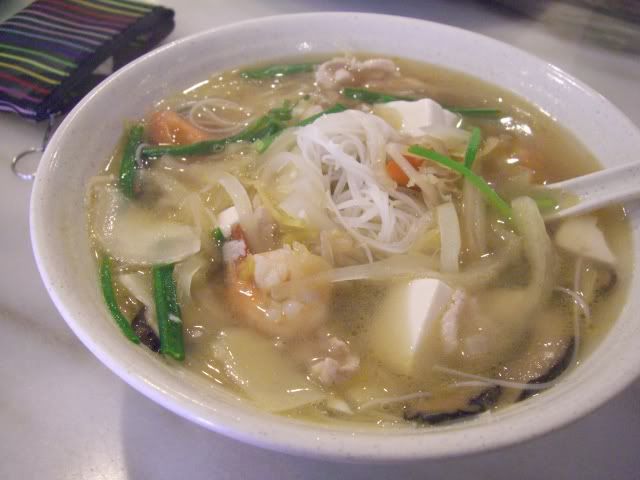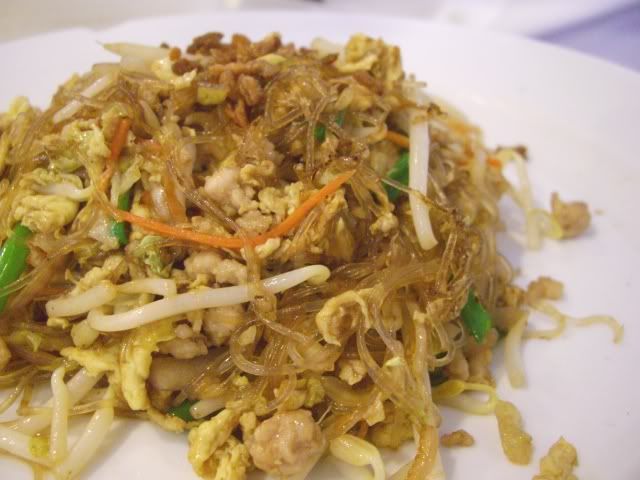 Top to bottom:
Sour and Spicy Meehoon Soup, Fried "Tung Fun" and Fried "Tau Meuw"...
One good thing to note about this restaurant is that the serving time is faster than normal.... We were pretty surprised to see our food served within 10 minutes after we ordered!
:)
Anyway, moving on to the taste of the food: I loved the Sour and Spicy Meehoon Soup - robust, savoury but not too sour/ salty (just nice) with a slight hint of what tasted like Chinese wine....
The alcoholic in me who loves salty and sour food says MMMMmmmmmm....
(The only flaw was that the prawns didn't taste very fresh...)
As for the Fried "Tung Fun", it was also pretty good - lovely "wok fried" taste with just nice texture in the noodles (not too wet or too dry with no starchy aftertaste).
The Fried "Tau Meuw" was also not bad - fresh but the sauce was just a little too salty for my taste.
All in all, it's not a bad place to pop in for an affordable lunch/ dinner....
:)
So it's: Casual ambience with friendly staff, wide variety of Chinese food (and a few Western dishes) at a decent price, SUPER fast serving time BUT not much to complain except for the bloody RM1.60 (x2!!) toll I have to pay coming from PJ.
Restaurant Review
Summary Sheet:

Andy Grace Restaurant @ Bandar Menjalara, KL

Taste: 6
Ambience : 5
Service : 7
Price** :
RM 18/++ per person (Chinese food)
RM 30++ per person (Western food)
Parking: OK

** Approximation - 3 course meal, excluding drinks
Telephone No.: 03-6275 9971
Opening Hours: 11am till late
NOT HALAL
OTHER REVIEWS:
-
World Windows
TAGS: Food, Blog, Weblog, Malaysia, Restaurant Review, PJ, Bandar Menjalara, Andy Grace Restaurant and Cafe, Chinese, Western, KL, Kuala Lumpur